Tarte flambée with asparagus
We're in the middle of asparagus season and traditionally you kind of bake in Sauce Hollandaise for the very first days (or weeks). Don't worry, we do just the same and are no exception (and here's the recipe for our vegan Sauce Hollandaise, ha).
But at some point you might look for something else and for times like this, our tarte flambée with green AND white asparagus is just the best. Radishes and dill also join the game, so in the end, it's the best of spring on a tarte flambée.
If you're looking for the quickest recipe possible, go and check out your supermarket to see if they offer vegan dough for a tarte flambée. Otherwise our tarte flambée 101 tells you everything about a vegan dough from scratch.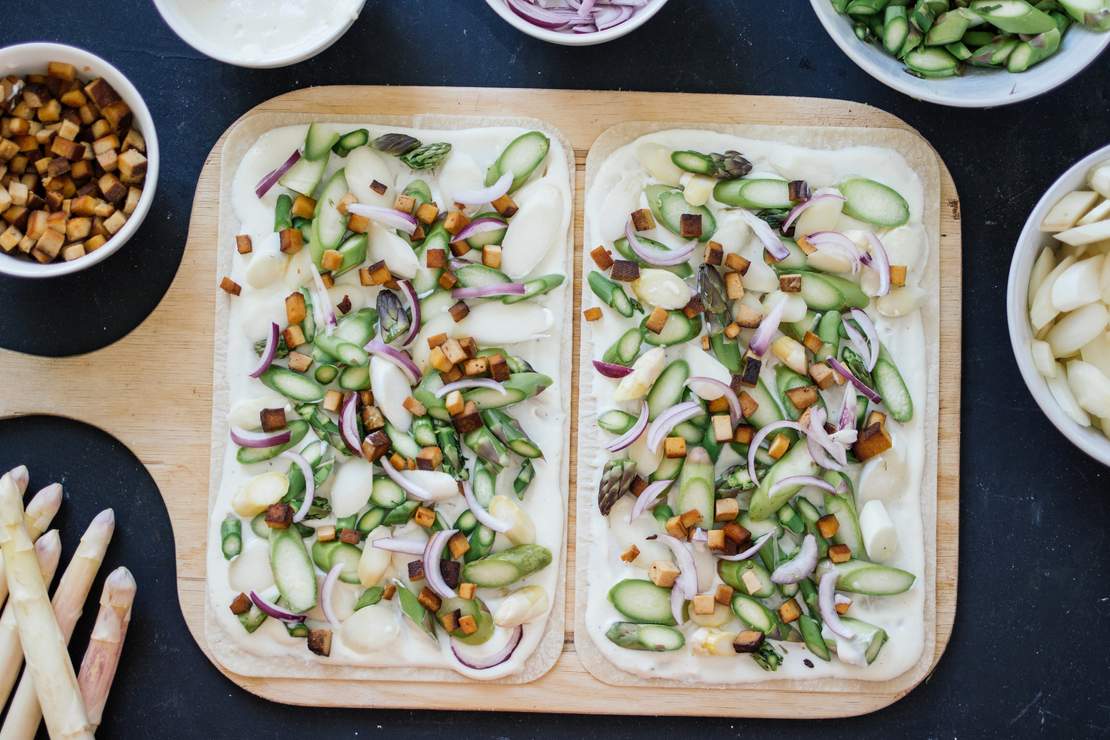 Tarte flambée with asparagus
2 tarte flambée
30 minutes
Ingredients
2 doughs for tarte flambées
200 g (7 oz) green asparagus
200 g (7 oz) white asparagus
100 g (3.5 oz) smoked tofu
1 red onions
5 radishes
200 g (7 oz) soy curd
50 ml (0.25 cup) soy cream
1 lemon (juice and zest)
1 tsp garlic powder
10 g (1 oz) fresh dill
salt
pepper
Instructions
To prepare asparagus, cut off the lower third of the green asparagus. Cut off wooden bottoms of white asparagus and peel the stalks, then slice all asparagus. Finely slice red onion.

Dice smoked tofu. Heat some vegetable oil in a frying pan and fry smoked tofu until crispy.

Add soy curd, soy cream, juice of half a lemon and zest of a whole lemon, garlic powder, salt and pepper to a bowl and stir to combine.

Spread cream mixture in a thin layer on top of tarte flambée dough. Top with white and green asparagus, red onion and smoked tofu. Bake at 220°C (430°F) for approx. 15 min. or until golden brown.

In the meantime, finely slice radishes. Remove tarte flambée from the oven and top with sliced radishes and fresh dill. Enjoy while it's still warm and serve remaining cream mixture as a dip.