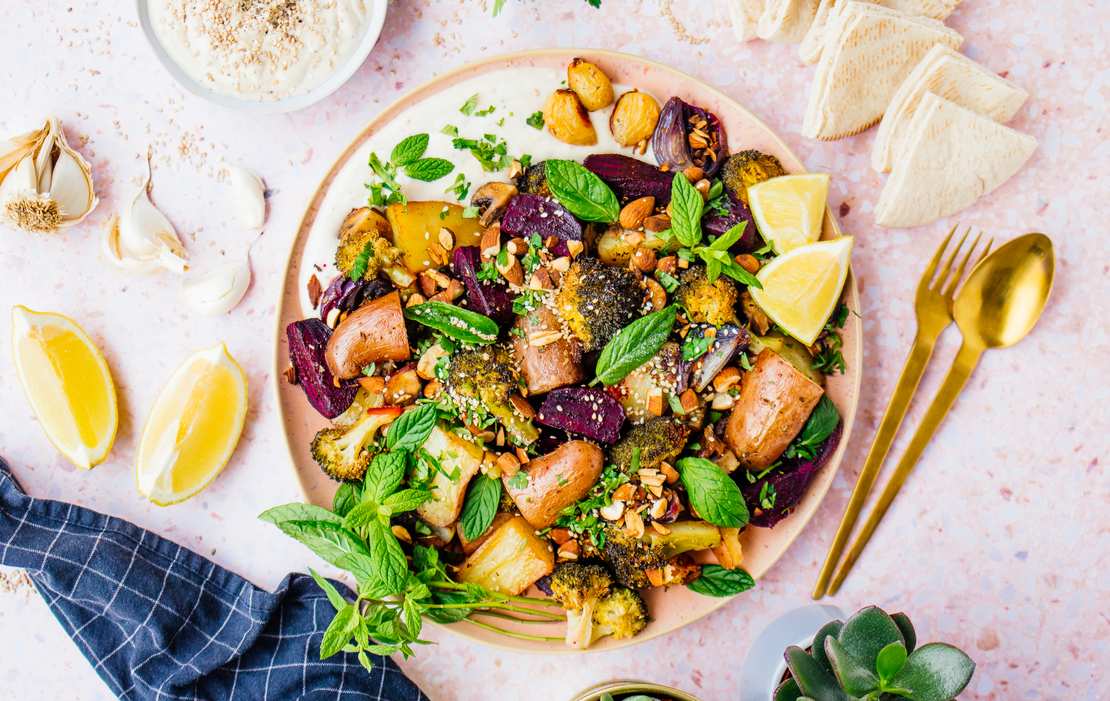 Roasted Vegetables with Vegan Tahini Yogurt Cream and Toasted Almonds
We rarely write about nutritional values or calories on our blog, but especially during Veganuary, we get a lot of questions about how to get the nutrients you need when being vegan. So we decided to develop a few recipe for you that focus on this exaxct topic. Recipes that are healthy, nutritious, but still filling and easy to prepare. In general you can remember to eat as colorful and versatile as possible. Get inspired by the seasons, pick different fruits and vegetables, and try to include them in your breakfast, lunch, and dinner every day.
One of the easiest dishes that's packed full of vegetables and which everybody loves are oven roasted vegetables. It's also the perfect dish to adjust to the seasons. Today, we've picked red onions, garlic, broccoli, mushrooms, potatoes, and beetroot. Let's take a closer look at some of them. Broccoli is particularly rich in minerals such as potassium, calcium, phosphorus, iron, zinc, and sodium (source) while beetroot contains folic acid, potassium, calcium, sodium, magnesium, phosphate, iron, and zinc (source). As a topping, we opted for toasted almonds as they contain a higher amount of calcium, magnesium, and potassium than other nuts. In addition, they are rich in protein with about 22 g of protein per 100 g. But as we said you are free to choose your own favorite vegetables for this dish – the only important thing is to keep it as colorful as possible (but you know that by now).
Once you're done with the choice of vegetables, you still need a dip and this one is for everybody who loves sesame seeds as much as we do. We've prepared a vegan tahini yogurt spread, using Lughurt Natur by LUVE. Like all LUVE products, their yogurt is made from local lupines (from Mecklenburg-Vorpommern) and thus supports regional agriculture. In addition, it's lactose-, soy- and GMO-free and comes without any artificial colors or flavor enhancers. Sweet lupins contain about 40 g of protein per 100 g and are therefore real protein boosters – the perfect addition to our recipe! In Germany, you can find LUVE products at EDEKA, real, Kaufland, in some REWE stores, or you can order them online, e.g. at "Vantastic Foods".
Roasted Vegetables with Vegan Tahini Yogurt Cream and Toasted Almonds
Ingredients
For the roasted vegetables:
2 red onions
4 garlic cloves
1 broccoli
150 g (5 oz) mushrooms
1 kg (2.25 lbs) red potatoes
4 small beetroots
100 ml (0.5 cup) olive oil
2 tbsp agave syrup
2 tbsp lemon juice
1 tsp coriander
1 tsp sweet paprika
1 tsp dried rosemary
2 tsp dried oregano
salt
pepper
For the tahin yogurt cream:
500 g (2 cups) plant-based yogurt (e.g. "Lughurt Natur" by LUVE)
150 g (0.66 cup) tahini
1 garlic clove
0.5 lemon (juice)
salt
pepper
agave syrup (optional)
For serving:
100 g (3.5 oz) almonds
1 lemon
pita breads
fresh mint
fresh parsley
sesame seeds
Instructions
Preheat oven to 200°C/390°F (upper and bottom heat). Start by preparing the vegetables: peel and quarter red onion and peel garlic cloves. Wash broccoli and cut into florets. Clean and quarter buttom mushrooms. Wash beetroot and potatoes and cut them into wedges. Line a baking sheet with parchment paper and distribute the veggies on it.

Add olive oil, agave syrup, fresh lemon juice, coriander, sweet paprika, dry rosemary and oregano, salt, and pepper to a bowl and stir to combine. Drizzle the mixture on top of the vegetables and toss to coat.

Bake vegetables at 200°C/390°F for approx. 20-30 minutes, or until they are fork-tender, browned, and roasted.

In the meantime, prepare the vegan tahini yogurt cream. Peel and finely chop garlic. Add plant-based yogurt, tahini, and chopped garlic to a bowl and season with lemon juice, salt, and pepper to taste. If desired, add some agave syrup.

For the topping, roughly chop almonds. Toast them in a fat-free frying pan until flagrant and browned. Wash, dry, and finely chop fresh mint and parsley leaves.

Spread the vegan tahini yogurt cream on a serving platter and top it with roasted vegetables, chopped herbs, toasted almonds, and sesame seeds. Drizzle with fresh lemon juice and serve with fresh pita bread.