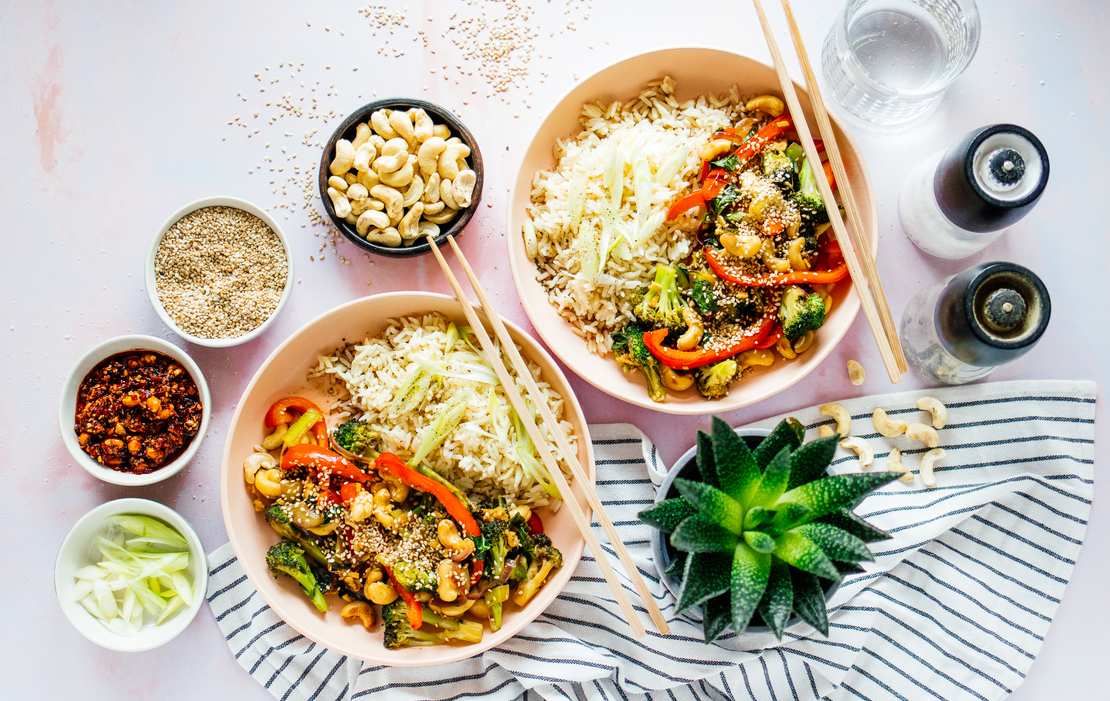 Quick Stir-Fry with Cashew and Rice
Maybe one of your resolutions is to eat more vegetables this year, to eat more balanced or healthier. And we know exactly the three dishes that one likely ends up with this resolution: oven roasted vegetables, mixed salads, and vegetable soups in all variations. Don't get us wrong – we like to prepare all of these wonderful dishes. But every now and then, you're glad to have a little variety, right? Especially in Vietnamese, Chinese or Thai cuisine, there are so many dishes stuffed with colourful vegetables, that we love very much and therefore want to recommend – Thai coconut soups, Chinese Chop Suey or a Vietnamese curry. Another dish is the Chinese "cashew chicken", which we (of course) prepare without any chicken but loads of veggies instead.
The dish doesn't require any complicated vegan substitute products at all, so it should be easy peasy to find all the ingredients in any supermarket. Of course there's still plenty of room for adjustments: you could add tofu or seitan, swap the rice with udon or rice noodles, or pick different vegetables such as fresh peas, eggplant or chickpeas. However, we will show you a basic version first, which should make cooking easy even for beginners. Of course, a wok is ideal for cooking this dish, but a regular non-stick frying pan will also do the job.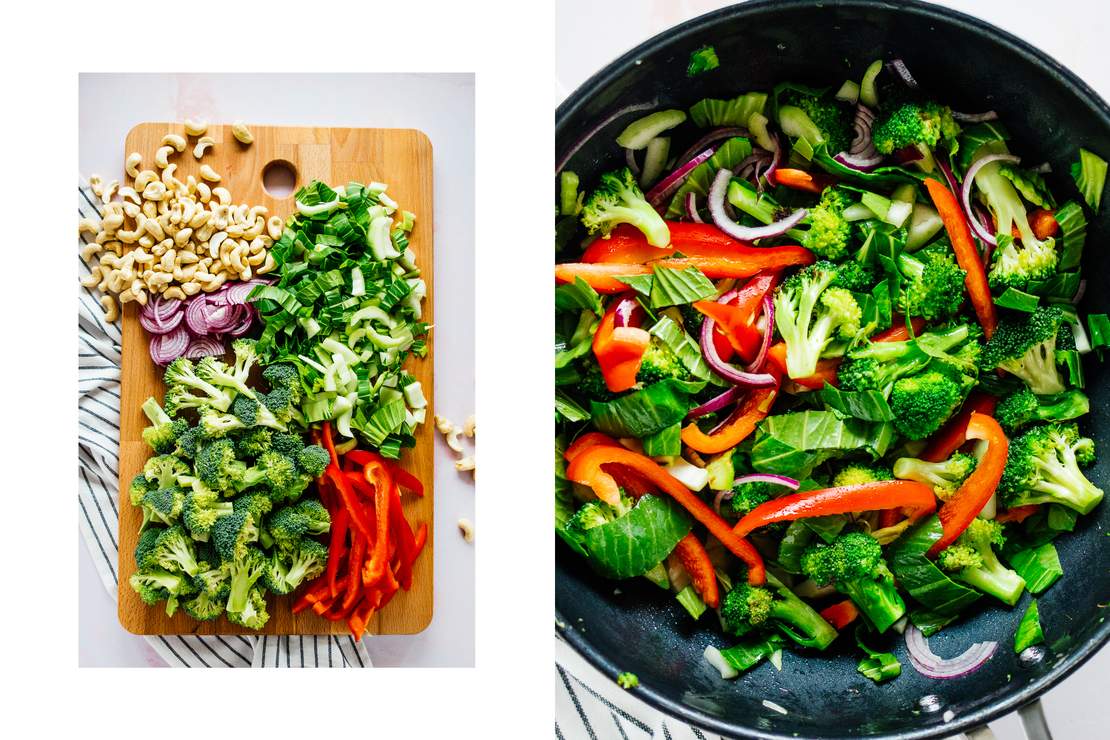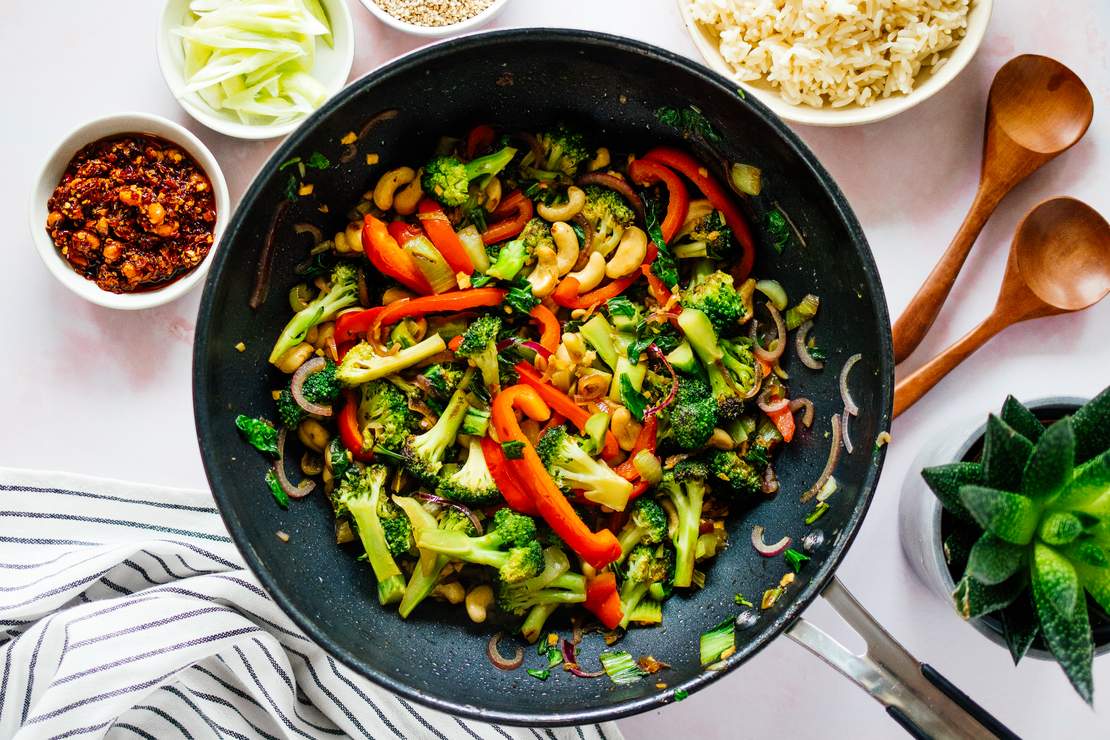 Quick Stir-Fry with Cashew and Rice
Ingredients
For the stir-fry:
400 g (14 oz) broccoli
1 bell pepper
1 bok choy
1 red onion
200 g (7 oz) cashews
vegetable oil for frying
For the sauce:
35 g (1.5 oz) ginger
2 garlic cloves
1 red chili pepper
75 ml (0.33 cup) soy sauce
2 tbsp agave syrup
2 tbsp rice vinegar (or apple cider vinegar)
75 ml (0.33 cup) water
1 tbsp cornstarch
Also:
250 g (1.5 cups) basmati rice
1 scallion
3 tbsp sesame seeds
Instructions
Prepare basmati rice according to package instructions. Usually it's cooked in twice the amount of (lightly salted) water for approx. 20 minutes, or until the water is completely absorbed by the rice. If the rice is still not done, add some more water and let it simmer for a few more minutes.

Rinse broccoli, bell pepper and bok choy under running water. Cut broccoli into florets and bell pepper into strips. Chop bok choy and slice the onion.

Heat vegetable oil in a frying pan over medium and fry broccoli for approx. 5 minutes. Add bell pepper, onion and cashews and fry everything for approx. 8-10 minutes, or until the veggies are browned. Lastly, add bok choy.

While the vegetables are frying, prepare the sauce. Peel and finely chop ginger and garlic. Deseed your chili pepper and cut it into thin rings. In a bowl, combine ginger, garlic, chili pepper, soy sauce, agave syrup, and rice vinegar. Whisk water with cornstarch in a separate bowl, then add the mixture to the sauce as well.

Once the veggies are tender but still firm to the bite, add the sauce to your frying pan (stir again just before you do so, as the cornstarch sometimes separates from the sauce) and let simmer for approx. 2-3 minutes. Remove the frying pan from heat and serve the stir-fry with cooked rice. Thinly slice a scallion and sprinkle it on top along with sesame seeds.