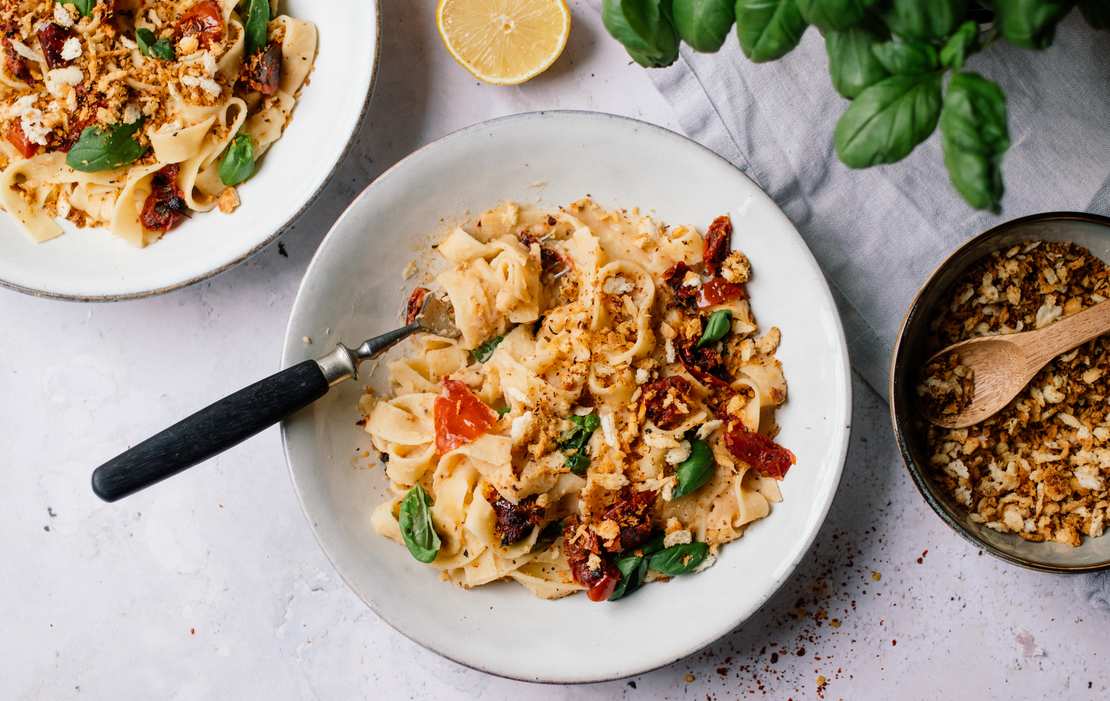 Pasta with Creamy White Bean Sauce and Garlicky Breadcrumb Topping
A creamy vegan pasta sauce made without any plant-based heavy cream? Yes, it's possible. We're pretty sure that most of you would find soy or oat-based heavy cream in your supermarket around the corner, but still, many of you asked us to create more recipes without any substitute products. Therefore, today's fettuccine won't come upon plant-based cream but canned white beans instead. Combined with a crunchy breadcrumb topping and pan-fried sun-dried tomatoes, you might almost feel like you're eating the vegan version of pasta with cream sauce and bacon – just without any complicated ingredients and cooked in 30 minutes.
I first got the idea to try white beans for plant-based cream sauces from Sarah Jampel of Bon Appétit, who published this recipe. So the main ingredient of the sauce are canned white beans, which you should easily get in almost any supermarket. They are already precooked, which saves you a lot of time. They have this wonderful creamy consistency that will help us create the silky texture of the sauce.
After briefly frying the beans along with onions and chili flakes to give them a roasting flavor, all you have to do is to blend them with some of the pasta's cooking water. This adds additional starch as a binding agent to the sauce. Lemon zest and juice provide a slightly tart note that breaks through the creaminess and makes the sauce a bit "lighter" in flavor. You could also mash the white beans if you wanted a slightly chunky sauce, I just personally prefer the blended smooth version. The sauce will thicken fairly quickly when you toss your cooked pasta in it, so I would recommend you to reserve a generous amount of the pasta's cooking water before draining. You can always use this to liquefy the sauce a bit to get the silky, creamy consistency you want.
As tasty as this sauce is, I quickly find it a bit boring to eat it plain without any add-ins, which is why I also pan-fried sun-dried tomatoes. They add some bite but also saltiness to this dish. This time I used semi-dried tomatoes, which are a bit juicier than sun-dried tomatoes – if you see them in your organic store or supermarket, give them a try! The crunchy finish comes from toasted panko breadcrumbs with a bit of garlic. As you know, we always prefer the Japanese breadcrumbs as they are a bit coarser and therefore have more texture to get crispy, but you could also use regular breadcrumbs instead.
Pasta with Creamy White Bean Sauce and Garlicky Breadcrumb Topping
Ingredients
For the pasta:
250 g (9 oz) fettuccine
salt
For the creamy bean sauce:
400 g (14 oz) canned white beans (drained weight: approx. 250 g / 9 oz)
1 onion
1 tsp chili flakes
1 lemon
salt
pepper
vegetable oil for frying
For the crispy panko topping:
50 g (2 oz) panko breadcrumbs (or classic breadcrumbs)
2 tbsp olive oil
2 garlic cloves
salt
pepper
Also:
100 g (3.5 oz) (half) sun-dried onions in oil
basil
Instructions
Peel and finely dice onion, then peel and finely grate or finely chop garlic. Chop sun-dried tomatoes.

Heat a frying pan over medium heat and add sun-dried tomatoes. Since they are preserved in oil, you shouldn't need extra fat to fry them. Fry until slightly charred, then remove from the pan.

After preparing the sun-fried tomatoes, we continue with the crispy topping. Heat olive oil in the same frying pan, then add panko breadcrumbs and toast them for approx. 4-5 minutes, or until golden brown. Add finely chopped (or finely grated) garlic, and keep frying for approx. 1-2 minutes. Remove the frying pan from heat and season the crispy panko topping with salt and pepper to taste.

For the pasta, bring a pot of salted water to a boil. Parallelly, heat vegetable oil in another pot over medium heat. Start by frying diced onion with chili flakes for approx. 3-4 minutes, or until translucent. Add drained white beans and heat for approx. 3-4 minutes to get them slightly browned.

Once the water is boiling, add pasta and cook them according to package instructions until al dente. After half of the cooking time, skim off approx. 250 ml (1 cup) of the cooking water and add it to the pot of white beans. Remove the pot from heat and use an immersion blender to blend the white beans and pasta water until creamy. Add the pot back to your stove and season the sauce with salt, pepper, lemon juice, and lemon zest to taste. Keep the sauce simmering until the pasta is al dente.

Once the pasta is done, directly add it to the sauce and toss to coat. Add as much extra cooking water as needed to get a silky sauce that coats the pasta. As the white beans will thicken the sauce rather quickly, be generous. Before serving, season to taste once more.

Add the pan-fried tomatoes and a handful of fresh basil leaves to the pot and stir to combine. Serve your pasta and sprinkle with some of the crispy panko topping, plus more fresh basil leaves.