Homemade (Spinach) Tagliatelle with Mushroom Stroganoff
When we prepared homemade pasta in the past, we used to patiently knead the dough by hand, let it rest, and then rolled it out with a rolling pin or a stainless steel pasta machine. However, we always saved this little "project" for the weekend to have enough time for it, while for quick dinner options during the week we preferred dry packaged pasta.
This changed during the last weeks because we were invited to test out the pasta maker by Philips. Surely some people will now say that there's no space for any extra appliances in their kitchens anymore, but if you like to prepare and enjoy homemade pasta on a regular basis, it's really worth making it fit somehow. And let's look at it this way: at least you'll save the space for long, rolled out pasta sheets with this gadget.
Our goal was to prepare homemade tagliatelle with mushroom stroganoff – a variation of the classic Russian dish "beef stroganoff". The original recipe has been adjusted over time, but its characteristic feature is still a sour-ish sauce with sour cream, mustard, and onions. We replaced the beef with mushrooms and you can basically pick your favorite mushrooms for this or use a mix of several varieties. But while buttom mushrooms are certainly one of the most popular choices, we highly recommend to use oyster mushrooms for this recipe. Chopped into larger pieces they'll keep their almost meaty consistency which is great for the stroganoff.
Although we preferred a 'wider' type of pasta for this recipe which would allow a lot of the sauce to cling on to, we also tried out some of the other pasta shapes before. The pasta maker comes with eight shaped disks that can be used to prepare eight different shapes of pasta, from spaghetti to lasagna sheets. And although we think that preparing pasta dough by hand is meditative, we were quite impressed by how convenient pasta making can also be. Weighing the ingredients is done by an integrated digital scale, which also displays directly how much liquid needs to be added. Once the dough is kneaded you will get fresh pasta for 2-3 servings. The whole process takes less than 10 minutes.
As I said, we were a bit more amazed than we've expected before. It has already happened to us (and maybe to you as well) that our pasta dough somehow didn't really turned out good. The difficulties can start when you leave out the egg but it gets even more complicated when you want to make gluten-free pasta (e.g. from chickpea flour), or when you want to try out colorful pasta by adding spinach or beet juice. And in exactly these situations it can be quite handy if technology helps you to make sure that your dough will work out anyway.
So we highly encourage you to test the pasta maker yourselves to prepare fresh pasta – and of course it doesn't only taste great with mushroom stroganoff but also with other sauces such as our vegan bolognese, vegan cheese sauce, pesto, or else. __Use our code "zuckerjagdwurst15"__to get a__15 % discount on your order in the __ Philips Online Shop. This code is available for a week from today on.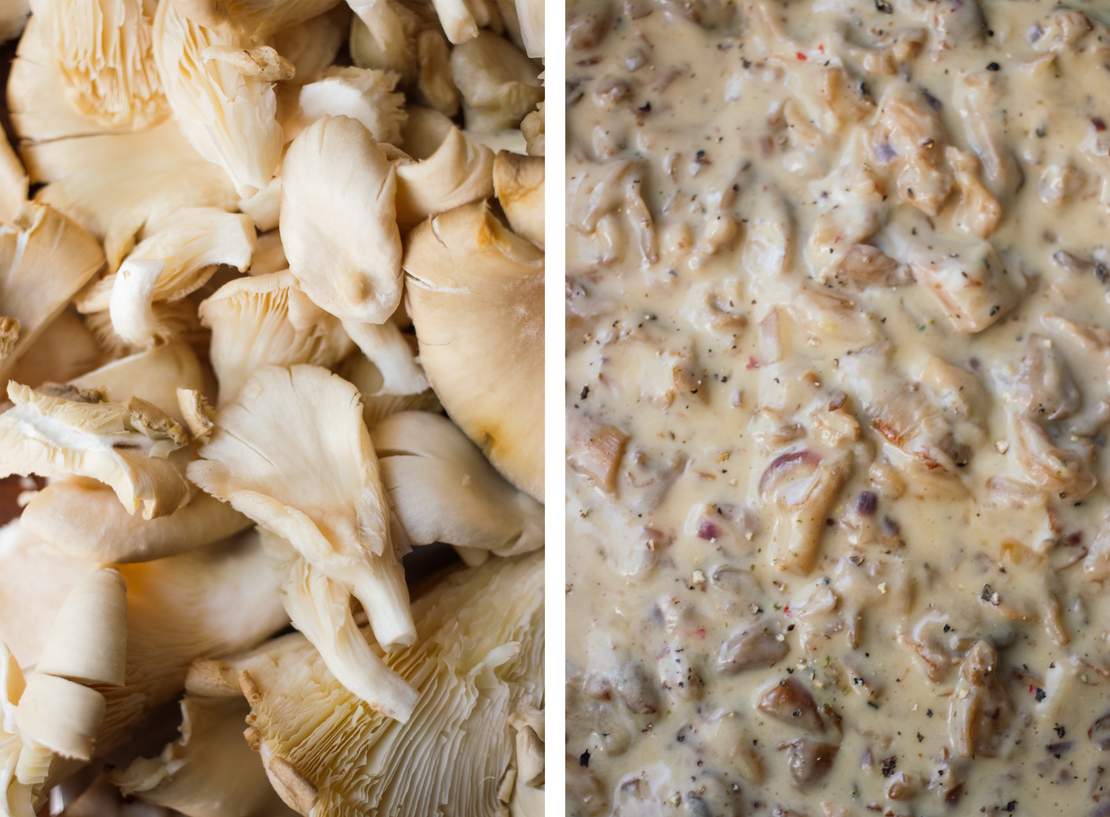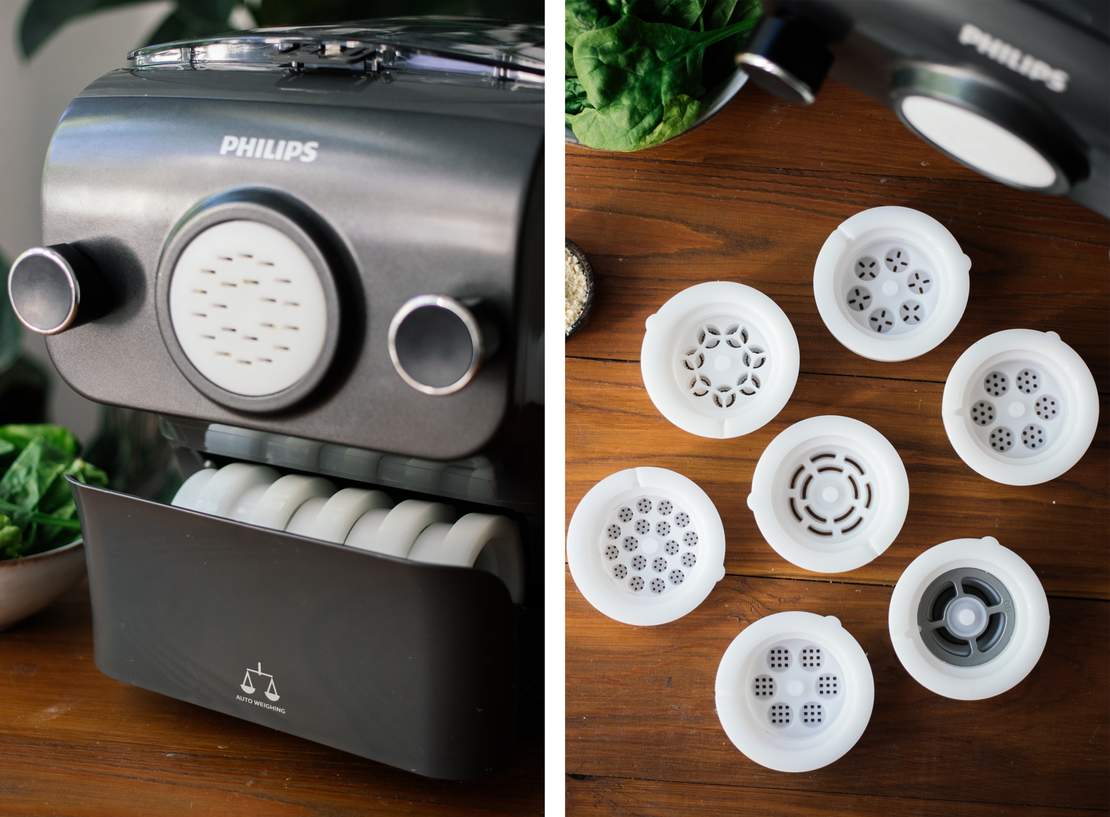 Homemade (Spinach) Tagliatelle with Mushroom Stroganoff
Ingredients
For the plain pasta:
200 g (1.25 cup) semolina
50 g (0.33 cup) flour
100 ml (0.4 cup) water
For the spinach pasta:
250 g (2 cups) flour
100 ml (0.4 cup) spinach juice (from approx. 400 g / 14 oz juiced fresh spinach)
For the mushroom stroganoff:
400 g (14 oz) fresh mushrooms (e.g. oyster mushrooms and button mushrooms)
2 onions
1 garlic clove
2 tbsp flour
300 ml (1.25 cup) vegetable stock
1 tbsp mustard
5 tbsp vegan sour cream (or vegan cream cheese)
salt
pepper
parsley for serving
vegan Parmesan cheese for serving
vegetable oil for frying
Instructions
Turn on the pasta maker and select the program "plain pasta/noodle " (without eggs). For the plain pasta, first add semolina and flour to the chamber of the pasta maker – the ingredients are directly measured and you can doublecheck the exact weight on the integrated digital scale. Close the chamber lid. The needed amount of liquid is now displayed. Press start and slowly pour in the water. The dough is kneaded for 3 minutes. Once it's finished mixing, your pasta will be extruded and you can cut in into the desired length. Wait until all of the dough is extruded.

Afterwards, clean the pasta maker and set it back together. For the spinach pasta, add flour to the chamber and close the lid. Again, the needed amount of liquid is displayed. Start the mixing process and slowly pour in the spinach juice. The dough is kneaded for 3 minutes and then extruded. Cut it into the length you need. Wait until all the dough is extruded. Set aside both fresh pasta types while you prepare the sauce.

For the mushroom sauce, clean and chop all mushrooms. Peel and finely dice onions and garlic.

Heat vegetable oil in a large frying pan. Fry diced onion until translucent. Add mushrooms and keep frying for approx. 10 minutes, or until the mushrooms are browned. Add garlic and fry for another 1-2 minutes.

Dust the mushroom mixture with flour and cook for approx. 30 seconds. Slowly add vegetable stock and stir constantly to avoid any lumping. Add mustard and vegan sour cream, and stir to combine. Season the mushroom stroganoff with salt and pepper to taste. Keep the sauce warm over low heat until the pasta is cooked.

Bring a pot of salted water to a boil and cook fresh pasta until al dente. Before draining reserve some of the cooking water.

Add cooked pasta directly to the sauce in your frying pan. Toss to coat and add as much of the cooking water as needed to create a silky sauce. Serve tagliatelle and mushroom stroganoff sprinkled with chopped parsley and vegan Parmesan cheese, if desired.