Dip it! Mango Mustard, Strawberry Ketchup & creamy Onion Dip
Grilled soy steaks ready? Salads are served? Roasted some bread? That's all fine but only half as delicious if you're missing out on good dips! Everyone thinking of ketchup and mustard as "just mandatory sides", has no excuse anymore to spice things up a little. Those three dips will turn your guest's eyes heart-shaped and we can spoil that Isa spooned (!) that onion dip when we prepared it for the first time.
Vegan Mango Mustard
Ingredients
200 g (7 oz) ripe mango
2 tbsp mustard
1 tbsp sweet mustard
1/4 jalapeno
1 tsp mustard seeds
1 tsp lemon juice
1 tbsp agave nectar
pinch of salt&pepper
Instructions
Peel mango, cut it into small pieces and purée in a high container.
Add all remaining ingredients and keep puréeing it until everything is a creamy unity.
Now you can season your mango mustard regarding your taste. You can prepare it sweeter (agave nectar), spicier (jalapeno) or "more mustard-like" (mustard!).
Afterwards fill it in a jar and keep it cool before serving.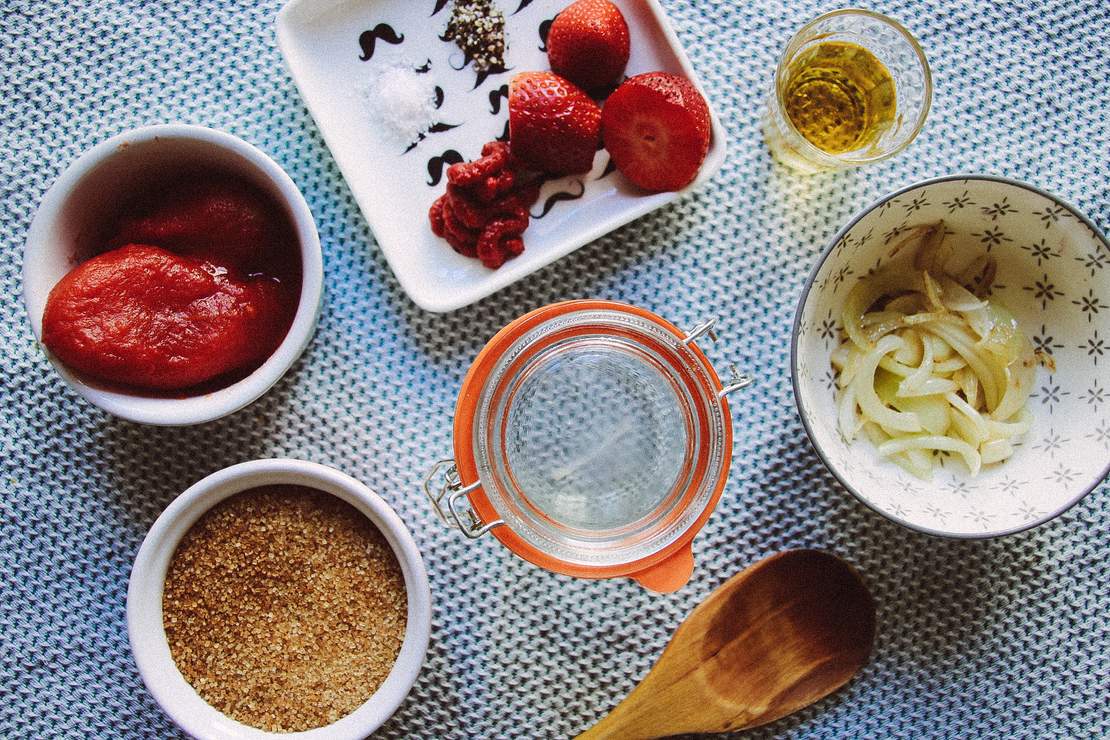 Creamy Strawberry Ketchup
200 ml (0.8 cup)
15 minutes
Ingredients
7 strawberries
150 g (5.3 oz) diced tomatoes (from a can)
2 tbsp tomato purée
1 garlic clove
1/2 onion
1 tbsp brown sugar
2 tbsp oil
2 tbsp cider vinegar
1 tsp salt
1 tsp pepper
1 tsp paprika
1 tsp ginger
1 tsp cinnamon
1 tsp curry
1 tsp cayenne
3 tbsp canning sugar 2:1
Instructions
Peel and dice onions and garlic. Heat up some oil in a pan and roast onion and garlic glazed. Add tomato purée and spices, mix it carefully and heat for 1-2 more minutes.
Wash strawberries, cut off the stipe and purée them in a jar for about 10-20 seconds.
Afterwards add dices tomatoes of a can, onion-garlic-tomato-purée-mix, vinegar, brown sugar and oil and mix everything until it's smooth.
You can season some more now if you like.
Put everything in a small pot, add canning sugar and let it boil up, afterwards keep it simmering for 3-5 more minutes.
Fill it in a large bottle or jar when it's still hot and let it cool.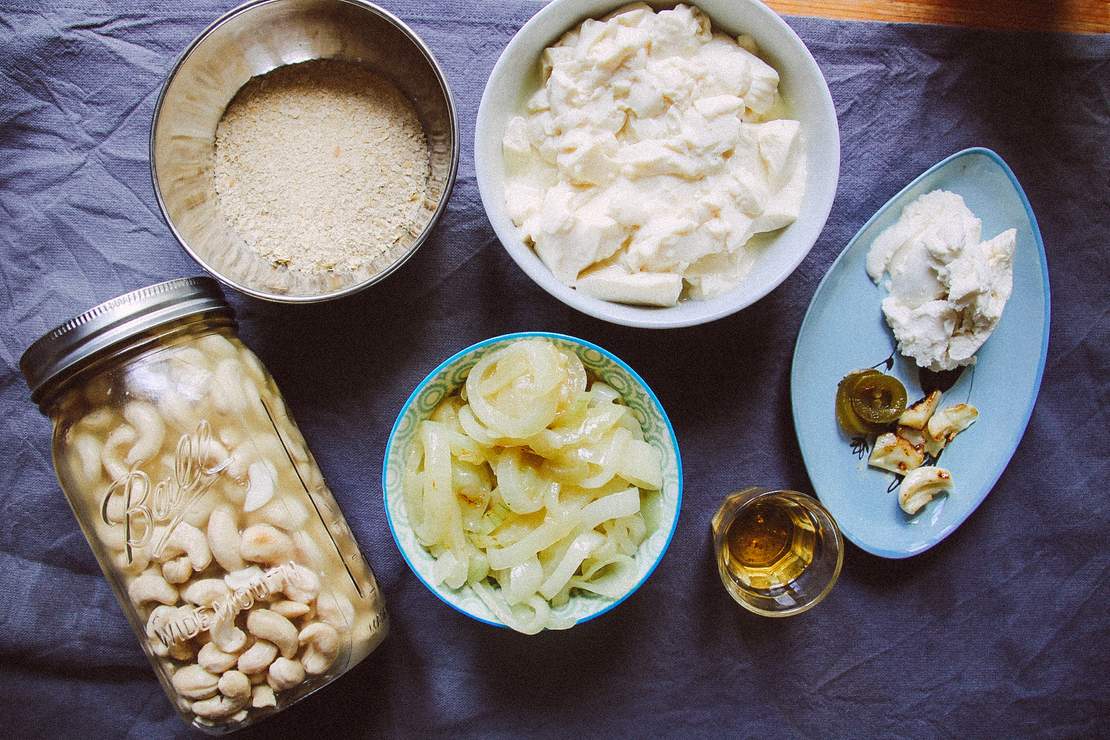 Vegan onion dip
Ingredients
4 large, yellow onions
2 garlic cloves
1 tbsp plant-based oil
1 tbsp vegan butter
2 tbsp agave syrup
400 g (14.1 oz) silken tofu
100 ml (0.4 cup) plant-based cream for cooking
50 g cashews (1.7 oz), soaked in warm water for at least 30 minutes
1 tbsp cider vinegar
2 slices of jalapenos
3 tbsp nutritional yeast
1 tsp paprika powder
1 tsp cayenne
salt & pepper
Instructions
Peel onions and garlic. Cut onions in thin rings and slightly press garlic with the back of a knife but keep it like this as a "whole" clove. Heat 1 tbsp oil and 1 tbsp vegan butter in a large pan and sauté onions and garlic until they are glazed.
As soon as they turn glazed, add a shot of agave nectar and let it caramelize for some minutes. They should NOT get dark but stay light.
Take a mixer and throw in soft tofu, cashews, vegan sour cream or soy cream, nutritional yeast, jalapenos and cider vinegar. Mix it until it's a smooth unity.
Now add about 3/4 of your onion-garlic-mix (put the rest beside for later). Start mixing again until everything is a delicious mash.
Season with salt, pepper, paprika and cayenne and top with the remaining fried onions.
More Vegan Dips & Spreads