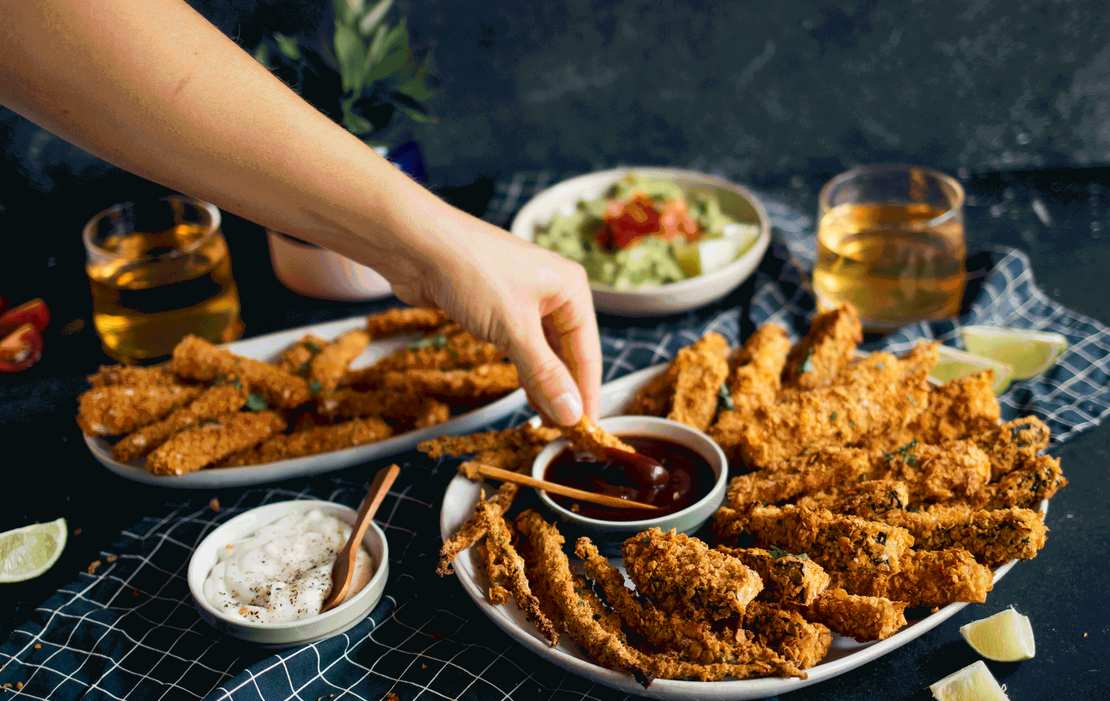 We love anything that is coated with a crispy breading, whether it's vegan cutlets, vegan fish fingers or vegan mozzarella sticks. A crispy breading simply takes every kind of food to the next level, we would bread ourselves if we could! So today, we are leveling up our old oven vegetables with a crunchy cornflakes breading.
For the recipe, we used zucchini, eggplant, carrots, and green beans, but you could also use other veggies such as sweet potato, onion, beetroot, or asparagus. You can also vary the dips and serve the vegetable sticks with a vegan yogurt-herb dip or a vegan garlic dip.
We're very happy that barnhouse supported us and this recipe! barnhouse is a pioneer in the production of organic crunchy cereal and is based in Bavaria. We used their Cornflakes Original for our breading. The cornflakes are made from corn, produced without any palm oil, and are 100% controlled organic. The breading sticks well to the vegetable sticks and becomes wonderfully crunchy.
Their cornflakes are rolled and not extruded. Rolling is a traditional process that is much more gentle and also makes a big difference in taste. During this process, the starch is broken down, which helps with digestion. The starch structure of the corn kernel is preserved – because of this, we stay full for a longer time. You can find barnhouse products in organic markets or directly purchase them in their online shop.
Crispy Veggie Sticks
4 servings (2 baking trays)
90 minutes
Ingredients
veggies
100 g (3.5 oz) princess beans
1 zucchini
1 eggplant
2 carrots
breading
250 g (2 cups) spelled flour
400 ml (1.8 cups) plant-based milk
500 g (17.6 oz) corn flakes (e.g., from barnhouse)
20 g (0.7 oz) nutritional yeast
2 tsp salt
2 tsp pepper
2 tsp garlic powder
2 tsp paprika powder
dips
vegan mayonnaise
marinara dip
ketchup
bbq sauce
avocado
lime
salt&pepper
Instructions
Wash the zucchini and eggplant, trim the ends, cut them in half crosswise, and cut each piece into lengthwise wedges.
Wash the carrots, trim the ends and halve or quarter lengthways.
Wash the beans and trim the ends.
For the breading, mix the cornflakes with salt, pepper, garlic powder, paprika powder, and nutritional yeast. Place the cornflakes breading in a deep plate.
Pour spelled flour into a second plate and add plant-based milk to a third plate.
Preheat the oven to 200°C circulating air and cover two baking trays with baking paper.
Coat the veggie sticks at first with plant-based milk, then with flour, then again with plant-based milk, and in the end with the cornflakes breading.
Place the veggie sticks on a baking sheet and bake for 20 - 25 minutes at 200°C in the oven.
In the meantime, prepare the toppings and sauces. Halve one avocado for guacamole, remove the stone and crush the flesh with a fork. Add the juice of half a lime and season with salt and pepper.