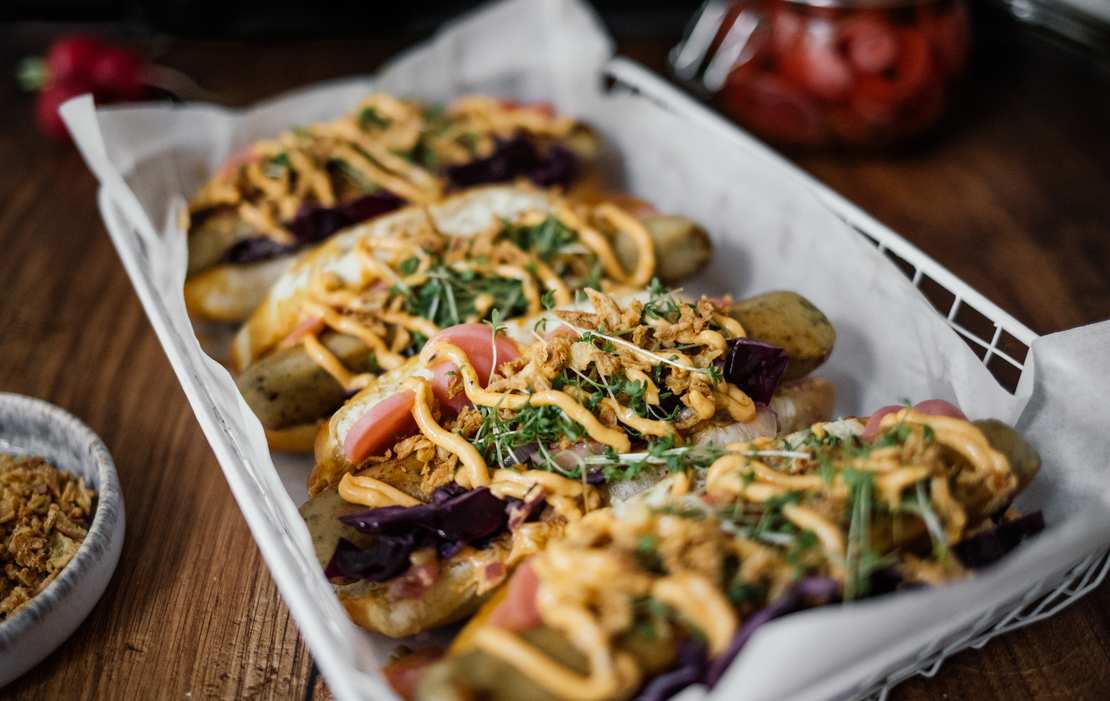 Bavarian Hot Dogs with Vegan "Obazda Cheese" Mayonnaise
Admittedly, I've never had contact with the Bavarian cuisine or the so-called beer garden culture before, so I could barely imagine what should end up on a plate of "Bavarian hot dogs." While the Bavarians have their "Leberkäse" sandwiches, we have fish buns at home, and every South German would roll their eyes walking past a beer garden sign in Northern Germany.
Fortunately, we love to experiment with our recipes from time to time. If we would open a "Zucker&Jagdwurst" beer garden, there would be lots of vegan German classics of course but also several dishes designed with our creativity, which you'll not find in a classic beer garden.
This is exactly how we created the recipe for the Bavarian hot dogs. We wanted to ensure that you'll have the whole experience in one bite. Ideally, the vegan sausage, for which we also have a wonderful homemade recipe, ends up in a pretzel breadstick. If you prefer the easier version, check out our shopping guide on vegan BBQ sausages – you'll definitely find the right alternative there.. But that's not it – the hot dogs will be topped with a fruity red cabbage salad and pickled radishes.
But now be prepared for the best: As a sauce, topping, or dipping, we've chosen a vegan mayonnaise with the typical German "Obazda" cheese flavor. Some people might think we've gone completely crazy, but let me tell you: it's worth it. About half of the test eaters in the office had already eaten the original "Obazda" and helped me with advice and support to creat a dip that is not as coarse as "Obazda" and tastes slightly like mayonnaise, but still has the, as confirmed to me, typical cheesy taste. Wonderful, that's how it should be!
You can prepare all the ingredients the day before so that everything's ready for your relaxed Bavarian hot dog party. In the meantime, we continue to dream of our own beer garden ...
Bavarian Hot Dogs with Vegan "Obazda Cheese" Mayonnaise
Ingredients
For the hot dogs:
6 pretzel breadsticks
6 vegan sausages (the recipe to make them yourself can be - found here)
fried onions
garden cress
For the pickled radishes:
1 bunch radishes
150 ml (0.66 cup) herb vinegar
150 ml (0.66 cup) water
5 tbsp sugar
1 tbsp mustard seeds
1 tsp salt
1 tsp peppercorns
1 tsp dried herbs of your choice
fresh dill
For the red cabbage salad:
200 g (7 oz) red cabbage
1 apple
1 onion
20 g (0.7 oz) sunflower seeds
2 tbsp sunflower oil
1 tbsp vinegar
2 tbsp agave syrup
1 tsp mustard
salt
pepper
For the vegan mayonnaise:
80 g (2.8 oz) vegan camembert
100 g (3.5 oz) vegan cream cheese
125 g (4.4 oz) vegan mayonnaise
2 tbsp nutritional yeast
1 tbsp sweet paprika
1 tsp caraway seeds
salt
pepper
Instructions
Wash and thinly slice the radishes. Add and push them into a jar, leaving as little space as possible. Bring vinegar, water, sugar, mustard seeds, peppercorns, herbs, and salt to a boil.. Pour the warm mixture over the radishes until they are covered. Add the leftover spices from the pot on top and seal the jar immediately. Now let the radishes infuse for at least 24 hours.
Tip: If you don't have so much time and want to use the radishes spontaneously, just let them soak for as long as possible.
For the red cabbage salad, cut the cabbage into strips and toast the sunflower seeds in a fat-free pan. Finely dice the apple and onion and sauté both in a pan for approx. 2-3 minutes, or until the apples have softened slightly.

For the dressing, mix oil, vinegar, agave syrup, and mustard, and season with salt and pepper. Mix the dressing with red cabbage, toasted sunflower seeds, and the apple-onion mix.

Bake the pretzel breadsticks in the oven according to package directions and fry the vegan sausages in a pan until golden brown.

In the meantime, prepare the vegan "Obazda" mayonnaise.Add vegan camembert, cream cheese, mayonnaise, nutritional yeast, paprika, and caraway seeds to a bowl and stir to combine. Season to taste with salt and pepper.

Cut the pretzel sticks almost all the way open and fill them with the vegan "Obazda" mayo, red cabbage salad, pickled radishes, and vegan sausages in the order of your choice. Top with fried onions and garden cress.