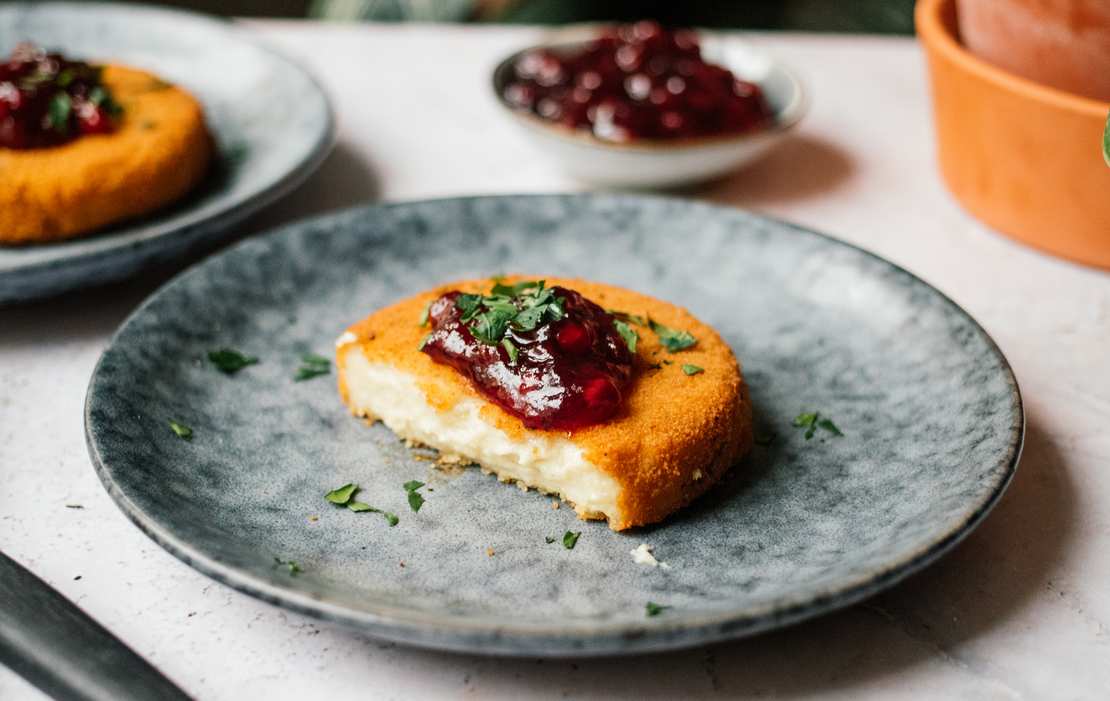 Although I wasn't a fan of camembert when I was vegetarian, baked camembert was one of these things I treated myself to every now and then. I still remember how special the moment was when you removed the cheese from the oven, which seemed as soft as the coziest pillow in the world. Once cut, the delicious creamy cheese oozed out.
What I don't remember is what I actually ate with this baked cheese. And to be honest, I still don't really get it and think of baked camembert as a "guilty pleasure snack" or a dinner option for really lazy evenings that you just treat yourself to. A dollop of cranberry jam, and that's it, right? For good conscience, I'd maybe throw together a quick salad with lamb's lettuce or spinach and a few thin slices of radishes and onion. Well, I'm really excited to know how you eat or have eaten baked camembert, so please leave a comment below this recipe to tell me.
So, how do you prepare vegan baked camembert? We stuck to one of our tried and tested basic recipes that you might already know from our vegan mozzarella sticks. It all starts with soaked cashews, which are blended with water, tapioca starch, nutritional yeast, garlic powder, apple cider vinegar, mustard, salt, and some turmeric for color. The tapioca starch is really important here and can't be substituted because it's the only way the mixture, which is heated in the next step, will get the chewy consistency we want.
To form the cashew mixture into camembert shapes, we used round silicone molds with a diameter of 8.5 cm / 3.5 inches, which is close to the size of frozen baked camemberts from the supermarket. However, if you don't have silicone molds, you could also line baking dishes or bowls with plastic wrap and spread out the cashew mixture in them. Depending on how big they are, you may get more than four vegan baking camemberts out of this recipe. After the cashew patties have firmed up a bit in the freezer, it's time to bread them. This time we decided to use classic breadcrumbs (normally, we love Japanese panko breadcrumbs), as they are closer to the original.
When preparing the vegan baked camemberts, you can choose between pan-frying or deep-frying them. Although they are called "baked camembert", we were always dissatisfied with our test results from the oven. On the one hand, it takes much longer than preparing them in a frying pan, and on the other hand, the breading doesn't really get crispy or golden brown in the oven. The best result was definitely achieved by deep-frying the cashew camemberts, but if you don't fancy that, you'll definitely be happy with the pan-frying method – just feel free to use a little more oil than usual for this.
Baked Vegan Camembert
4 vegan baked Camembert
40 minutes (+ soaking time + cooling time)
Ingredients
For the camembert:
100 g (3.5 oz) cashew nuts (soaked overnight)
200 ml (1 cup) water
60 g (2.25 oz) tapioca starch
2 tbsp nutritional yeast
1 tsp garlic powder
0.25 tsp turmeric
0.5 tsp salt
0.5 tsp mustard
1 tsp apple cider vinegar
For breading:
50 g (0.33 cup) flour
100 ml (0.5 cup) plant-based milk
100 g (3.5 oz) breadcrumbs
0.5 tsp paprika
1 tsp dried oregano
salt
For serving:
Instructions
Soak cashews overnight in water, which will soften them and helps to make blending easier. If you're in a hurry, just let them soak for as long as possible.

Drain soaked cashews and add them to a liquid measuring cup along with water, tapioca starch, nutritional yeast, garlic powder, turmeric, salt, mustard, and apple cider vinegar. Blend until smooth using an immersion blender or a food processor.

Prepare a bowl of ice-cold water. Transfer the creamy cashew mixture into a small saucepan. While stirring constantly, heat the mixture until it's almost doughy and pulls off the sides of the pot after a few minutes. At this point, remove the pot from heat.

Use an ice cream scoop to form large scoops of the cashew mixture. One at a time, directly transfer them to the bowl of ice-cold water. Let it rest there for a second, then transfer it to the silicone molds (we opted for round molds with a diameter of 8.5 cm/3,35 inches. If you don't have a silicone mold, you could also line a similar-sized baking dish or bowl with some plastic wrap. Repeat this step with the remaining cashew mixture until you've filled at least 4 molds. Depending on the size, the cashew mixture may be enough to fill even more molds. Press the cashew mixture gently inside the molds and smooth out the top.

Freeze the cashew mixture for approx. 30-60 minutes, or until they become a bit firmer but not frozen solid.

In the meantime, prepare three bowls for breading: fill one with flour, one with plant-based milk, and the third one with a mix of breadcrumbs, dried oregano, paprika, and salt. Remove cashew cheeses from the freezer. Dredge them in flour first, then transfer them to plant-based milk, and toss them in the breadcrumb mixture until they are covered all over. To get an even thicker breading, dip them once more in plant-based milk, then cover them with breadcrumbs for a second time. Repeat this step with all cashew cheeses, then transfer them to a plate and freeze them for another 30 minutes.

Either heat some vegetable oil in a frying pan to fry the cashew cheeses from both sides until crispy and golden brown, or deep-fry them in hot oil, which will make them the crispiest. Serve baked vegan camembert with cranberry jam and finely chopped parsley on top.
Tip: Although they are called vegan "baked camemberts," I wouldn't recommend baking them in the oven. When I tested this recipe, the breading didn't get as crispy and golden brown in the oven as it did in the frying pan.
More Plant-Based Cheese Alternatives