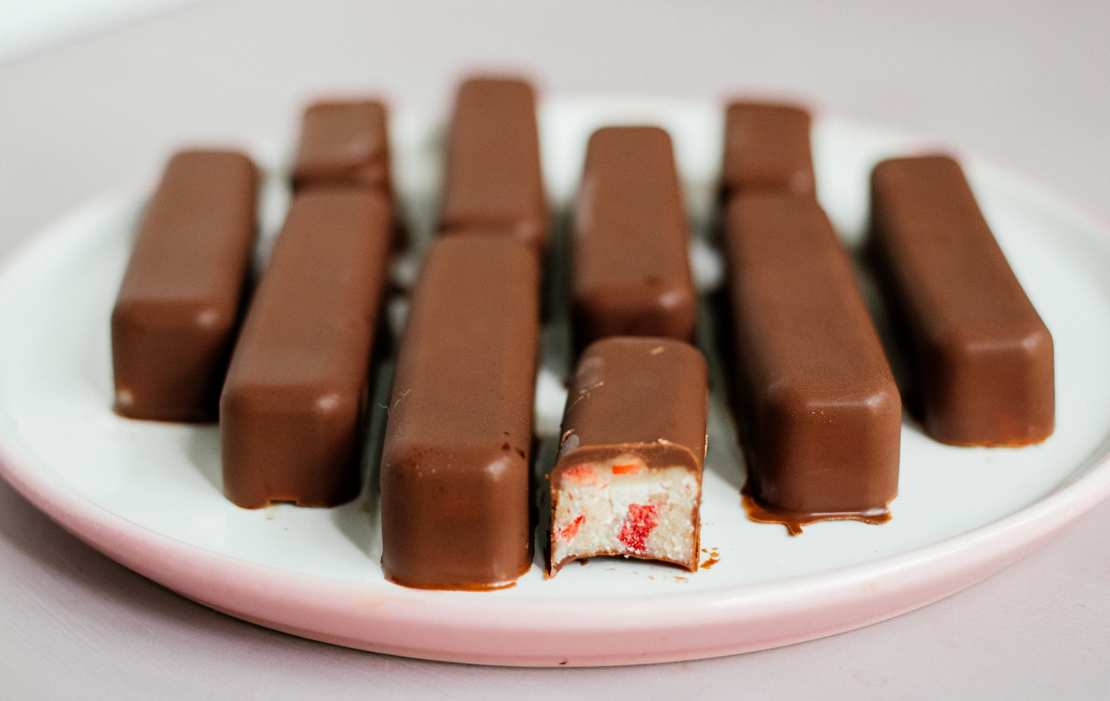 Vegan "Yogurette" (Strawberry Chocolate Bars)
Make a wish: In our series "Make a wish" we develop recipes to make your wishes come true - whether it's about vegan french toasts or doughnuts. If you also have a recipe that we should cook for you, send us a quick mail to hello@zuckerjagdwurst.com. Until then, find all your previous wished recipes here.
I'm pretty sure there has never been a recipe that I tested as often as this one. Yogurette are chocolate bars, and the classic one has a yogurt and strawberry filling. It appeared on our list for our category "Make A Wish" when we asked for new recipes you wish for on Instagram, and maybe it was the dusty memory that I used to like Yogurette that made me decide to take over the project.
I'd ask myself "WHY??" in the following weeks quite often. After all, I'm the hearty part of the blog, and I don't even like to eat too many sweets. Why, oh why did I think I could make a homemade vegan version of this chocolate bar?
Since I didn't want to disappoint you, I stayed strong though. The first tests with plant-based yogurt failed completely as the filling wouldn't firm up, no matter how much starch, agar-agar, or else I added. Then we received a helpful tip via Instagram from a woman who works in the business. Guess what, even the original yogurette isn't made with real yogurt, but only uses powder. Of course. But that can't be our solution, right?
I felt like Claire of Bon Appétit who regularly makes homemade versions of well-known snacks on "Gourmet Makes". She'd probably succeed way faster and better than me, but sorry, we're Zucker&Jagdwurst, and I'm only Julia, not Claire. But what I've learned from her is to read ingredient lists carefully, so this is what I did. I read through some ingredient lists from existing vegan alternatives for this chocolate bar and I "discovered ": almond flour.
Since plant-based yogurt is no option, we went for a mixture of vegan white chocolate and cocoa butter, thickened with almond flour and flavored with strawberry jam. Covered in a thin chocolate layer and combined with some freeze-dried strawberries, I think we could get as close as possible for now.
Stupidly, I've lost my appetite for Yogurette somehow...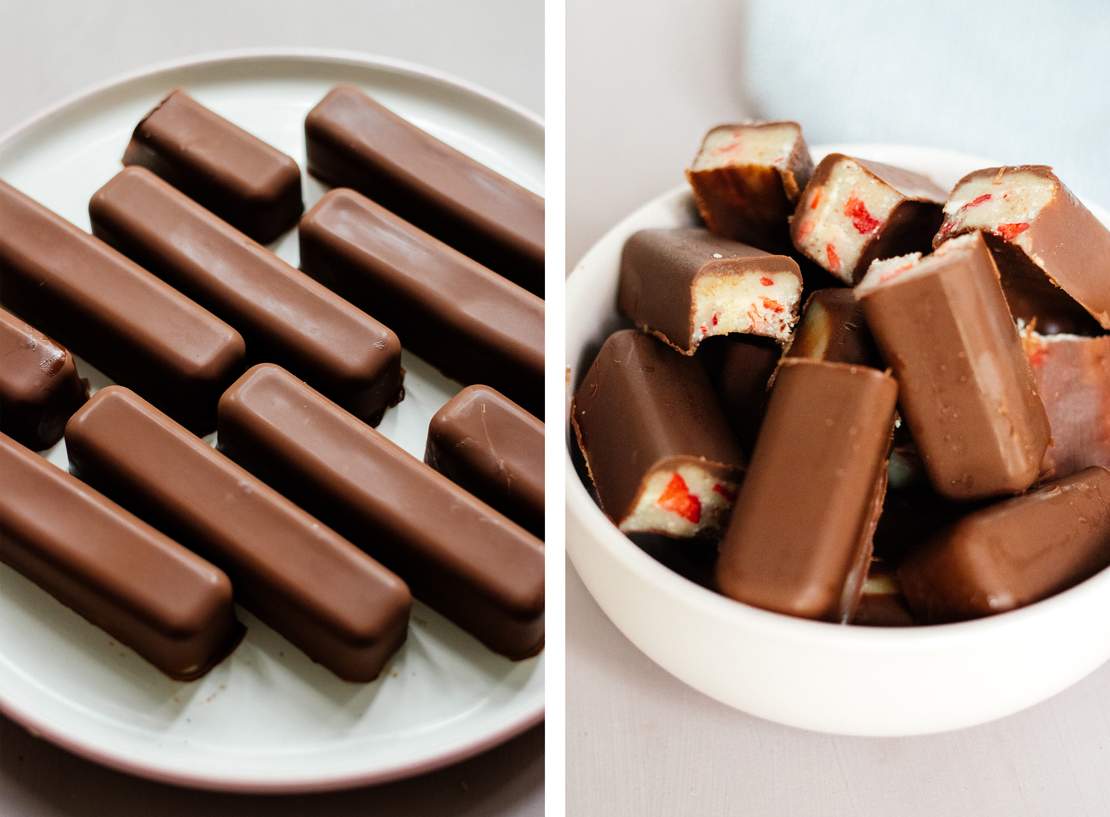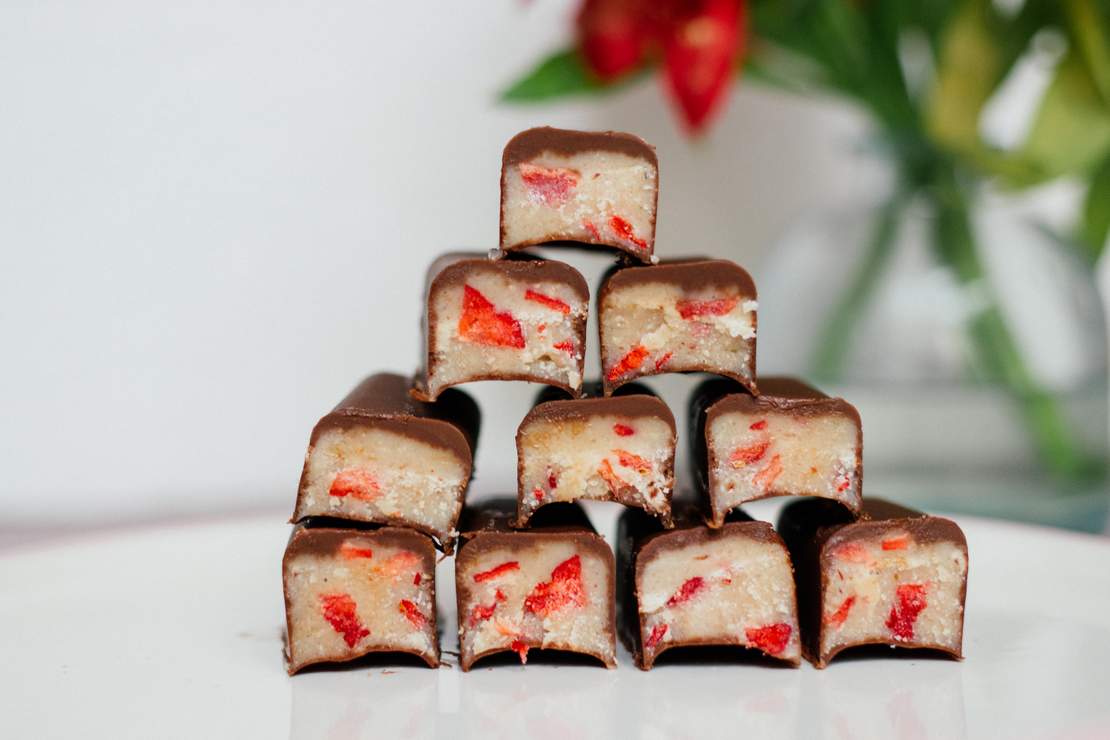 Vegan "Yogurette" (Strawberry Chocolate Bar)
10 chocolate bars
30 minutes (+ time to firm up)
Ingredients
200 g (7 oz) dark chocolate
5 tsp coconut oil
100 g (3.5 oz) white vegan chocolate
2 tbsp cocoa butter
2.5 tbsp almond flour
2-3 tsp strawberry jam
10 g (0.33 oz) freeze-dried strawberries
Instructions
Chop the dark chocolate and add it to a heatproof bowl along with the coconut oil. Melt over a pot with simmering water. The chocolate should be runny to get a nice, thin outer layer of the chocolate bar.

Add approx. three-fourths of the melted chocolate to your molds and make sure to cover them from all sides. Them flip the molds so the surplus chocolate can easily runoff. You can save this part of the chocolate and use it afterward for the top layer of the chocolate bar. Transfer the chocolate covered molds to the freezer while you prepare the filling.

Finely chop freeze-dried strawberries and set aside. Chop vegan white chocolate and add it to a heatproof bowl along with cocoa butter. Melt it over a pot with simmering water, then add strawberry jam and stir to combine. Remove from heat and stir in almond flour and chopped strawberries. Add more strawberry jam to taste.

Remove the molds from the freezer and fill them with the white chocolate mixture. Let the filled molds rest in the fridge for approx. 10 minutes to firm up a bit. In the meantime, melt remaining dark chocolate again, if needed. Spread a thin layer of the dark chocolate on top of the filling, then let it rest in the fridge or freezer until the chocolate and strawberry bars are firm and ready to be eaten!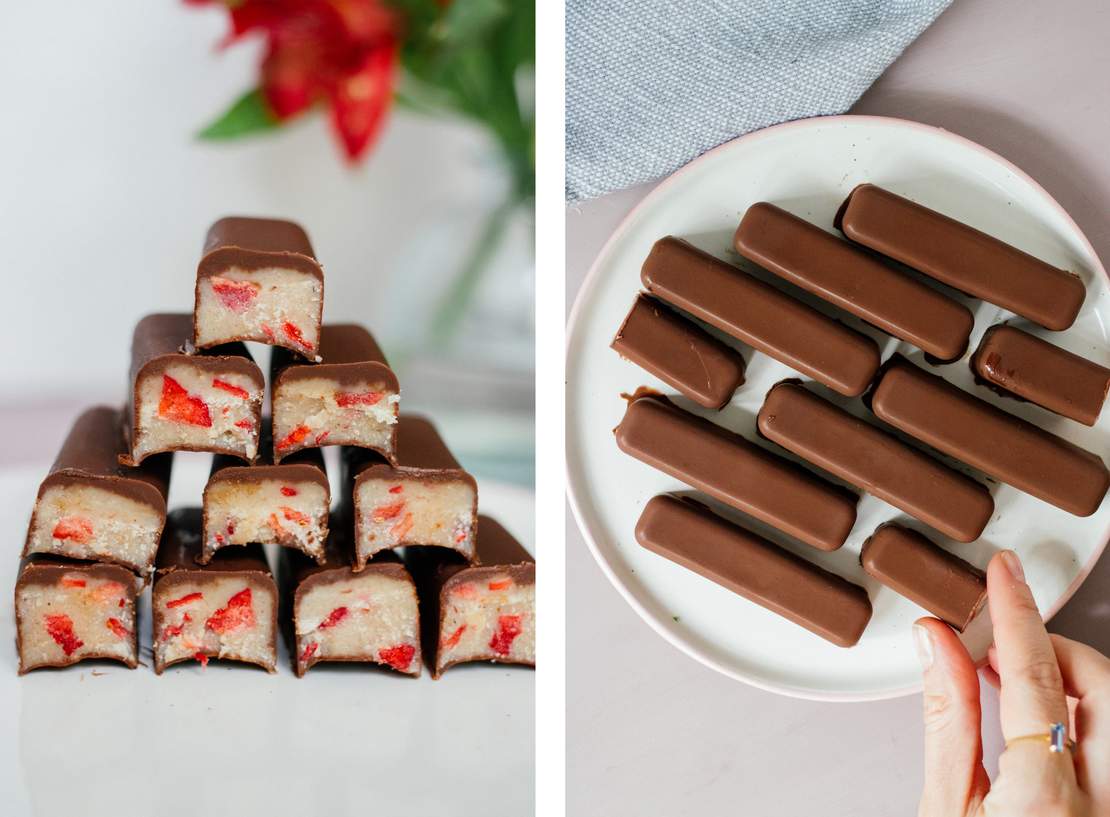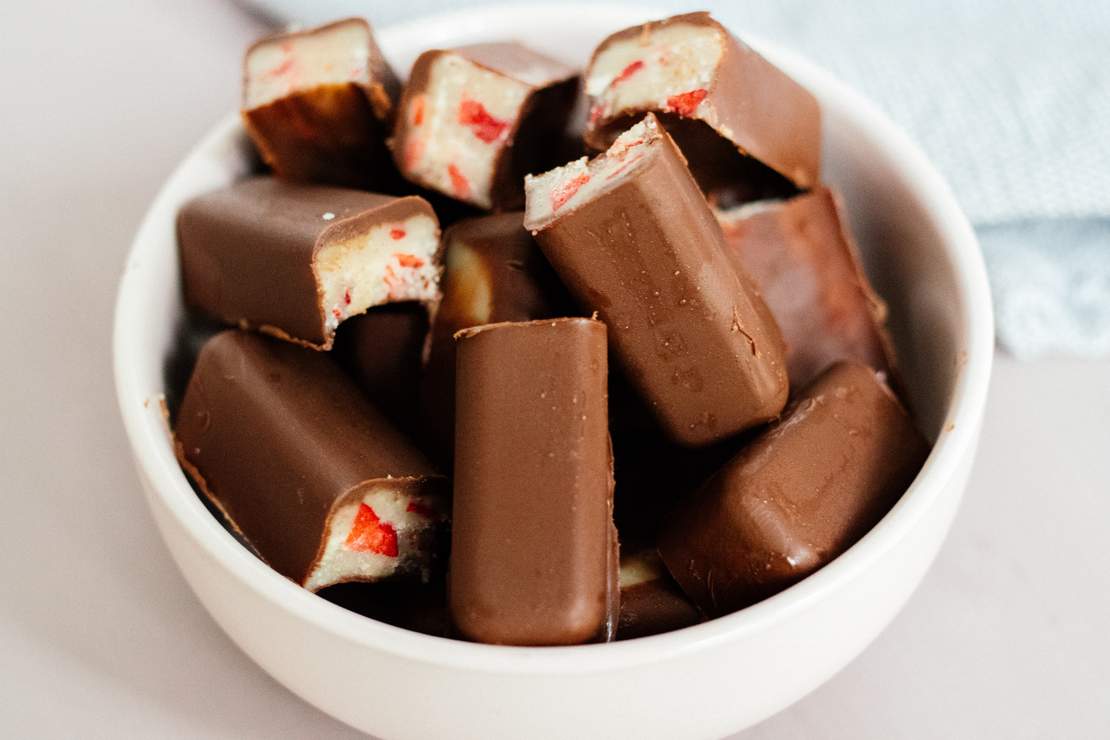 More Vegan Chocolate & Sweets Recipes and Plant-Based Copy Cats