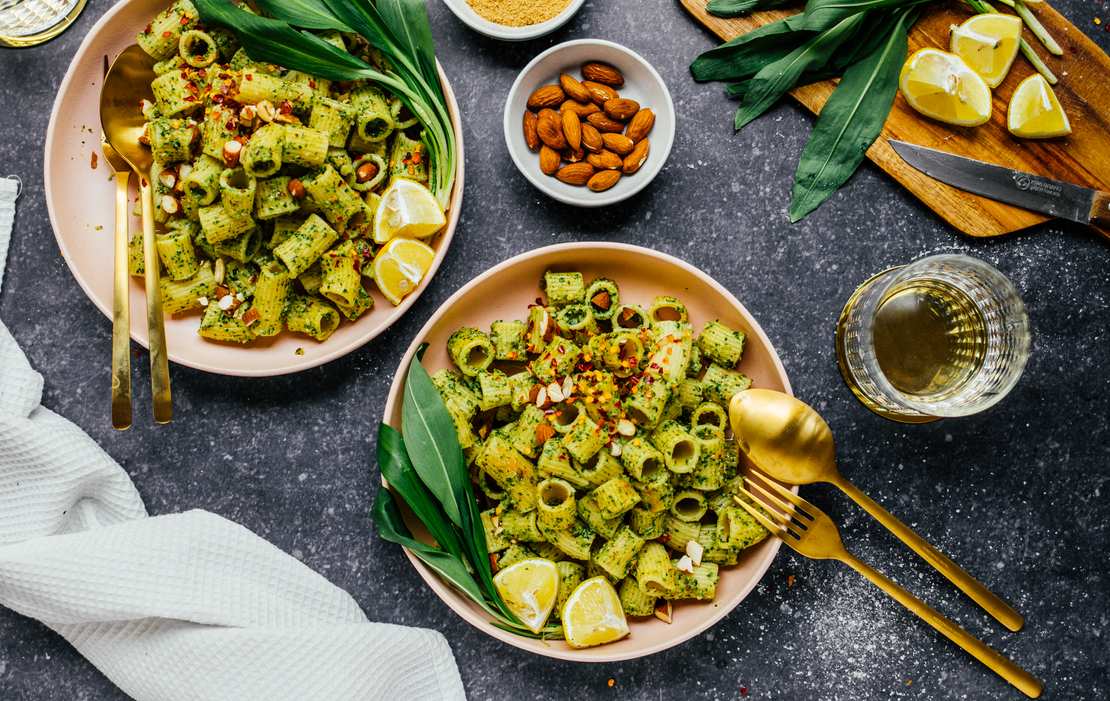 Vegan Wild Garlic Pesto Pasta
It's the most garlicky time of the year: wild garlic is back in season and rings in spring with its delicious smell and taste. We couldn't help ourselves and bought a big batch right away to process it into today's pesto. This dish is done in just 30 minutes which makes our wild garlic pasta the perfect dish for the first dinner outdoors or a quick lunch break.
The harvesting time of wild garlic is quite short and lasts only from March to April – so don't hesitate to cook this recipe for too long. If wild garlic isn't in season, you might be lucky enough to find a frozen option in supermarkets. Alternatively, replace it with herbs of your choice and add fresh garlic. We toasted almonds for this pesto in the oven, but you can also do this step is a fat-free frying pan. If you don't like almonds, feel free to use any other nuts or seeds of your choice. Instead of nutritional yeast, you can also add vegan parmesan cheese or some lemon zest to the pesto. As you know, the best thing about pesto is that you can't really do much wrong. So let's get started!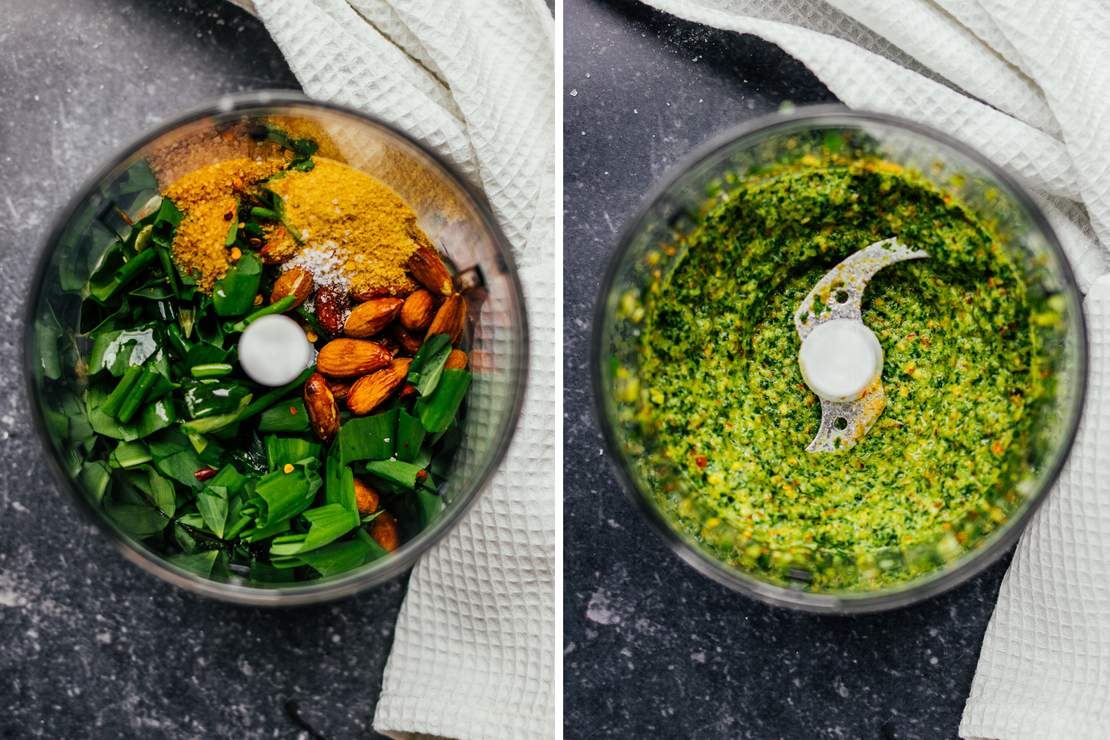 Vegan Wild Garlic Pesto Pasta
Ingredients
For the pasta:
For the wild garlic pesto:
20 g (1 oz) almonds
80 g (3 oz) wild garlic
1 tsp nutritional yeast
0.5 tsp brown sugar
3 tbsp olive oil
4-6 tbsp pasta cooking water
chili flakes
salt
For garnish:
almonds
chili flakes
nutritional yeast
Instructions
Bring a pot of salted water to a boil. Cook pasta according to package instructions until al dente. Before draining, reserve some of the cooking water and set aside.

Preheat oven to 220°C/430°F (top and bottom heat). Add almonds to a baking sheet and toast for approx. 5 minutes, or until browned and flagrant. In the meantime, wash and roughly chop wild garlic.

Add toasted almonds, wild garlic, nutritional yeast, brown sugar, and olive oil to a food processor. Blend until combined, then add some of the pasta's cooking water a spoonful at the time until you get a smooth pesto. Season with chili flakes and salt to taste.

Add wild garlic pasta to the cooked pasta, then toss to coat. Add more of the pasta's cooking water if needed. For serving, sprinkle the dish with some chopped toasted almonds, chili flakes, and nutritional yeast.