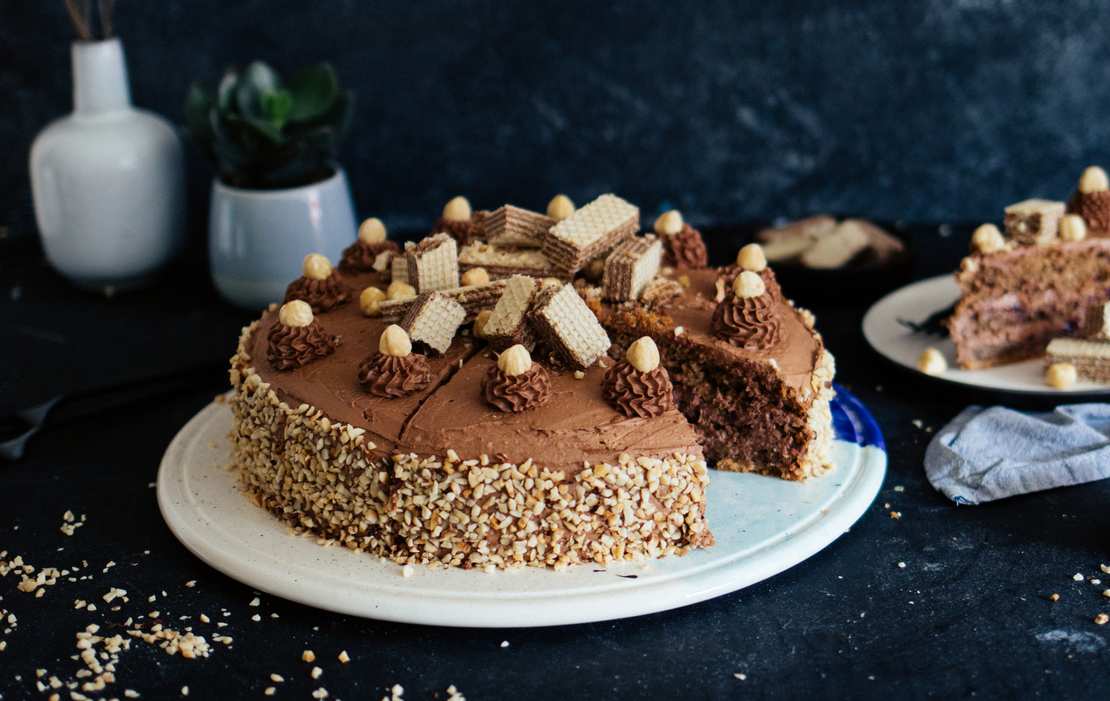 Vegan Whole Grain Hazelnut Cake with Nougat Cream
Autumn and winter are the seasons of absolute relaxation for us. We snuggle up in blankets, enjoy one cup of tea after the other, and there's probably no better way to brighten up a rainy autumn day than eating a piece of cake. When it gets colder outside, it's just cozy to stay at home more often, turn on the oven, and serve friends, neighbors (and us) a piece of tasty cake. For today's recipe, we decided to go with an unbeatable combination of hazelnut, nougat, and chocolate.
For this we layer whole grain hazelnut cakes with a nougat cream in between. We will add whole grain Neapolitan wafers by Manner to the cake batter which add a more intense hazelnut flavor and of course the typical "Manner taste". The wafers are made of 100% whole grain, contain 30% less sugar, and UTZ-certified cocoa only. By the way, Manner is still mostly family-owned and all products are produced in Austria, which we think is really great. You can find all information about their whole grain wafers here.
But of course, the batter and cake base is not enough yet! For the nougat cream you need vegan whippable heavy cream. Most plant-based heavy creams are for cooking only, so make sure to look out for the right ones that explicitly say "whippable" on the package. We recommend to refrigerate the nougat cream overnight as it will set faster this way. It's also important touse vegan nougat for baking, not just a type of vegan nougat chocolate bars. Nougat for baking is firmer and consists of sugar, hazelnuts, cocoa mass, and cocoa butter. When buying, make sure that there's no milk powder in it.
The cake is easy to prepare the day before, so you can refrigerate it as a whole overnight. You could also just prepare the cake base and nougat cream in advance, let them cool down overnight, then assemble and decorate the cake the next day. If you bake the cake the same day, make sure that it cools down completely before you divide it horizontally into three layers and spread the nougat cream on top.
Vegan Whole Grain Hazelnut Cake with Nougat Cream
1 springform pan (∅ 26 cm / 10 inches)
2 hours (+ time to cool down)
Ingredients
For the hazelnut batter:
150 g (5.5 oz) whole grain Neapolitan wafers (e.g. by Manner)
300 g (2.5 cups) whole grain wheat flour
100 g (3.5 oz) ground hazelnuts
150 g (0.75 cup) sugar
16 g (4 tsp) baking powder
8 g (1 tbsp) vanilla sugar
500 ml (2 cups) sparkling water
100 ml (0.5 cup) vegetable oil (e.g. rapeseed or sunflower oil)
For the nougat cream:
300 g (10.5 oz) vegan nougat for baking
500 ml (2 cups) vegan whippable heavy cream
18 g (2 tbsp) cream stiffener
16 g (2 tbsp) vanilla sugar
35 g (3.5 tbsp) unsweetened cocoa powder
Also:
200 g (7 oz) cherry jam
200 g (7 oz) chopped hazelnuts for garnish
12 whole, peeled hazelnuts for garnish
whole grain Neapolitan wafers for garnish (e.g. by Manner)
vegan butter for greasing
whole grain wheat flour for dusting
Instructions
Hazelnut batter
Preheat oven to 180°C/355°F (circulating air). Add whole grain Neapolitan wafers to a food processor and mix until they are finely crumbled.
Mix crumbled wafers, whole grain wheat flour, ground gazelnuts, sugar, baking powder, and vanilla sugar in a large bowl.
Add sparking water and vegetable oil, and just stir briefly. Do not over-mix the batter to keep the cake tender.
Grease a springform pan (∅ 26 cm/10 inches) with vegan butter and flour it. Add the batter and bake the cake at 180°C/355°F for approx. 40 minutes. Afterwards, let cool out completely (you could also do this overnight and prepare the nougat cream the next day).
Nougat cream
Heat vegan nougat for baking in a heatproof bowl over a pot of simmering water until it's smooth and soft. Remove from heat and let cool down until it's lukewarm.
In the meantime, add vegan heavy cream, cream stiffener, and vanilla sugar to a bowl. Beat until stiff.
Add cooled nougat to the stiff heavy cream and use a hand mixer with beaters to combine until smooth. Fold in unsweetened baking powder little by little.
Refrigerate the vegan nougat cream until the cake is baked and cooled down.
Tip: Some cocoa powders have a more intense flavor and will color the cream darker while others are mild in taste and will result in a lighter color. This is why we recommend to add the unsweetened cocoa powder littly by little until it matches your taste.
Assemble & garnish
As soon as the cake is cooled down completely, cut it horizontally into three equal—sized cake bases. You can do this with a serrated knife or a cake cutter.
Transfer the bottom cake base to a platter and spread some cherry jam on top, then add a layer of the nougat cream.
Add the middle cake base on top and repeat the step of adding cherry jam and nougat cream. 4. Now add the top cake base on top and spread most of the remaining nougat cream around the whole cake and on top. Set some of the nougat cream aside for garnish.
Garnish the sides of the cake with chopped hazelnuts. In order to do this, take some of the chopped hazelnuts into your hand, place the hand next to the side of the cake, then carefully move it up the side to make sure that the hazelnuts will stick to the nougat cream.
Pipe 12 blobs of the nougat cream on top of the cake and garnish the top with wafers and whole hazelnuts. Refrigerate the cake until serving.
More Vegan Cakes & Cookies