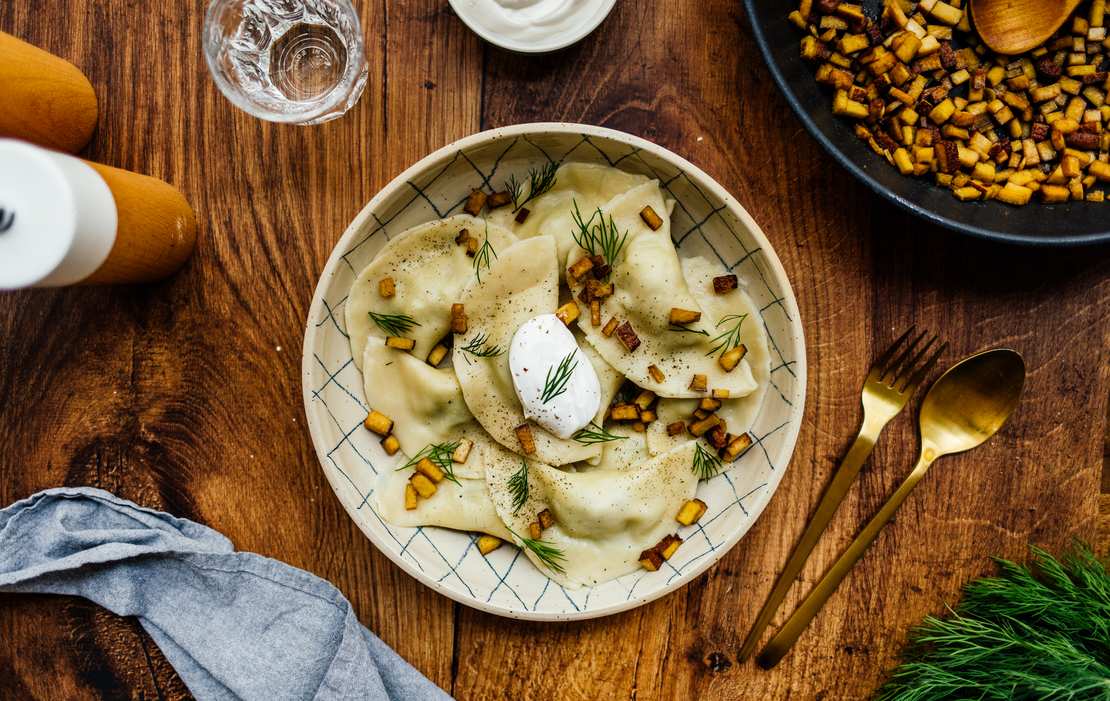 Vegan Potato and Cheese Stuffed Varenyky
About six years ago, we first introduced you to the Ukrainian dumplings "vareniki" filled with potatoes, carrots and mushrooms. Since then, we've made some changes to our original recipe and changed the filling to an incredibly tasty potato and vegan cheese filling. But as always, you can swap the filling as you like. We serve our dumplings with crispy smoked tofu and a generous dollop of vegan crème fraîche.
Vareniki have their origins in Slavic cuisine. They were widespread in the former Soviet Union. Today they are mainly associated with Ukrainian cuisine, where they're considered a national dish. Like Pierogi or other dumplings, they are made of thin dough, folded into the shape of a half-moon and stuffed with different sorts of fillings. By the way, vareniki and pelmeni are not the same. While pelmeni have their origins in Russian cuisine and are usually filled with meat, vareniki are often filled with potatoes, cabbage, cream cheese (curd), mushrooms, or sweet cherries.
How to pre-cook and freeze vareniki: You can also pre-cook the vareniki, let them cool down, and then freeze them. This way, you always have a few dumplings in the freezer. For this, you shouldn't cook them thoroughly, but only blanch them in boiling water for about 30-60 seconds. Then take them out of the water and let them cool on a large greased platter. This way, you can freeze them for about 1 hour so that each dumpling freezes separately first, and they don't stick together. Afterward, add them all to a freezer bag or a suitable container.
How to pan-fry vareniki: If you prefer to fry your dumplings, you can do that too. However, make sure to drain them well after cooking so no leftover liquids get into the hot oil in the frying pan.
Vegan Potato and Cheese Stuffed Varenyky
2 servings (with 10 wareniki)
45 minutes
Ingredients
For the dough:
250 g (2 cups) wheat flour type 405
0.5 tsp salt
1 tbsp vegetable oil
100 - 150 ml (0.5-0.66 cups) water
For the filling:
250 g (9 oz) floury potatoes
1 onion
3 g (0.25 oz) parsley
3 g (0.25 oz) dill
50 g (1.75 oz) plant-based shredded cheese
salt
pepper
nutmeg
Also:
100 g (3.5 oz) smoked tofu
vegetable oil for frying
vegan crème fraîche
dill
pepper
Instructions
Mix wheat flour, salt and oil in a bowl. Add water little by little until you have a smooth dough. Cover the dough with a clean kitchen towel and let it sit at room temperature for 30 minutes.

Bring a pot of salted water to a boil. Peel and cut the potatoes into equal-sized chunks. Cook potatoes until soft.

In the meantime, peel and finely chop the onion, then sauté until translucent. Chop the fresh herbs and finely dice smoked tofu. In a second pan, fry tofu until crisp.

Drain the potatoes and mash them in a bowl. Add sautéed onion, chopped herbs, and shredded vegan cheese. Season the filling with nutmeg, salt, and pepper to taste.

Flour your working surface and roll out the dough into a thin log roughly 2 cm (0.8 inches) in diameter. Divide into 20 pieces. Roll out each dough into a thin disk. Place one tablespoon of the filling in the center of every dough circle. Lightly wet the outer edges and carefully fold the dough over the filling. Press the edges together with your fingers or use a fork to seal the filling.

Again, bring a pot of salted water to a boil. Cook vareniki over medium heat for approx. 3-5 minutes until they are floating on the surface, then drain.

Serve your vareniki with vegan crème fraîche and fried smoked tofu. Garnish with dill and season with fresh pepper to taste.