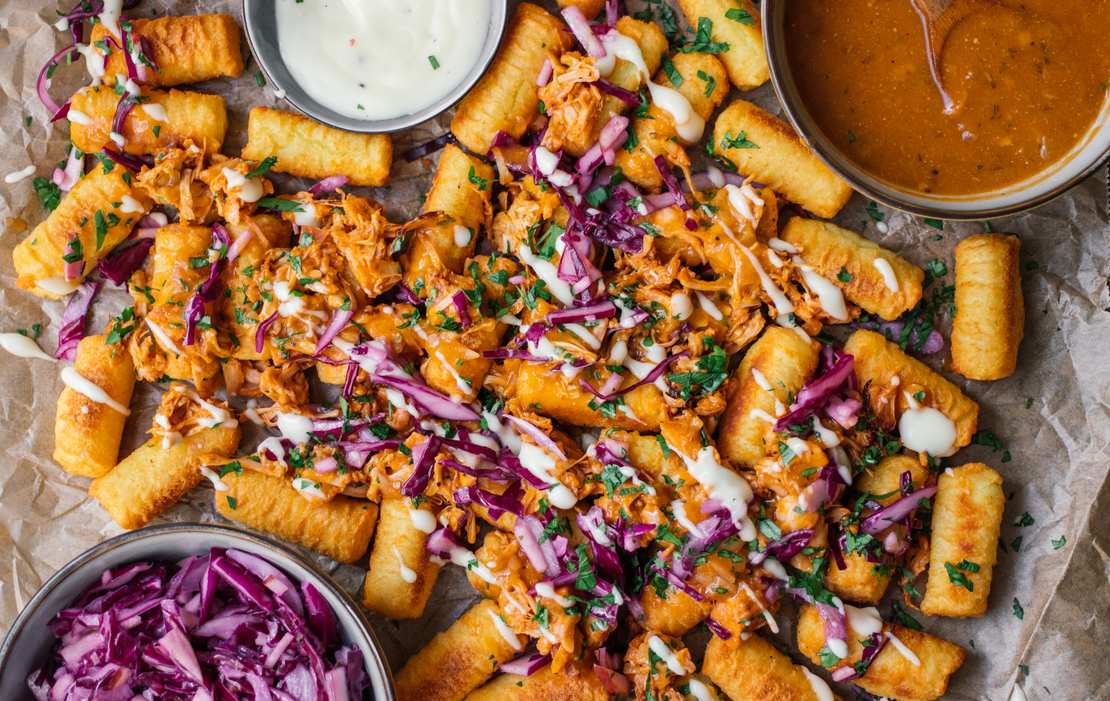 Loaded Tater Tots with Jackfruit, Red Cabbage Slaw, And Quick Vegan Gravy
When I think of Christmas dinner, I see my grandmother in the kitchen checking on the roast that has been cooking for ages. I see us, grandchildren, helping to form the potato dumplings – with homemade dough, of course. And even decades later, I see my friends – each of them with a side dish for the evening, and I know that everyone put a lot of work and effort in it to make it perfect. So what I always see behind every Christmas dinner is the love and effort that everyone put into it – and you can taste this, too.
But besides all the rather elaborate and tenderly prepared vegan Christmas dinners that we've posted on the blog so far, we also don't want to forget one thing: some people do not want to spend a lot of time cooking, not even on Christmas eve. But they still would like to eat a proper meal, right? So we thought about a culinary solution for this issue and came up with a deconstructed classic Christmas dinner as I know and love it. So we will have potato dumplings, red cabbage, and gravy – just in a slightly different way.
We present: loaded Christmas tater tots, a pile of crispy tater tots topped with different side dishes that hopefully remind you of Christmas, too. The "roast" turns into pulled jackfruit, the gravy into a quick brown sauce, and the red cabbage turns into a cabbage slaw. The potato dumplings are represented by tater tots, which are also something like the timekeeper for this dish. The time to preheat the oven and bake the tater tots should be enough to prepare all the other components of your... let's call it "Wonderful Lazy Christmas Dinner". Still, if you have friends and family over, it's still nice to come together in the kitchen and divide the work.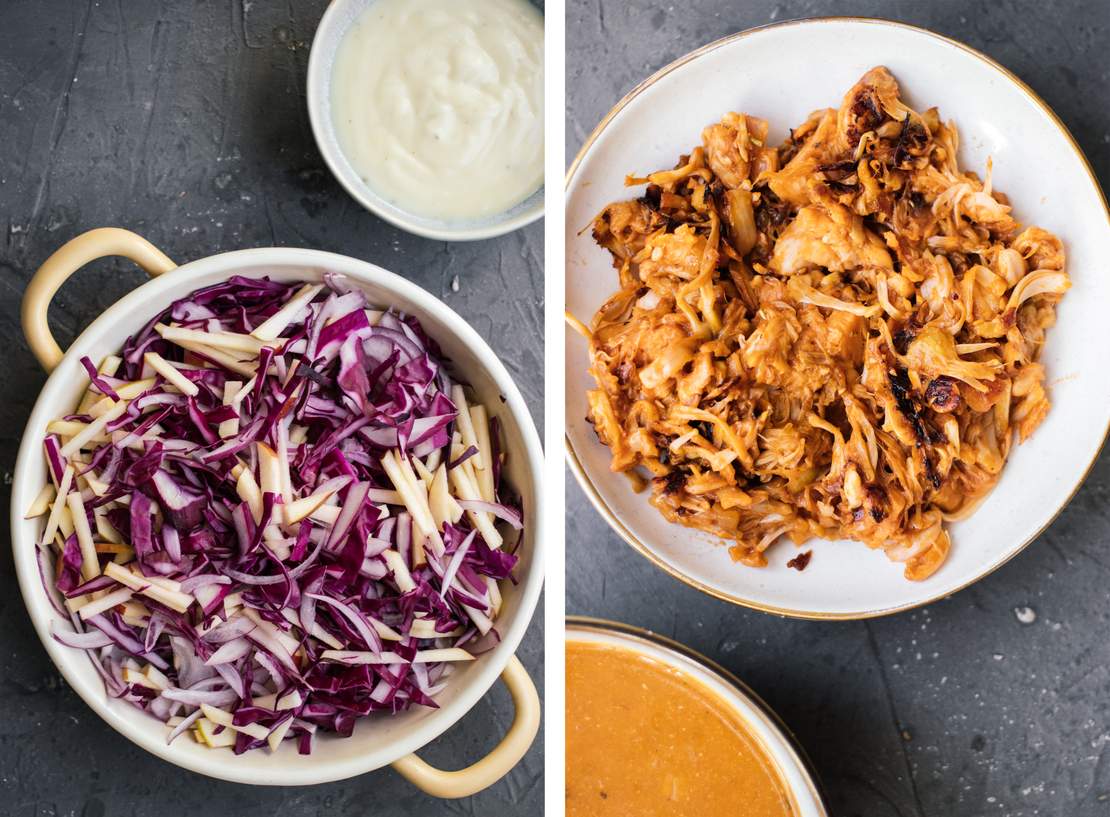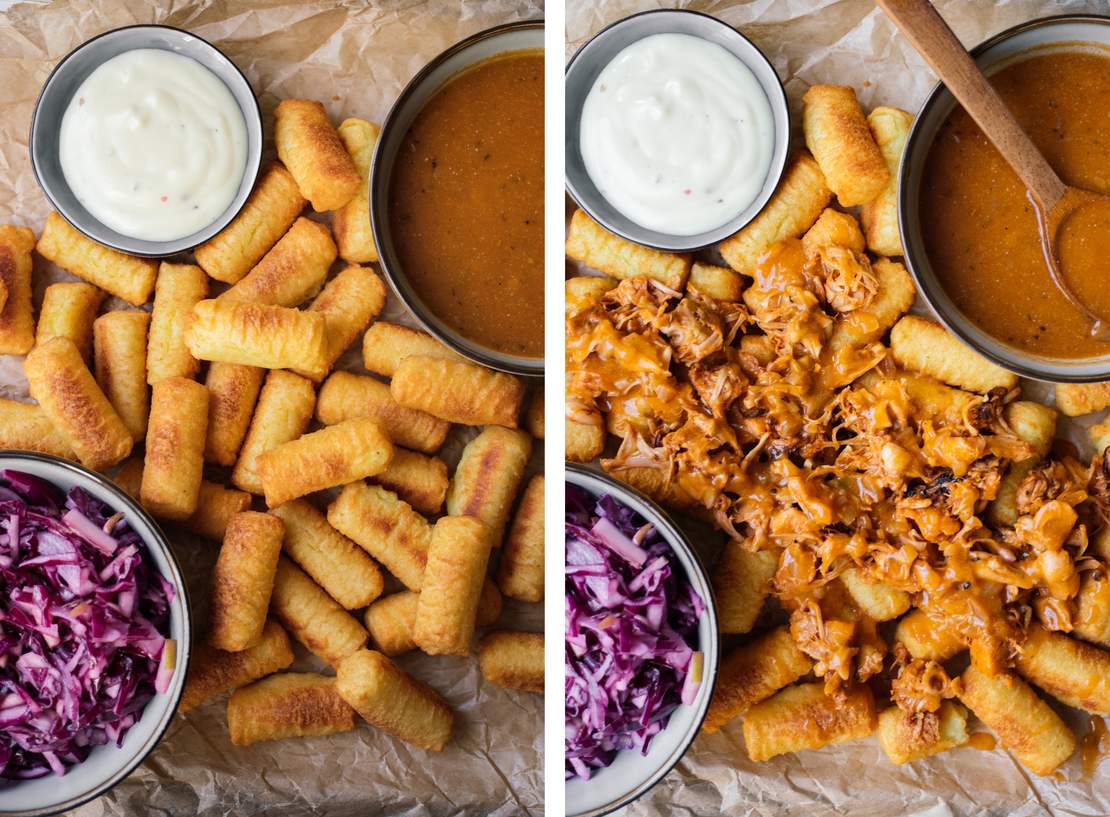 Loaded Tater Tots with Jackfruit, Red Cabbage Slaw, And Quick Vegan Gravy
Ingredients
For the tater tots:
750 g (1.66 lbs) tater tots
For the quick gravy:
1 onion
2 tbsp vegan butter
0.5 tsp dried thyme
1 tsp tomato paste
2 tbsp flour
200 ml (0.75 cup) vegetable stock
150 ml (0.66 cup) water
1 tsp soy sauce
1 tsp mustard
vegan red wine (optional)
pepper
For the red cabbage salad:
200 g (7 oz) red cabbage
0.5 apple
1 red onion
4 tbsp vegan mayonnaise
2 tbsp apple cider vinegar
2 tsp mustard
salt
pepper
sugar
For the jackfruit:
280 g (10 oz) canned jackfruit (drained)
2 tbsp BBQ sauce
1 tsp mustard
1 tsp agave syrup or maple syrup
vegetable oil for frying
Also:
Instructions
Preheat oven to 200°C/390°F. While the oven is preheating, start with the quick gravy. Peel and finely dice onion. Melt vegan butter in a small pot over medium heat. Start by frying the diced onion with dried thyme until the onion is translucent. Add tomato paste and keep frying for approx. 3 minutes, or until it's browned. Dust with flour, then stir in vegetable stock and water. Add soy sauce and mustard, and stir to combine. If desired, you could also add a splash of vegan red wine. Season the sauce with salt and pepper and let it simmer until the tater tots are done baking.

The oven should be preheated by now. Add the tater tots to a baking sheet and prepare according to package instructions.

Drain the jackfruit. Heat vegetable oil in a large frying pan and sear jackfruit for approx. 3-4 minutes over medium-high heat until it's nicely browned. Add approx. 3-5 tbsp of the gravy, as well as BBQ sauce, mustard, and agave syrup. Keep frying for another 5 minutes (you can also close the frying pan with a lid) until the jackfruit is softened. You should now be able to pull it apart with two forks. Add more BBQ sauce, mustard, or agave syrup to taste. Keep on frying the jackfruit until the tater tots are done.

For the red cabbage salad, cut red cabbage, apple, and onion into thin stripes. Add red cabbage and onion to a bowl and season with salt and sugar. Massage the red cabbage for approx. 3 minutes to soften. Afterward, add the apple stripes.

For the dressing, mix vegan mayonnaise, apple cider vinegar, and mustard in a small bowl – season with salt and pepper to taste. Add as much water as desired until you get the consistency you prefer but keep in mind that we will use some of the dressing as a dip for the tater tots later. Add half of the dressing to the red cabbage and toss to coat. Season the salad to taste once more.

For serving, add the baked tater tots to a platter and top with jackfruit, some of the quick gravy, some red cabbage salad, drizzle with some of the mayo dressing, and sprinkle with chopped parsley. Serve remaining gravy, salad, and dressing as sides.
More Vegan Christmas Recipes