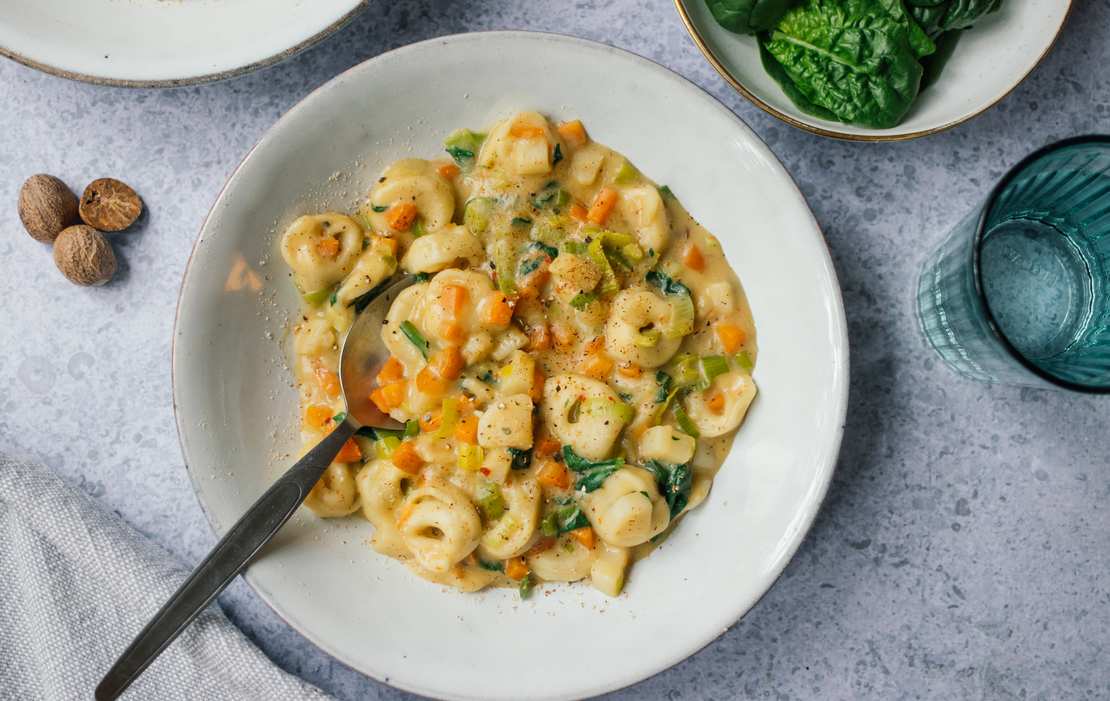 When I think of noodle soups, I immediately take a trip down memory lane and remember my vacations as a child in Austria. No worries, I'm not going to talk about hiking again; I've already done so when I published this noodle soup recipe. But what you notice directly when you compare these two dishes: noodle soups can vary significantly (the only important thing is to grate fresh nutmeg on top at the end).
While my "hiking noodle soup" is a clear, slightly buttery broth with mirepoix and small pasta, we're going hearty in a different way today. Instead of a clear broth, we will prepare a creamy soup. Instead of tiny pasta, we're going fo vegan tortellini. I admit that you could simply use less liquid and end up with vegan tortellini in a creamy sauce – so maybe think of this dish as its soupy cousin, which still tastes (if not even more) comfy. After all, spooning a warm soup is exactly what we all need right now in the cold season. In any case, I leave it up to you to adjust the amount of liquid and use a little less (or more).
Feel free to choose any vegan tortellini to your liking, even vegan ravioli, or some other kind of filled pasta. Depending on what you go for, the preparation time can vary to be shorter or longer, as you should just follow the package instructions. We add some fresh spinach at the end, which wilts in just a few minutes. If you're not into spinach, add Swiss chard or kale instead.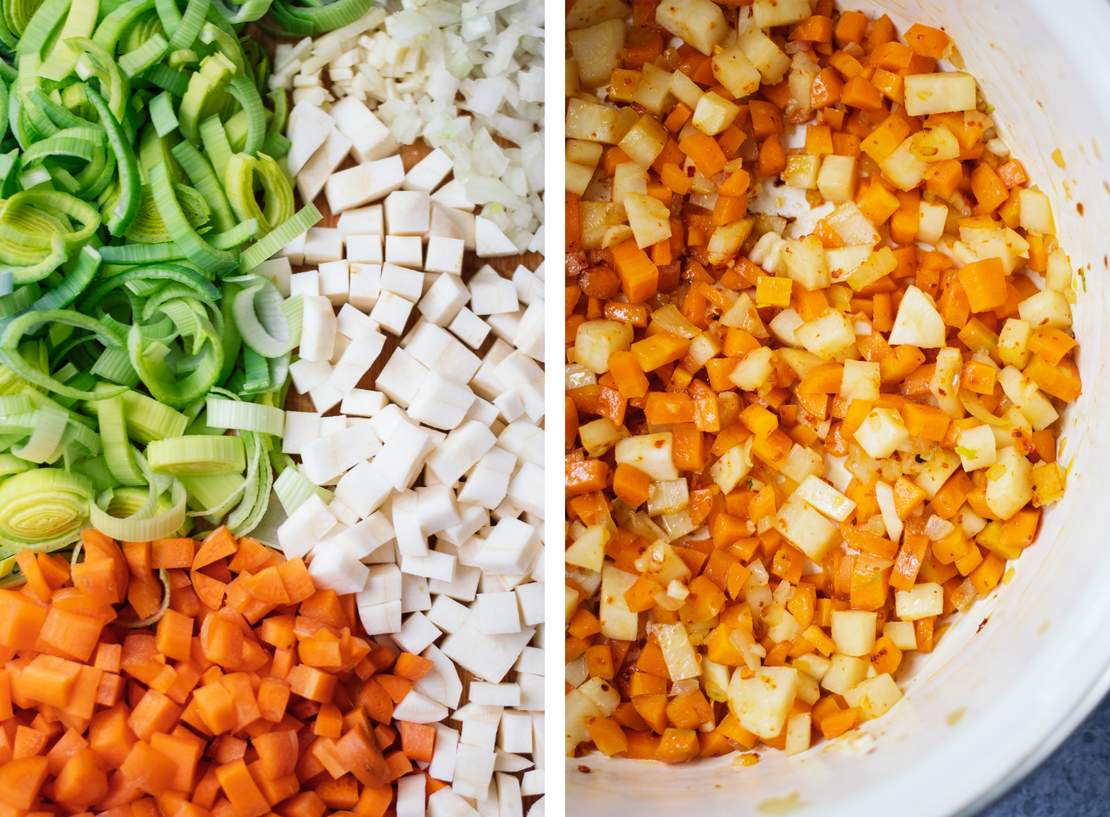 Vegan Tortellini Soup
Ingredients
250 g (9 oz) vegan tortellini
1 onion
1 garlic clove
3 carrots
1 parsnip
150 g (5.5 oz) leek
50 g (2 oz) fresh spinach
1 tsp chili flakes
2 tbsp flour
200 ml (0.75 cup) vegetable broth
300 ml (1.25 cups) water
400 ml (1.66 cups) plant-based heavy cream
2 tbsp nutritional yeast (optional)
salt
pepper
sugar
nutmeg
lemon juice
vegetable oil for frying
Instructions
Peel and finely dice onion and garlic. Finely dice carrots and parsnip. Slice leek and roughly chop fresh spinach.

Heat vegetable oil in a pot over medium heat. Fry onion for approx. 2-3 minutes until translucent. Add parsnip and carrots, sprinkle a pinch of sugar on top, and fry for another 5 minutes, until the carrots are slightly caramelized. Add garlic and chili flakes and keep frying for approx. 2-3 minutes, until everything is nicely browned.

Dust vegetables with flour and cook for 1-2 minutes. Deglaze with vegetable broth and water, add plant-based heavy cream, and stir to combine. Bring the soup to a simmer.

As soon as the liquids are boiling, add vegan tortellini and leek. Season the soup with salt, pepper, and nutritional yeast and let it simmer according to the tortellini's package instructions until they're done, stirring regularly. In case the soup thickens too much, add some more water. In the last 2-3 minutes, add chopped fresh spinach.

For serving, drizzle some lemon juice over the tortellini soup, season the soup to taste, and grate nutmeg on top.