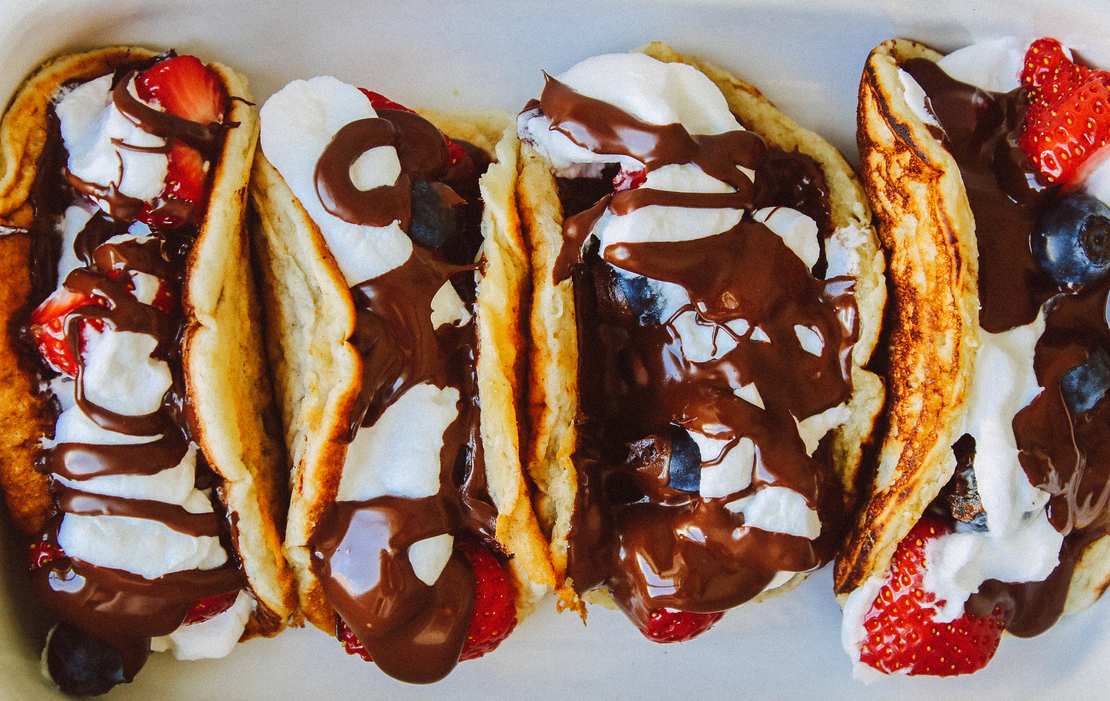 Vegan Sweet Pancake Tacos
We have a soft spot for tacos and love to experiment with them. Besides classics such as fish tacos (vegan, of course!), tostadas or taquitos, we also serve Korean tacos, ramen tacos, chanterelles tacos or even chocolate tacos. You can find all our taco recipes here.
Tell us a way to start your morning better than with a pancake-taco? Right, there is no way! Pancakes, whipped cream, chocolate and berries will wake you up yummy. So start your day like this and enjoy your Pancake Tacos warm or cold, so your chocolate will be cold and crisp. Noms! Everyone will love it!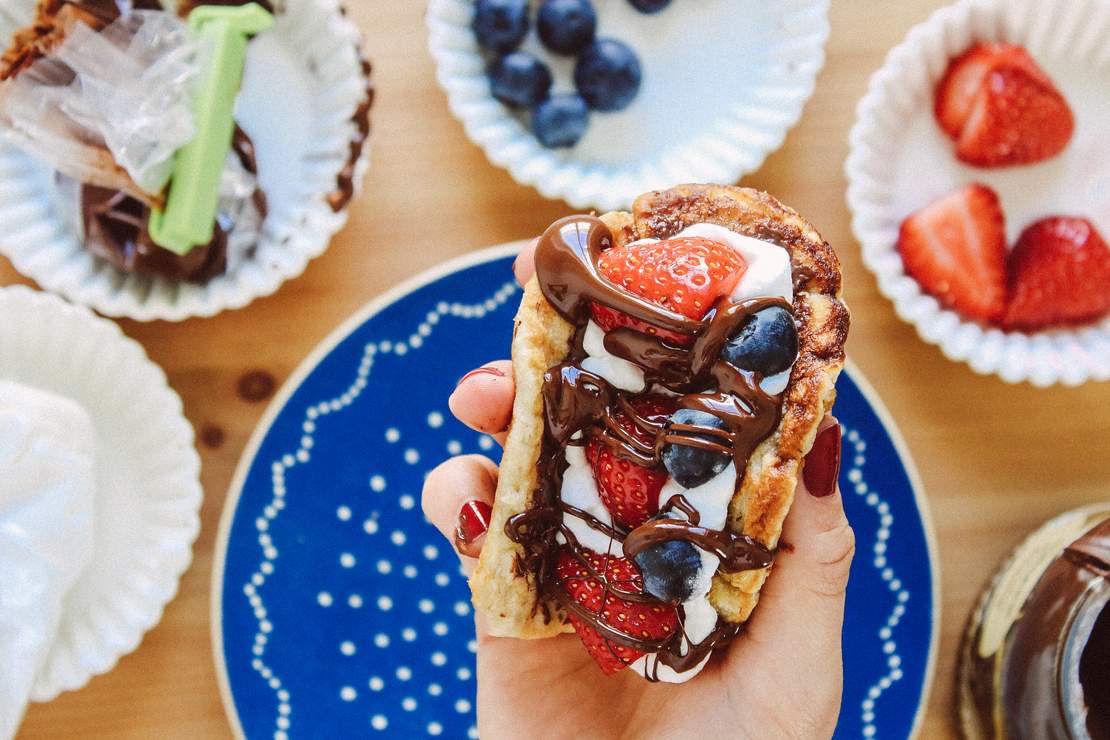 Vegan Banana Pancakes with Blueberry Sauce
8 small or 4 big pancakes
30 minutes
Ingredients
For the banana pancakes:
1 banana (preferably already a few days old or slightly browned)
100 g (0.75 cup) flour
1 tsp baking powder
30 g (2 tbsp) sugar
1 pinch of salt
100 ml (0.5 cup) plant-based milk
vegetable oil for frying (e.g. sunflower or canola oil)
chopped hazelnuts for serving
For the blueberry sauce:
150 g (5 oz) blueberries
10 g (1 tbsp) cornstarch
80 ml (0.33 cup) water
15 g (1 tbsp) sugar
Instructions
Blueberry sauce:
Wash blueberries and add them to a small pot. Mix cornstarch with water until smooth, and add the mixture to the pot along with sugar.

Bring the mixture to a boil and let it simmer for approx. 5 minutes until it's thickened. Slightly mash the blueberries with a fork or wooden spoon.

If desired, blend the blueberry sauce and set aside until the pancakes are done. Reheat just before serving if you prefer a warm blueberry sauce.
Banana pancakes:
Peel a banana, add it to a bowl, and mash it with a fork.

Mix flour, baking powder, sugar, and salt in a bowl. Add plant-based milk and the mashed banana and stir to combine until you get a thick batter. Let the batter rest for approx. 10 minutes.

Heat some vegetable oil in a non-stick frying pan over medium heat and fry the pancakes one by one. Once small bubbles form on the surface of a pancake, flip it, then keep frying it until both sides are golden brown. Serve banana pancakes with blueberry sauce and sprinkle with chopped hazelnuts.
Vegan, sweet Pancake Tacos
8 Tancake Tacos
15 minutes
Ingredients
1 portion of vegan Banana Pancakes (recipe up on the blog)
3 tbsp vegan chocolate cream
200 ml (0.8 cups) vegan cream for whipping
2 pck vanilla sugar
2 pck stabilizer for whipping cream
1/2 chocolate bar
1 banana
berries
Instructions
Add cream, vanilla and stabilizer for the whipping cream in a bowl and beat until you get a good texture.
Heat your chocolate in a waterbath.
Spread your vegan chocolate cream on your pancakes.
Fill them with banana and berries and top them with melted chocolate and whipped cream.