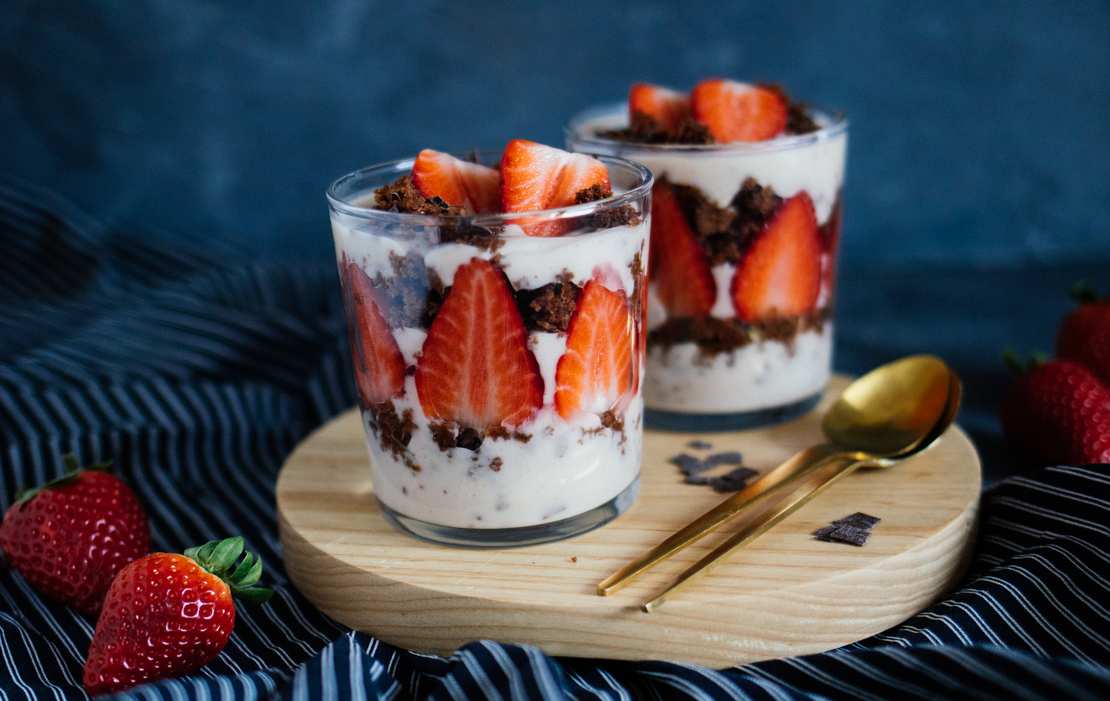 Vegan Stracciatella Trifle with Strawberries
I have a long list of dishes that I would like to prepare in the future. A vegan trifle had been on this list for years, but I never made it. Definitely, a wrong decision cause a trifle is the perfect dessert for a picnic, a bbq, or as a midnight snack on your balcony.
The English dessert is probably better known here in Germany as a layered dessert. It usually consists of cream (pudding, yogurt, quark or whipped cream), fruits, and sponge cake. Often the sponge cake is also dipped in alcohol, but we ignored this step for our recipe. Besides, a trifle is usually served in a huge bowl to serve it for a big crowd. We preferred to make a small version of it so you can easily prepare it for two or four people. However, if you have to serve dessert to a large group of people, just take a large bowl and double or triple the ingredients.
We are super happy that LUVE supports us with this recipe. We prepared our trifle with Lughurt Stracciatella, which takes us right back to our childhood! The Lughurt is super creamy, and the chocolate pieces are crispy. Like all LUVE products, the Lughurt is made from local lupines (from Mecklenburg-Vorpommern) and thus supports regional agriculture. It is also lactose-, soya- and GMO-free! You can find LUVE products at EDEKA, real, Kaufland, Aldi Nord, Veganz, or at online delivery services.
Vegan Stracciatella Trifle with Strawberries
4 servings
45 minutes (+ 25 minutes baking time & time to cool down)
Ingredients
Chocolate biscuit
100 g wheat flour
15 g cocoa powder (unsweetened)
75 g sugar
5 g baking powder
8 g vanilla sugar
125 ml sparkling water
25 ml oil (rapeseed or sunflower oil)
Additionally
500 g vegan stracciatella yogurt (e.g., from LUVE)
250 g fresh strawberries
50 g dark chocolate chips