Vegan Spaghetti Carbonara
Spaghetti à la Carbonara always comes with some kind of discussion. If you even dare to add cream to this dish, you can get the feeling that you're not even worth eating it! Luckily, this faux pas can't happen to us, because we don't use dairy cream anyway.
Stupidly though, all the actual ingredients are also causing big troubles: bacon, egg, cheese. Except for the pasta itself, this Italian classic is really, really un-vegan. Instead of substituting each ingredient, we rather wanted to create a creaming vegan carbonara version that gives you a similar feeling like eating the original. Our sauce is based on cashews (there's not even vegan cream in it, ha!) that gets an umami flavor from miso paste and nutritional yeast (we know people like to skip on these ingredients since they often don't have them at home, but we can only look deep into your eyes and tell you always to have them in your kitchen).
There are plenty of choices to substitute bacon, but this one was an emergency solution once when I couldn't find any smoked tofu in my fridge. But what I could find were jarred sun-dried tomatoes that already have a nice salty taste and a good bite. If you chop and fry them (add a few drops of liquid smoke, if you have it at home!), they become crispy but still juicy, that you can use for many other dishes as well (from pizza to bread).
When I took these vegan spaghetti carbonaras to the office for lunch, a few people tried them. My favorite comment: "It tastes like real spaghetti carbonara … with curdled egg. But good!" Well, … fair enough.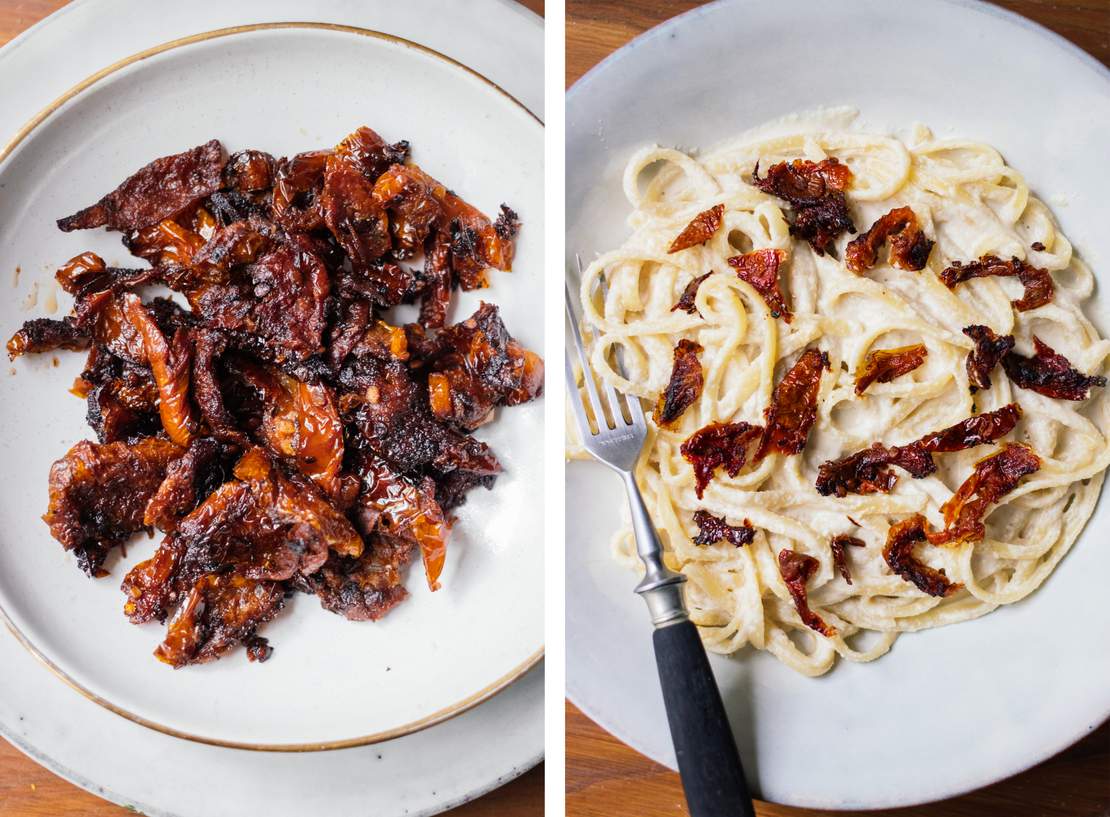 Vegan Spaghetti Carbonara
Ingredients
250 g (9 oz) spaghetti
150 g (5.5 oz) cashews (soaked in water for approx. 2 hrs.)
1 tbsp white miso paste
100 ml (0.5 cup) water
2 tbsp nutritional yeast
10 dried tomatoes in oil
1 tsp soy sauce
0.5 tsp liquid smoke
salt
pepper
vegan parmesan for serving
Instructions
Add soaked cashews, white miso paste, and nutritional yeast to a blender and blend until combined. Add as much water as needed until a smooth mixture forms. Season with salt and pepper to taste.
Chop dried tomatoes and fry in a large frying pan for approx. 5 minutes. If needed, add some extra oil. Season with soy sauce and liquid smoke, then keep frying for approx. 1-2 minutes. Set aside.
Cook spaghetti in salted water until al dente, then drain but reserve some of the cooking water.
Mix cashew mixture and cooked spaghetti and add as much of the reserved cooking water as needed until the sauce is creamy. Add fried dried tomatoes and stir to combine. Serve with vegan Parmesan cheese on top.
Vegan Parmesan Cheese
Ingredients
100 g (3.5 oz) cashews
50 g (2 oz) chopped almonds
3 tbsp nutritional yeast
1 tsp sea salt
0.5 tsp garlic powder
Instructions
Add all ingredients to a food processor and mix until you get fine crumbles. No worries, in case there should be bigger chunks left, that just makes your vegan parmesan a bit crunchy.

Store in an airtight container or jar and sprinkle on top of your pasta dishes or mix it into your pesto.