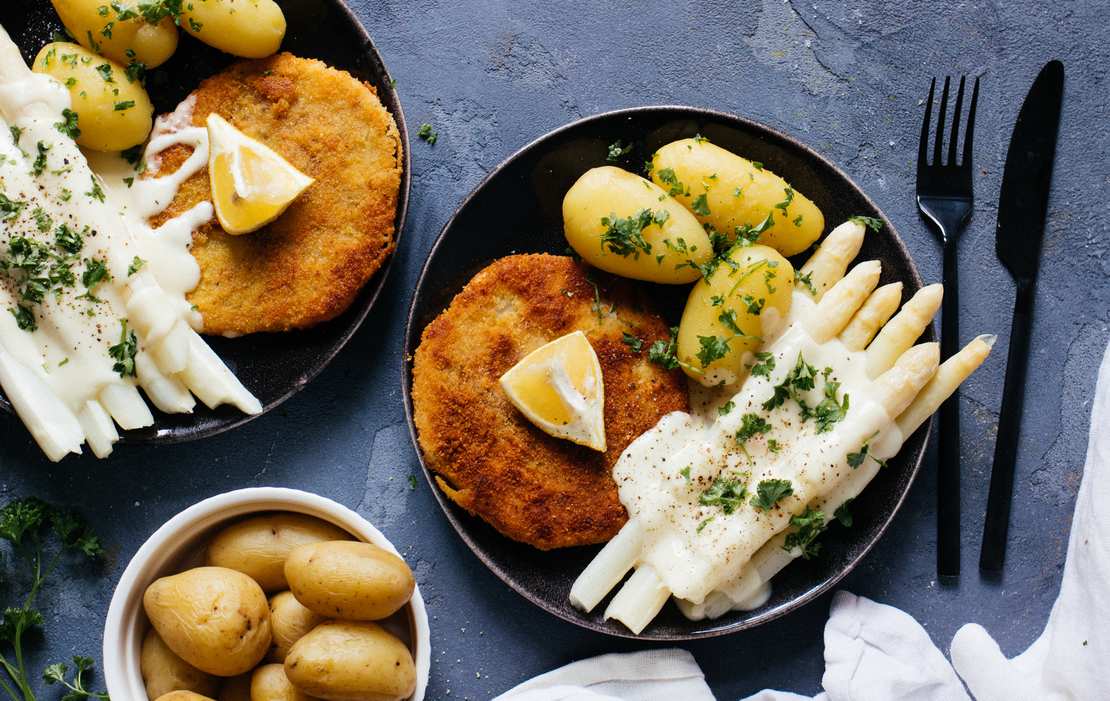 Vegan sauce hollandaise with asparagus & celery root schnitzel
It's asparagus season! We are very happy about the comeback of green and white asparagus and present you one of the classic dishes of this season: white asparagus with schnitzel and sauce hollandaise.
We already introduced to you vegan soy cutlets and kohlrabi schnitzel, and show you now a third option made of celery root. Fortunately, celery grows here in Germany, so you can buy it from a local farm! Besides that, it's cheap, fertile and easy to prepare. Just add a big portion of our [vegan sauce hollandaise] (https://www.zuckerjagdwurst.com/en/recipes/vegan-sauce-hollandaise), and enjoy the meal!
Vegan Sauce Hollandaise
1 big jar (2 servings)
20 minutes
Ingredients
4 tbsp vegan butter
2 tbsp flour
100 ml (1/2 cup) vegetable stock
100 ml (1/2 cup) cream
1 tsp mustard
1 tbsp vegan white wine
1 tsp lemon juice
salt
white pepper
Instructions
Melt 2 tbsp vegan butter in a saucepan and stir in flour. Keep stirring to keep the mixture smooth.
Add vegetable stock slowly, keep stirring all the time. Bring to a simmer, then reduce heat and add cream, 2 tbsp vegan butter, white wine, mustard and lemon juice . Season with salt and pepper.
Let Sauce Hollandaise simmer for approx. 5 - 10 min. until thickened to desired consistency. Season before serving.
Vegan sauce hollandaise with asparagus & celery root schnitzel
Ingredients
1 kg (35 oz) potatoes (hard-boiling)
1 kg (35 oz) white asparagus
1 tbsp plant-based butter
1 tbsp white sugar
1 tsp fresh lemon juice
10 g (0.35 oz) fresh parsley
2 portions of vegan sauce hollandaise (recipe on the blog)
Celery root schnitzel
1 large celery root
3 tbsp mustard
salt & pepper
grated nutmeg
paprika powder
150 g (5.3 oz) breadcrumbs
150 ml (0.6 cups) plant-based milk
100 g (0.75 cups) flour
plant-based oil (eg rapeseed oil, sunflower oil)
Instructions
Potatoes, asparagus & sauce hollandaise
Add unpeeled potatoes to a pot, season with salt and let simmer for approx. 10-15 minutes or until fork tender (depending on size). Drain off the water and keep the potatoes warm in the pot (peel potatoes, if desired).
Bring water to boil in a large casserole. Add 1 tbsp sugar, 1 tbsp plant-based butter, and 1 tsp fresh lemon juice.
Peel the asparagus and break of the ends. Add to the casserole and cook for about 1 minute. Then reduce the heat and let simmer for 10-15 minutes until the asparagus is tender. Leep covered warm.
Prepare twice the amount of our sauce hollandaise (for 4 servings). Check the recipe on our blog.
Celery root schnitzel
Bring a pot or pan of salted water to a boil.
Peel the celery root and cut into about 1 cm thick slices. We got about 10 slices from one celery root.
Add celery slices to the pot and let simmer for about 5 minutes. In the end, they should be soft but not break into pieces. Drain the celery slices on a cloth and allow to cool down.
Rub each celery slice (from both sides) with mustard and season well with salt, pepper, paprika powder and nutmeg.
Use three deep plates or bowls and fill with each flour, plant-based milk, and breadcrumbs. Start by flouring the celery slices from both sides, which will help the coating stick. Dredge in plant-based milk, then cover with breadcrumbs.
Heat a lot of vegetable oil in a deep frying pan - it should be approx. 0.4 in / 1 cm high. Fry celery schnitzel from both sides until golden brown, then carefully remove from the fat and drain on paper towels
Serve celery schnitzel with potatoes, white asparagus, and sauce hollandaise and garnish with fresh parsley.