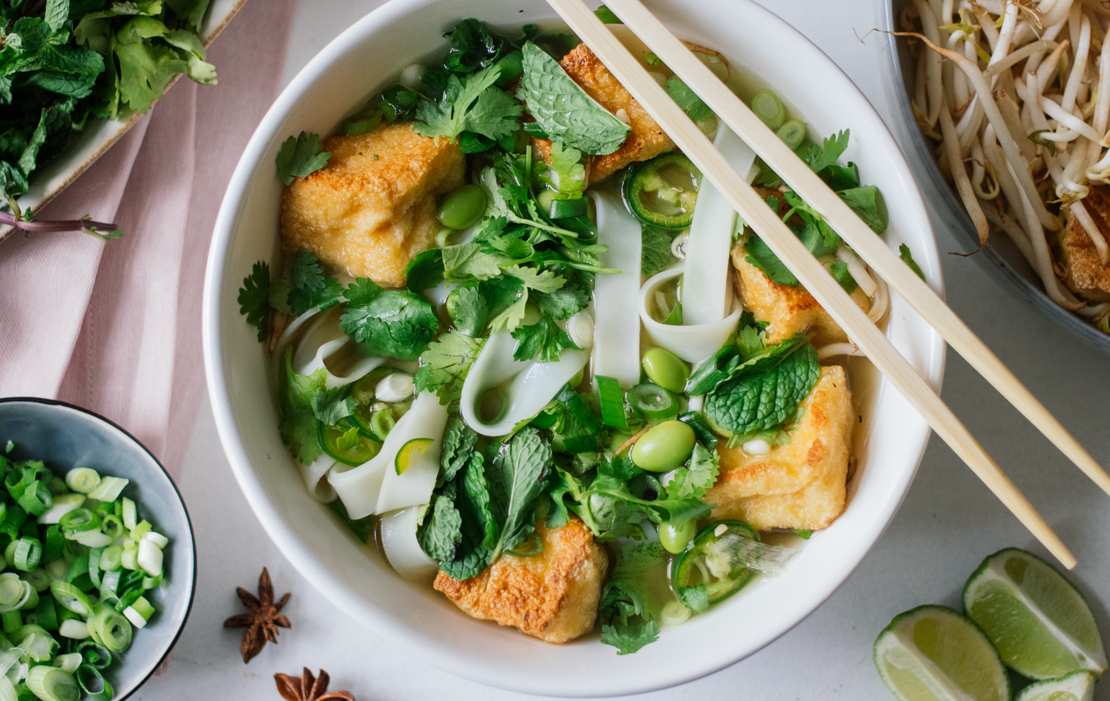 Vegan Rice Noodle Soup (Pho)
One would think that you catch a cold most likely in the deepest winter days, but somehow it rather happens in transition periods or weeks like this one, when temperatures change from 34°F to 57°F during the day. The winter coat is too warm for the afternoon, the short socks are too cold for the morning... what to do now? So in no time you're sick and all you need is a warm, comforting soup, right?
Here's where the Vietnamese soup Pho comes in. It's usually not suitable for vegans, because even if you find one with tofu, the soup is traditionally based on beef broth. However, we already had the pleasure to eat a vegan pho in Berlin, and since you probably don't want to leave the house when you're sick, here's our recipe to make a vegan pho at home, based on vegetable stock. We still took some details from the beef recipes, such as aromatics and spices, which are toasted in advance to get fragrant. Miso paste and nutritional yeast will help to develop a deep umami flavor. The tip for the latter comes from Andrea Nguyen, who has published her own recipe for a [vegan Pho at Food52] (https://food52.com/recipes/68110-andrea-nguyen-s-vegan-chicken-ph).
Regarding "toppings", we decided on rice noodles (of course), edamame beans, tofu, and soybean sprouts, and topped the soup with fresh herbs and scallion. Up to your taste, add some bok choy, mushrooms, sugar snap peas, and more!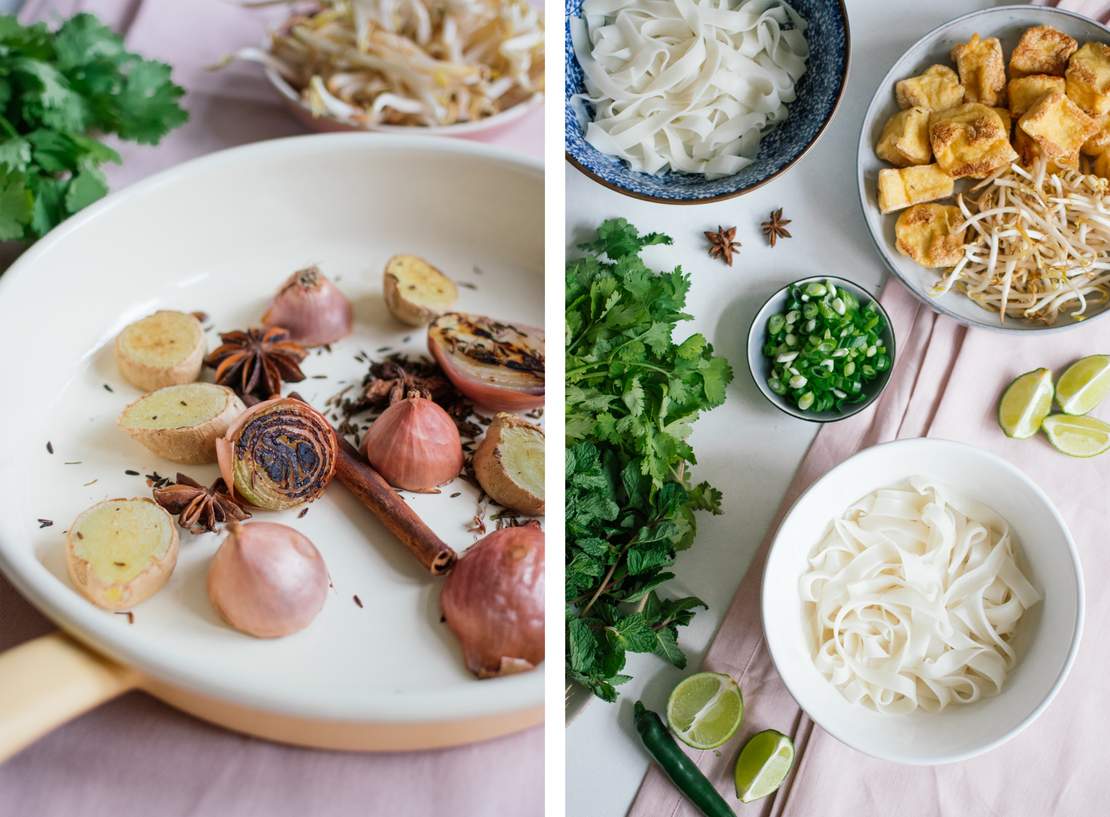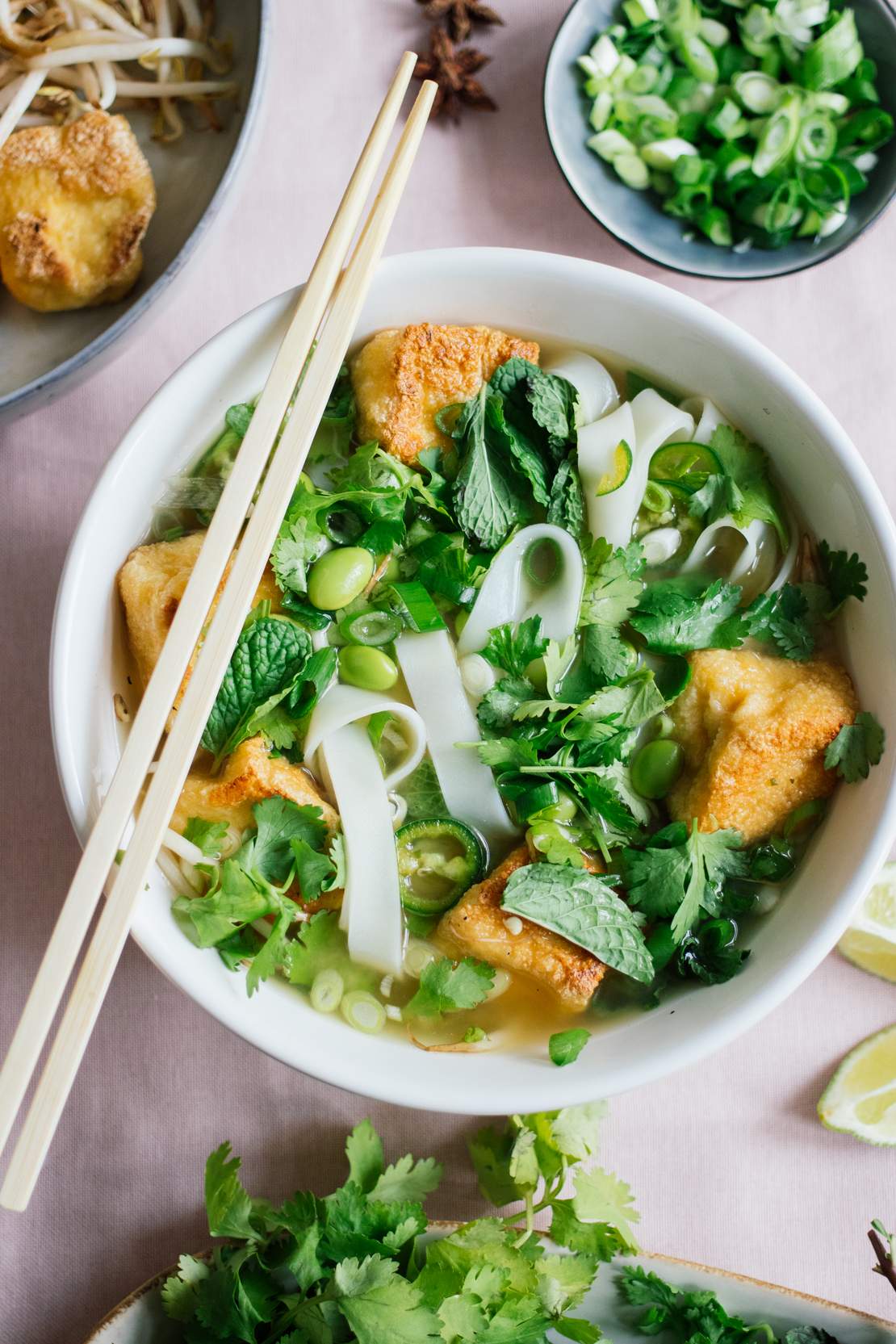 Vegan Rice Noodle Soup (Pho)
Ingredients
200 g (7 oz) rice noodles
2 tbsp nutritional yeast
150 ml (0.66 cup) hot water
100 g (3.5 oz) edamame beans
1 cinnamon stick
3 star anise
2 cloves
1 tsp coriander seeds
3 shallots
50 g (2 oz) ginger
2 l (9 cups) vegetable broth
2 tbsp light miso paste
250 g (9 oz) baked tofu
1 tsp soy sauce
1 chili
1 scallion
1 lime
mint for serving
cilantro for serving
soybean sprouts for serving
Instructions
Add nutritional yeast and hot water to a cup and let sit until needed. Prepare rice noodles and edamame beans according to package instructions, then set aside.
In the meantime, heat a frying pan over medium heat and roast cinnamon stick, star anise, cloves, and coriander seeds until fragrant. Remove from the pan and set aside. Halve or quarter shallots and ginger (you don't need to peel them), then add to the same frying pan as you used for the spices and roast until browned.
Add vegetable broth to a large pot and bring to a boil. Stir in light miso paste, then add roasted spices, shallots, and ginger. Let simmer for approx. 15 minutes.
In the meantime, fry diced tofu in a frying pan with some coconut oil until golden brown. Set aside.
Once the broth has simmered for some time, sieve into another pot to remove spices, shallots, and ginger. Now it's time to add the nutritional yeast mixture from the beginning. Add the yellowish liquid, but not the thickened 'slime.' Add some soy sauce and season the broth to taste.
Right before serving, finely slice chili and scallion, and quarter the lime. Add cooked rice noodles, edamame beans, and fried tofu to bowls and pour over hot broth. Serve with fresh mint, cilantro, sliced chili, scallion, lime, and some soybean sprouts.