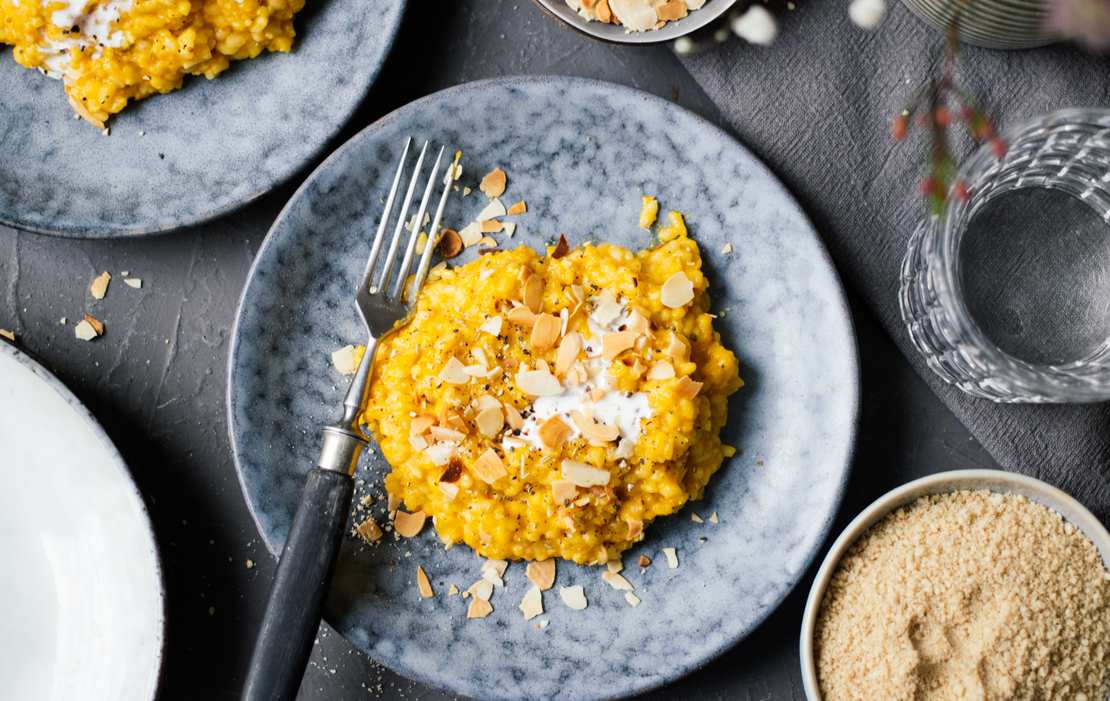 Wait, a pumpkin recipe in January? Yes, we link pumpkins rather with autumn, and the peak of pumpkin season is actually in October. However, thanks to good storage, pumpkins can still be bought until the end of winter. And somehow, there was a pumpkin in my kitchen just recently. I thought about cooking a classic pumpkin soup, but I was quite hungry and needed something more hearty. So just a bit later, I served myself a creamy pumpkin risotto with this intense, lovely color. Being so smart, I prepared the double serving, so I could eat one plate full of risotto directly, and freeze the rest for later.
The preparation of this recipe is super simple. Parallelly, you need to cook the risotto and prepare the pumpkin puree. For this, I prefer to bake the pumpkin, but you can also transfer the pumpkin to a pot, add some water, and cook gently with a lid until the pumpkin is soft, or steam it. Depending on the type of pumpkin you have, you might need to peel it before, so it's best to check this out after you bought it. I used a Hokkaido pumpkin that does not need to be peeled, but you can also use butternut squash or musquée de Provence (both have edible peels, but they need to cook for quite some time to soften).
For a deeper flavor, add some vegan parmesan to the risotto, or plain nutritional yeast. No worries if you don't have either of them at home – your risotto will still taste great.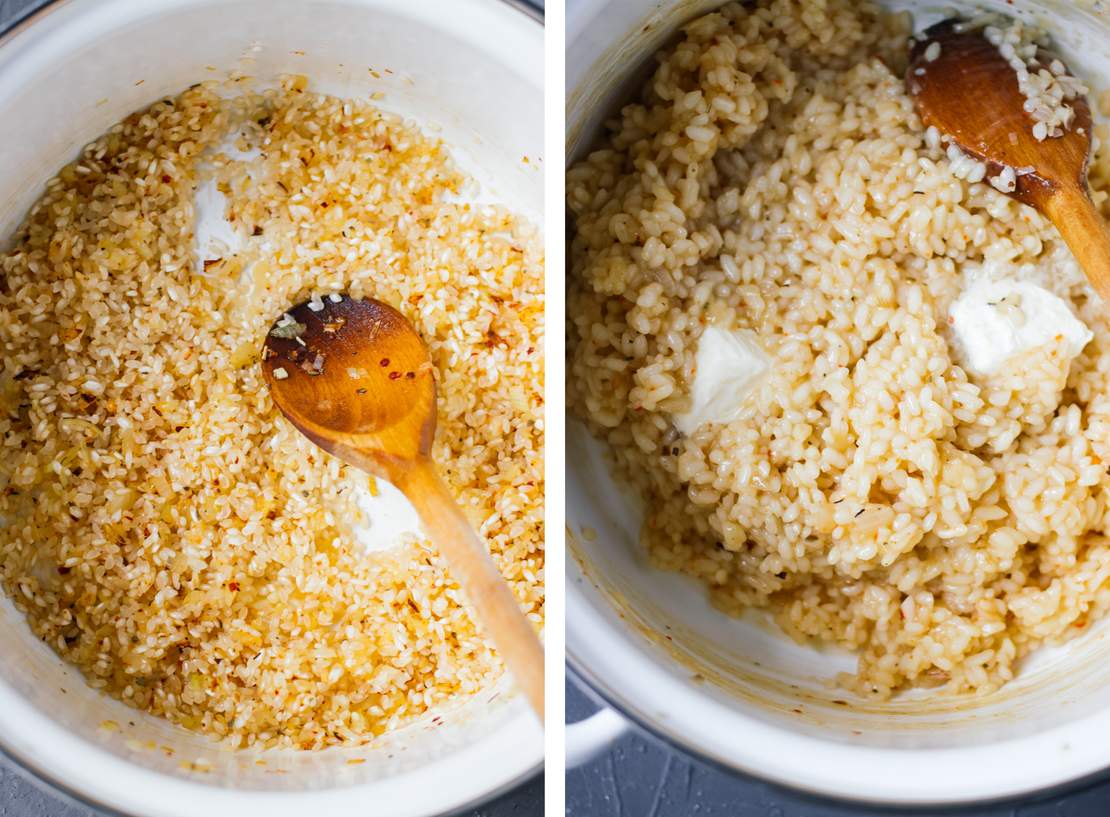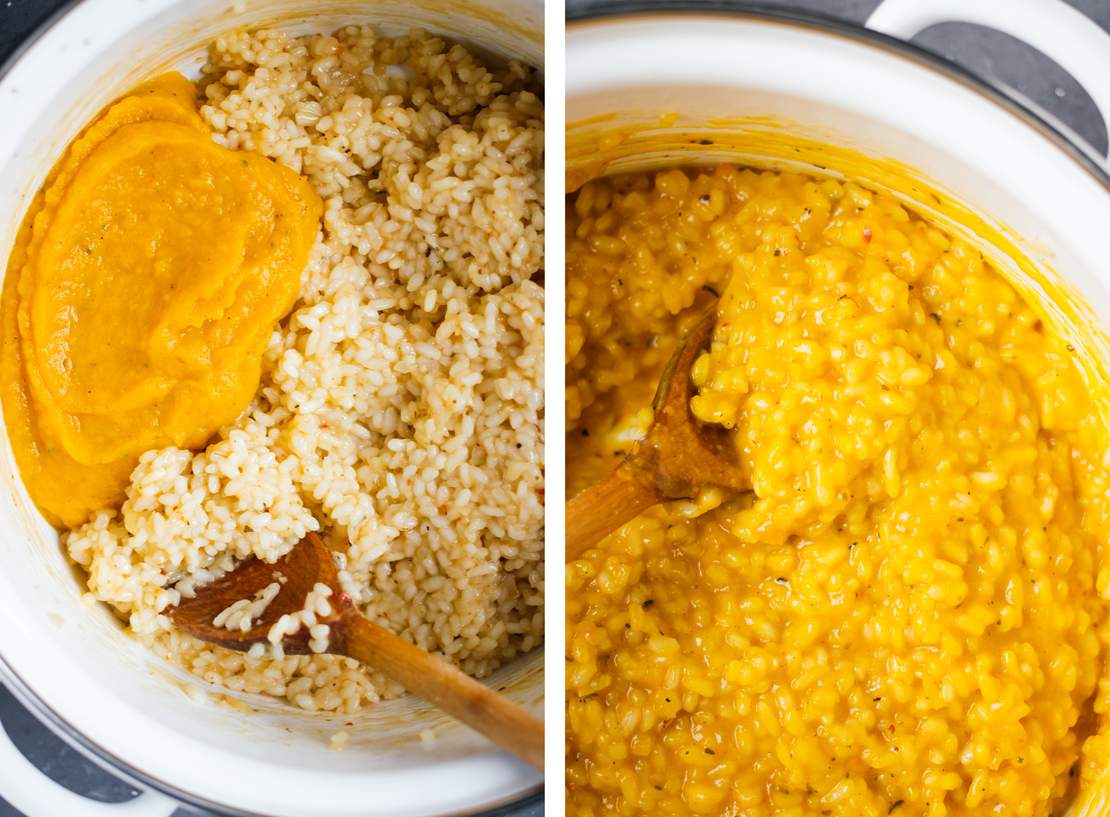 Vegan Pumpkin Risotto
Ingredients
For the pumpkin puree:
500 g (18 oz) pumpkin (e.g., Hokkaido or butternut)
1 tbsp olive oil
1 tsp turmeric
1 tsp nutmeg
0.5 tsp dried thyme
50 ml (3 tbsp) water
2 tbsp orange juice
For the risotto:
200 g (1 cup) risotto rice
2 shallots
1 garlic clove
0.5 tsp chili flakes
0.5 tsp dried thyme
2 tbsp olive oil
150 ml (0.66 cups) white wine
300 ml (1.25 cups) vegetable broth
50 g (2 oz) sliced almonds
3 tbsp vegan butter
4 tbsp vegan Parmesan cheese (optional)
plant-based heavy cream for serving
salt
pepper
Instructions
Preheat oven to 180°C/355°F. Deseed and chop pumpkin, then transfer it to a baking sheet. Drizzle with olive oil and season with turmeric, nutmeg, dried thyme, salt, and pepper. Add the water to the baking sheet and bake for approx. 20 minutes, or until the pumpkin is soft.

In the meantime, peel and finely chop shallots and garlic. Heat olive oil over medium-low heat and fry shallots until translucent. Add garlic, thyme, and chili flakes and keep frying for approx. 2 minutes. Now add the risotto rice and keep frying for one more minute.

Deglaze with white wine and let simmer for approx. 5 minutes until the wine is evaporated. Now it's time to add the vegetable broth little by little. Only add enough to cover the rice, then let it simmer while stirring from time to time. Once the liquid has been absorbed, repeat, and add some more vegetable broth. The risotto rice should be done in 15-20 minutes.

In the meantime, fry sliced almonds in a fat-free frying pan until browned, then set aside.

Blend the pumpkin from the oven until smooth. Add orange juice and season with salt and pepper to taste.

Add the pumpkin puree, vegan butter, and (if used) vegan Parmesan cheese to the risotto and stir to combine. Serve with some plant-based heavy cream and the toasted sliced almonds on top.