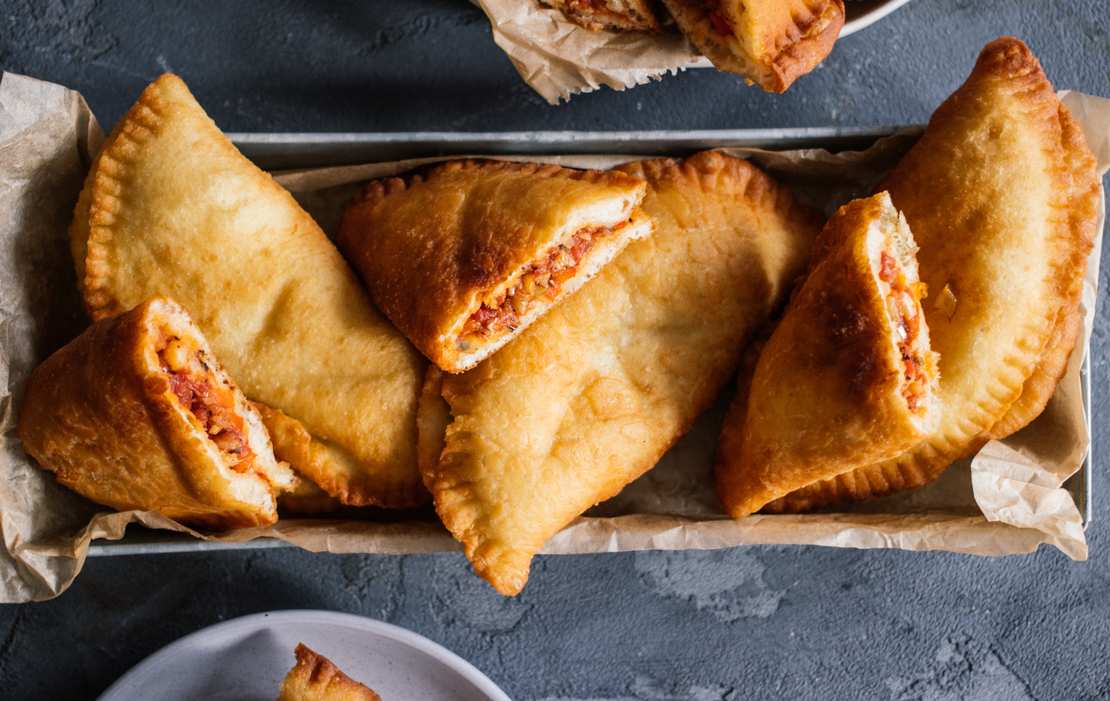 Vegan Panzerotti (Fried Turnovers) with Vegetable Filling
Wait a minute, are these deep-fried Italian turnovers, right in the middle of our themed Swedish week? You've seen right – nestled somewhere in the IKEA bistro between cinnamon rolls and hot dogs, you can always find panzerotti. We have no idea how these tasty, filled cushions made it from the Southitalian Puglia to Sweden, but then again ... who can resist deep-fried turnovers?
The filling of panzerotti differentiates depending on the region. You can find sweet and savory options, e.g., with ricotta, ham, sweetened chickpeas, jam, or tossed in sugar and cinnamon. The Swedish bistro offers a filling of mozzarella cheese and tomato. We simply looked around in our kitchen and made up our own filling with artichokes, bell peppers, tomatoes, but no cheese substitute.The preparation is simple, but it takes some time as the yeast dough needs to rise. You'll also need to deep-fry the turnovers to get them golden brown and crispy. Since a lot of people are afraid of this preparation, we want to share a few tips. It's not necessary to fill a large pot with liters of vegetable oil. Instead, go for a deep pan or a small saucepan and fill it with oil, approx. 3-4 finger-width. To test if the oil is hot enough, either use a food thermometer or carefully dip a wooden skewer into the oil – if you can see bubbles forming around it, you can start deep-frying. Don't add all of the panzerotties in once, but fry 1-3 per batch. This will make sure that the temperature of the oil is not dropping low, that all turnovers have enough space, and that there's no oil spilling over.
If you want to prepare panzerotti ahead, you can freeze them after filling and deep-fry them later.
Vegan Panzerotti (Fried Turnovers) with Vegetable Filling
12 pieces
50 Min. (+ 60 min. resting time)
Ingredients
For the dough:
1 tsp active dry yeast
500 g (4 cups) flour
2 tsp salt
1 tsp sugar
250 ml (1 cup) lukewarm water
1 tsp olive oil
For the filling:
2 onions
3 garlic cloves
1 bell pepper
150 g (5.5 oz) jarred artichokes
400 g (14 oz) canned cherry tomatoes
2 tbsp dried oregano
1 tbsp dried basil
olive oil for frying
vegetable oil for deep-frying
salt
pepper
Instructions
Start by preparing the dough: mix active dry yeast, flour, salt, and sugar in a bowl. You can prepare the dough with a kitchen machine (very convenient!), use a hand mixer with dough hooks, or knead by hand (a nice workout!). Slowly add lukewarm water and olive oil. First, mix on low speed until all ingredients are combined, then knead on high speed for approx. 5-10 minutes. The dough shouldn't stick to the bowl anymore. For good conscience, knead the dough by hand for another 2-3 minutes. Grease the bowl with some oil, transfer the dough to the bowl, and cover with a clean kitchen towel. Let rest and rise in a warm place for approx. 30-60 minutes, or until the dough volume is approx. doubled.

Time to listen to a podcast, take a walk, or just be lazy. Once the dough has risen enough, transfer to a floured surface and knead again. Form into a log, then divide the dough into 12 equal-sized pieces. Form each piece of dough into smaller balls and brush with some oil. Cover the dough balls with the kitchen towel and let rest and rise for another 30 minutes.

In the meantime, prepare the filling: peel and finely chop onions and garlic. Finely dice the bell pepper and chop artichokes.

Heat olive oil in a large frying pan over medium-low heat. Fry onion and garlic with dried oregano and basil until the onion is translucent. Add bell pepper and artichokes and fry for another 5 minutes to soften the bell pepper. Add canned tomatoes and simmer over medium heat for approx. 5 minutes. Crush tomatoes with a wooden spoon to release the liquid. In the end, the filling should be rather thickened, not moist.

Roll out each dough ball into a circle. Add approx. 1-2 tbsp of the filling on one half of the dough circle. Fold the remaining empty half of the dough over the filling and seal the edges with your hands or a fork, basically like a calzone.

Fill a frying pan with vegetable oil, approx. 5 cm high, and heat until the oil reaches 180°C/355°F. Use a wooden skewer to test if the oil is hot enough. Carefully hold the wooden skewer into the hot oil – if bubbles form around it, you're ready to go. Fry panzerotti in batches from both sides until golden brown. Remove from the hot oil, and degrease on paper towels. Make sure to not fry too many panzerotties at the same time, but be patient and take some time for this step. Enjoy panzerotti hot or at room temperature.
More Vegan Brunch Recipes