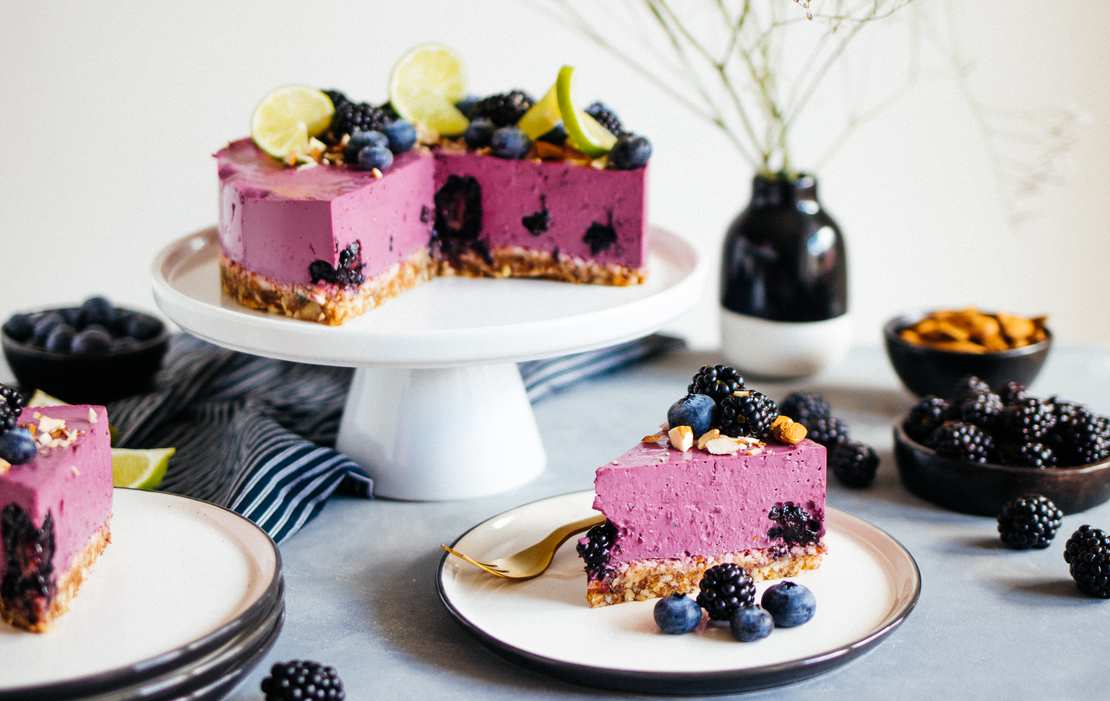 Vegan No-Bake Blackberry Cake
When it comes to summer berries, we directly think of strawberries, raspberries, or blueberries. Blackberries, however, are often overseen. And while we all have a few favorites for strawberry cakes, try to think of your very favorite recipe with blackberries now. What a bummer. This may be due to the slightly higher price you have to pay for blackberries (since are very sensitive to pressure, they need to be picked by hand). But anyway, today could be your day to meet your favorite blackberry recipe. They are not only incredibly pretty, but also taste wonderfully sweet and sour.
If blackberries are not in season in your area right now, you could also use other berries, rhubarb, or cherries for this cake. We have decided to keep the preparation of the cake as simple as possible. All you need is a food processor, a pot, and a springform pan. We used one with 18 cm / 7 inches in diameter, but the size doesn't actually matter in this recipe. Since we're not even baking it, it's totally fine if your cake might be a bit higher or flatter. It could only take a bit less/more time to refrigerate then.
For the crust, we'll mix dates and almonds in a food processor. The filling consists of vegan curd (which you can get in many German supermarkets and organic stores), blended blackberries, fresh lime juice, and agar agar in sheets from the German company RUF, who are supporting us with this recipe (and we're so thrilled about this).
You probably already know agar-agar, the plant-based and neutral-tasting gelling agent that usually comes in the form of a powder. It's extracted from blue or red algae, and it's a great alternative to gelatine (which is made with animal bones). However, since the conversion from sheets of gelatine to agar agar powder is sometimes a bit complicated, RUF has now developed sheets of agar agar, which you can use to convert your old favorite recipes in a really simple way: 2 sheets of agar agar = 6 sheets of gelatine. We used 4 sheets of agar agar for our cake, and the consistency turned out wonderfully firm yet creamy – you should definitely try it out!
Vegan No-Bake Blackberry Cake
1 cake (ø 18 cm / 7 inches)
30 minutes (+ 4 hours cooling time)
Ingredients
For the crust:
100 g (3.5 oz) dates
200 g (7 oz) almonds
20 g (1.5 tbsp) coconut oil
0.5 tsp salt
For the filling:
50 g (2.5 tbsp) agave syrup
2 tsp vanilla flavor
800 g (3 cups) plant-based curd
1 lime
375 g (13 oz) fresh blackberries
4 sheets agar-agar (e.g. by RUF)
For garnish:
125 g (4.5 oz) fresh blackberries
50 g (2 oz) chopped almonds
1 lime
Instructions
Crust
Add dates, almonds, coconut oil, and salt to a food processor and mix for approx. 1 minute on high level.
Add the mixture to a springform pan (ø 18 cm / 7 inches) and press down with your hands to form a smooth crust. Refrigerate.
Filling
Add agave syrup, vanilla flavor, the juice of a lemon, and plant-based curd to a bowl and whisk until smooth.
Wash 250 g (9 oz) blackberries and add them to a liquid measuring cup. Blend until smooth.
Add blended blackberries to a large pot or a deep pan and add 300 g (10.5 oz) of the vegan curd mixture. Bring to a simmer over medium heat while stirring constantly.
Add the sheets of agar-agar and let the mixture simmer for at least 2 minutes. Keep stirring until the agar-agar is dissolved.
Remove the pot from heat, then add the remaining curd mixture and whisk to combine. Set the mixture aside.
Wash 125 g (4 oz) blackberries and place them on top of the refrigerated crust. Carefully add the the fruity curd filling on top and smooth out.
Refrigerate the cake over night (or at least 4 hours).
Remove the cake from the fridge and garnish with fresh blackberries, lime slices, and chopped almonds.
More Vegan Recipes with Berries