Vegan Moussaka with beluga lentils
As I was just writing down the recipe for our vegan moussaka, a few questions came to my mind: How did I come up with so many steps? Did this recipe took four days, and I maybe didn't even notice it? And who would want to cook it now?
But before you're totally unmotivated and overwhelmed, here's why you SHOULD cook this recipe: Yes, it might not be a quick and easy weeknight dinner, but it's a great and most importantly a delicious dinner that helps you to a) finally listen to all the podcasts you missed the last weeks, and b) invite friends over who will help you with cooking! Divide them into smaller groups, so that some of them are frying eggplants, while others prepare the lentil layer and the remaining ones are taking care of the cashew bechamel sauce. Suddenly this dish will take no time at all, and you'll have spent all the happy quality time cooking together. In the end, the delicious Greek answer to lasagna will wait for you and thanks for all the patience and hard work. So let the fun begin!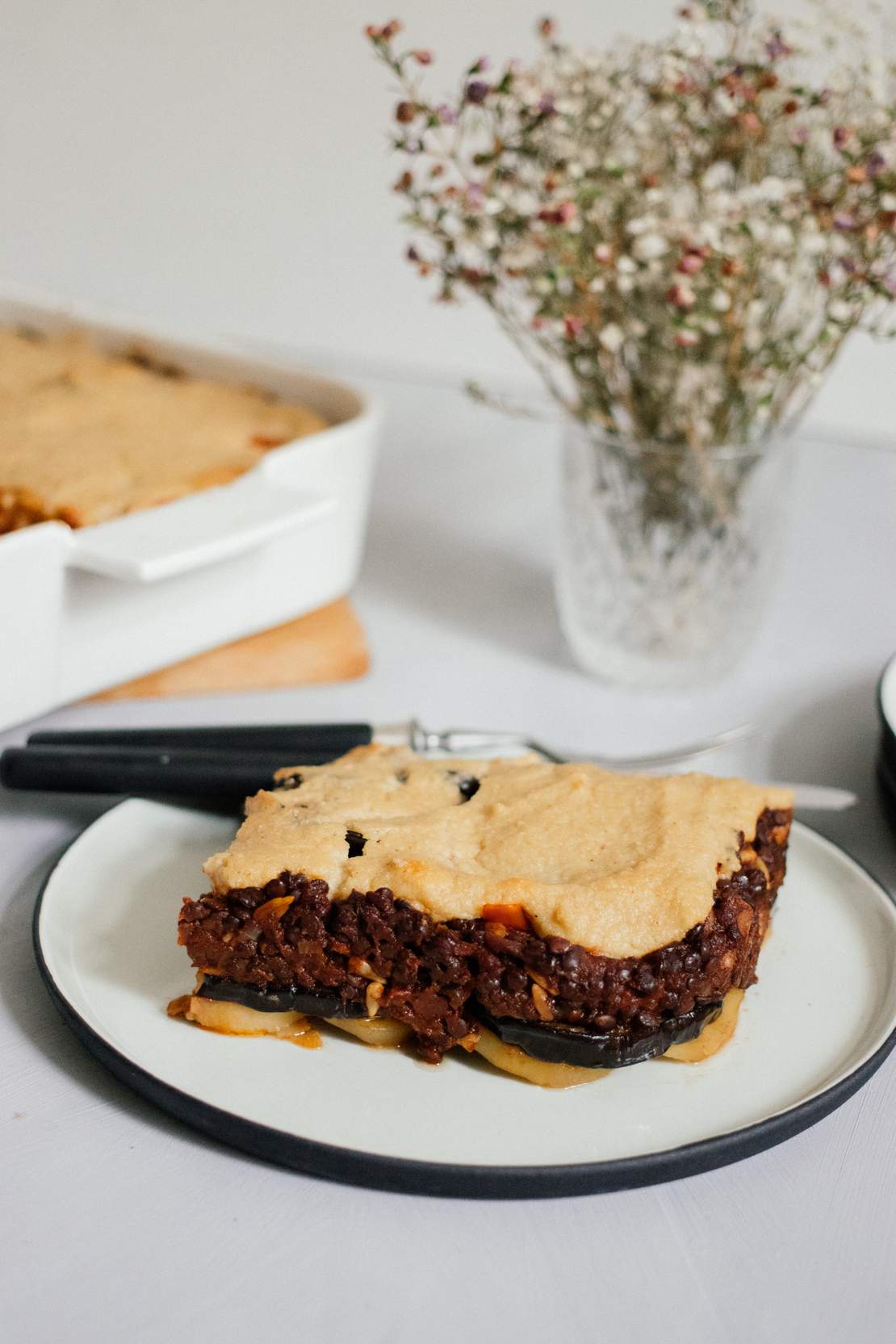 Vegan Moussaka
4 servings
70 minutes (+30 minutes baking time)
Ingredients
750 g (1.66 lbs) potatoes (primarily waxy)
2 tomatoes
125 g (4.5 oz) beluga lentils
2 eggplants
1 onion
2 garlic cloves
100 g (3.5 oz) sunflower seeds
2 tbsp tomato paste
2 tbsp maple syrup
1 tbsp dried oregano
1 tbsp dried thyme
1 tbsp dried marjoram
1 tsp cinnamon
100 ml (0.5 cup) vegan red wine
300 ml (1.25 cup) vegetable broth
400 g (14 oz) canned diced tomatoes
100 g (3.5 oz) cashews (soaked)
250 ml (1 cup) plantbased milk
1 tbsp white miso paste
3 tbsp nutritional yeast
2 tbsp vegan butter
2 tbsp flour
salt
pepper
ground nutmeg
vegetable oil for frying
olive oil for greasing
Instructions
Peel potatoes and add to a large pot. Cover with water, season with salt and boil potatoes over medium heat for approx. 20 minutes, or until the potatoes are fork-tender. Parallelly cook lentils with the double amount of water in a second pot over medium heat. First, bring to a boil, then reduce the heat and let lentils simmer covered for approx. 20 minutes. Don't season lentils with salt before cooking them.

In the meantime, slice eggplants approx. 1-cm/0.4-in thick and transfer to a baking sheet. Season with salt and let eggplants rest for approx. 10 minutes. You'll see drops of water appearing on the slices.

While waiting for the eggplants, slice tomatoes, and peel and finely chop onion and garlic.

Once potatoes and lentils are done, drain both. Season lentils with salt and set aside. Let potatoes cool down a bit, then slice them, and set aside as well.

The eggplants should be ready for frying now. Drain the evaporated water with some paper towels. Heat vegetable oil in a large frying pan over medium heat and fry sliced eggplants in batches from both sides until golden brown. Remove from the pan and let drain on paper towels again.

Once the eggplants are done, let's continue with the lentil layer. Heat vegetable oil in the frying pan and fry onion and garlic for approx. 2 - 3 minutes until translucent. Add sunflower seeds and keep frying for a few minutes. Add tomato paste, maple syrup, dried oregano, thyme, marjoram, and cinnamon. Deglaze with vegan red wine and let simmer for approx. 2 - 3 minutes.

Add vegetable broth, canned tomatoes, and precooked lentils. Stir to combine, and let simmer for approx. 10 minutes. Then generously season with salt and pepper to taste.

Preheat oven to 180°C/350°F. While the lentil mixture is simmering, it's time to prepare the cashew bechamel sauce. Add soaked cashews, plant-based milk, miso paste, and nutritional yeast to a blender or food processor and mix until smooth. In a small pot, melt vegan butter and stir in flour. Now add the cashew mixture and keep stirring with a whisk all the time to avoid any lumps. Season the cashew bechamel sauce with salt, pepper, and nutmeg to taste.

We're nearly done! Grease a baking dish with olive oil and start with a layer of sliced cooked potatoes. Top with half of the eggplants, the spread the whole lentil mixture on top. Cover with remaining eggplant slices and tomato slices and finish with a layer of the cashew bechamel sauce. Bake for approx. 30 minutes. Congratulations, you made it!