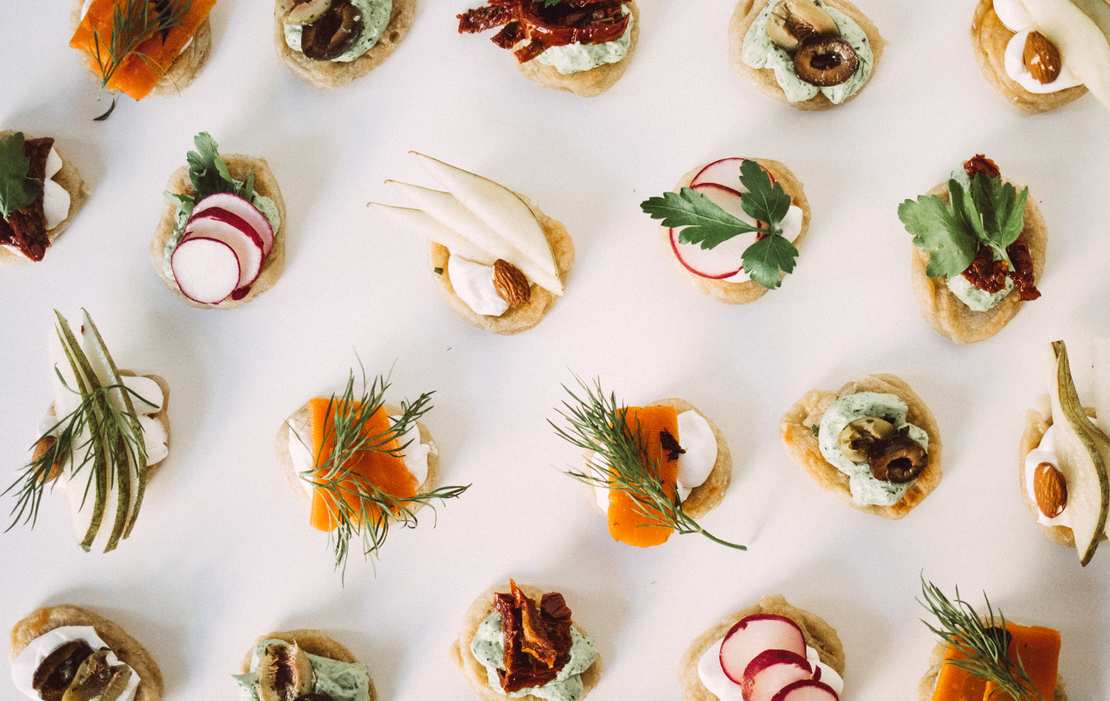 Vegan Mini Blinis with Carrot Lox
The right starter for your dinner party! The choice of the perfect party appetizer is not easy. It should stimulate appetite and should be served as nice finger food for every taste without being too much – uffs. As we say, it's not that easy. Blinis, the East-European version of pancakes is therefor a great choice – especially in the mini version. You can eat them in one bite and chose toppings according to your taste. Our favorites are cream cheese and herbed cream with marinated and fresh toppings. Which is your favorite?
Vegane Mini Blinis
for 4 - 5 persons
40 minutes
Ingredients
FOR DOUGH
75 g (0.6 cup) buckwheat flour
100 g (0.8 cup) flour
0.5 tsp salt
1 tbsp soy flour mixed with 2 tbsp water
125 ml (0.5 cup) lukewarm soy milk
21 g (0.7 oz) fresh yeast
40 g (0.35 stick) melted vegan butter
50 ml (0.25 cup) sparkling water
oil for frying
FOR CREAMS
300 g (11 oz) vegan cream cheese
25 g (1 oz) fresh basil
25 g (1 oz) fresh parsley
25 g (1 oz) fresh mint
fresh lemon juice
garlic powder
salt
pepper
FOR TOPPING
carrot lox
5 radishes
1 pear
1 handful olives
1 handful dried tomatoes
1 handful almonds
0.5 bunch fresh dill
0.5 bunch fresh parsley
Instructions
Start with preparing the batter. Dissolve fresh yeast in lukewarm soy milk. In a large bowl, mix buckwheat flour, regular flour and salt. Add yeast-soymilk-mix little by little.
In another small bowl, mix soy flour with water. Add to batter followed by sparkling water and stir until combined. Also add melted butter that should only be lukewarm then and mix until batter is soft. Set aside for apprix. 15 minutes.
Heat oil in a pan and drop in small circles of batter (1-1,5inch diameter) carefully roast from both sides for 2-3 minutes until golden brown.
For preparing creams, stir one half of vegan cream cheese until smooth and season with salt, pepper and garlic powder. For a herbed cream, purée herbs with a mixer.
Mix the other half of vegan cream cheese with puréed herbs and season with salt, pepper and lemon juice.
Time for toppings. According to your wishes, slice and cut toppings of choice and set aside.
For serving blinis, fill each cream cheese in a piping bag and cut off the tip a little in order to pipe it smoothly on each blini. Afterwards add toppings as you like. How about a regular cream cheese blini with carrot lox or a herbed cream blini with radishes? Enjoy!
Vegan Carrot Lox
Ingredients
3 large carrots
1 tbsp oil
2 tsp liquid smoke
1/2 nori sheet
0.5 tsp salt
0.5 tsp rice vinegar
optional: 1/2 tsp Old Bay Seasoning
Instructions
Peel and finely slice carrots using a sharp knife or a vegetable peeler.
Steam slices by transferring to a pot of boiling salted water and cook for approx. five minutes. Afterward, drain and transfer to a low bowl.
Stir all ingredients for the marinade (oil, liquid smoke, salt and rice vinegar). Finely cut nori sheet with a sharp knife or scissors and stir into marinade.
Drizzle marinade on top of carrot slices and make sure that each of them is covered with it. Set aside for approx. 60 minutes.
Enjoy as topping on sandwiches, bagels or as a starter on our vegan blinis!