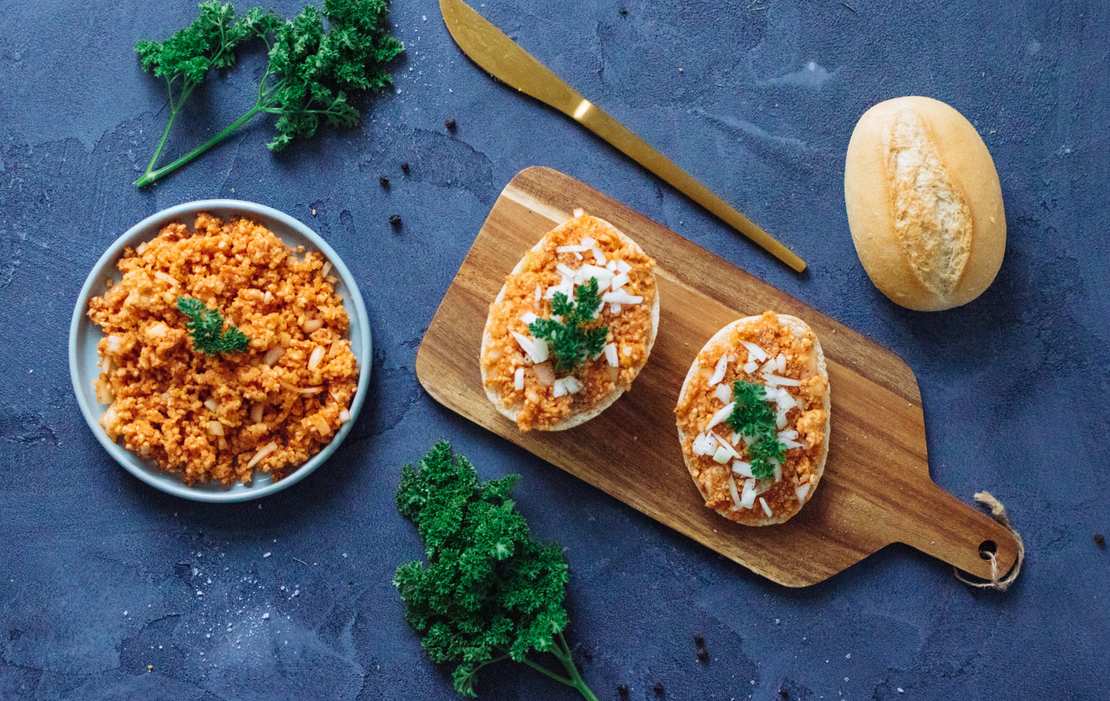 Make a wish: In our series "Make a wish" we develop recipes to make your wishes come true - whether it's about vegan french toasts or doughnuts. If you also have a recipe that we should cook for you, send us a quick mail to hello@zuckerjagdwurst.com. Until then, find all your previous wished recipes here.
Welcome to our new series "Make a Wish!". In this series we want to make you happy by cooking the food you want! You are searching for this one recipe? We will develop it for you! Just text us hello@zuckerjagdwurst.com or leave a comment below!
The first wish we fulfill is from our good friend Maximilian. He loves mett (ground pork you normally spread on white bread, here in Germany). We were never fans of mett but while developing this recipe we recognized how easy it is to substitute this dish to 100% and to still get the taste of the original ingredients. Just have a look, it's so simple!
Vegan Mett (ground pork)
4 bread rolls
15 minutes (+ time to wait)
Ingredients
100 g (3.5 oz) rice cakes
250 - 300 ml (1 - 1.25 cups) water
1/2 - 1 onion
50 g (1.7 oz) tomato paste
salt&pepper
2 stalks parsley
4 bread buns
Instructions
Crumble rice cakes in a small bowl with your fingers.
Add water and mix well with a fork. Let soak.
Add chopped onion and tomato paste. Fold both in!
Season well with salt and pepper and allow to pass through in the fridge for some hours.
Spread the vegan "mett" on a bread roll and garnish with parsley and more chopped onions. Enjoy!
More Make a wish - Vegan Recipes You Requested