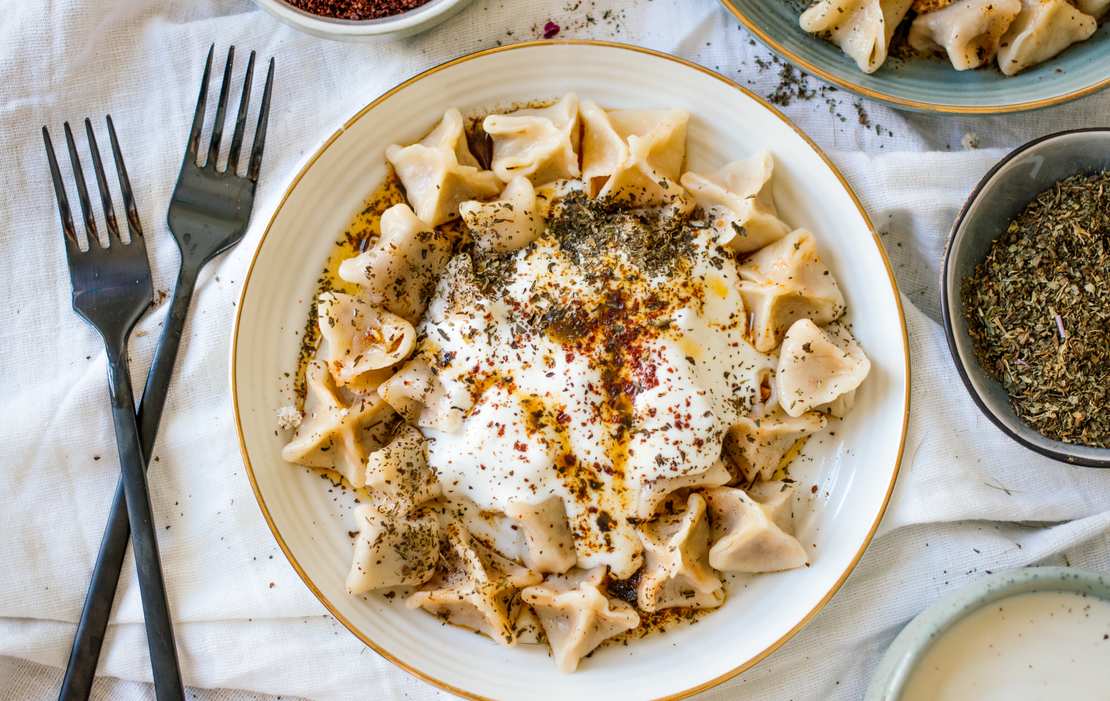 Vegan Manti with Soy Filling
These small dumplings called manti are mainly known from the Turkish cuisine but they are also a national dish in Kazakhstan and eaten in Russia, Ukraine, and other countries where they also come in different shapes. You can buy dry manti in Turkish supermarkets, even filled with soy, but they often contain eggs, so that's why we wanted to make a vegan version of Turkish manti for our dumpling week. We watched and read a lot of recipes, videos, and instructions for folding techniques - the latter taking up the most time, for sure.
The dough is prepared quickly and needs some rest - time that you can use to prepare the filling. Traditionally, manti are filled with minced meat, which has a kind of sticky texture, making it easy to fold the dough around it. For the vegan filling, you have to chop the soy meat and all other ingredients finely, as only half a teaspoon fits into the dumplings. To get this sticky texture, we've added tomato paste - don't skip this, because the dry ingredients only would just fall out of the dumplings. To fold manti, we used the following method: Hold a square piece of the dough in your hands, start by pressing the two left corners together, then the two right ones. Now fold these two corners towards the middle and press to seal. Youtube videos helped us a lot in the beginning! Since you'll fold a hundred and more manti, this will take some time, so maybe just ask friends over...
Manti are served with paprika-spiced butter and a cold, garlicky yogurt sauce - both are easy to make vegan. Also don't skip the spices for serving: sumach and dried mint are refining this dish and are not optional. The combination of warm manti and cold yogurt sauce is so delicious that it makes up for all the work!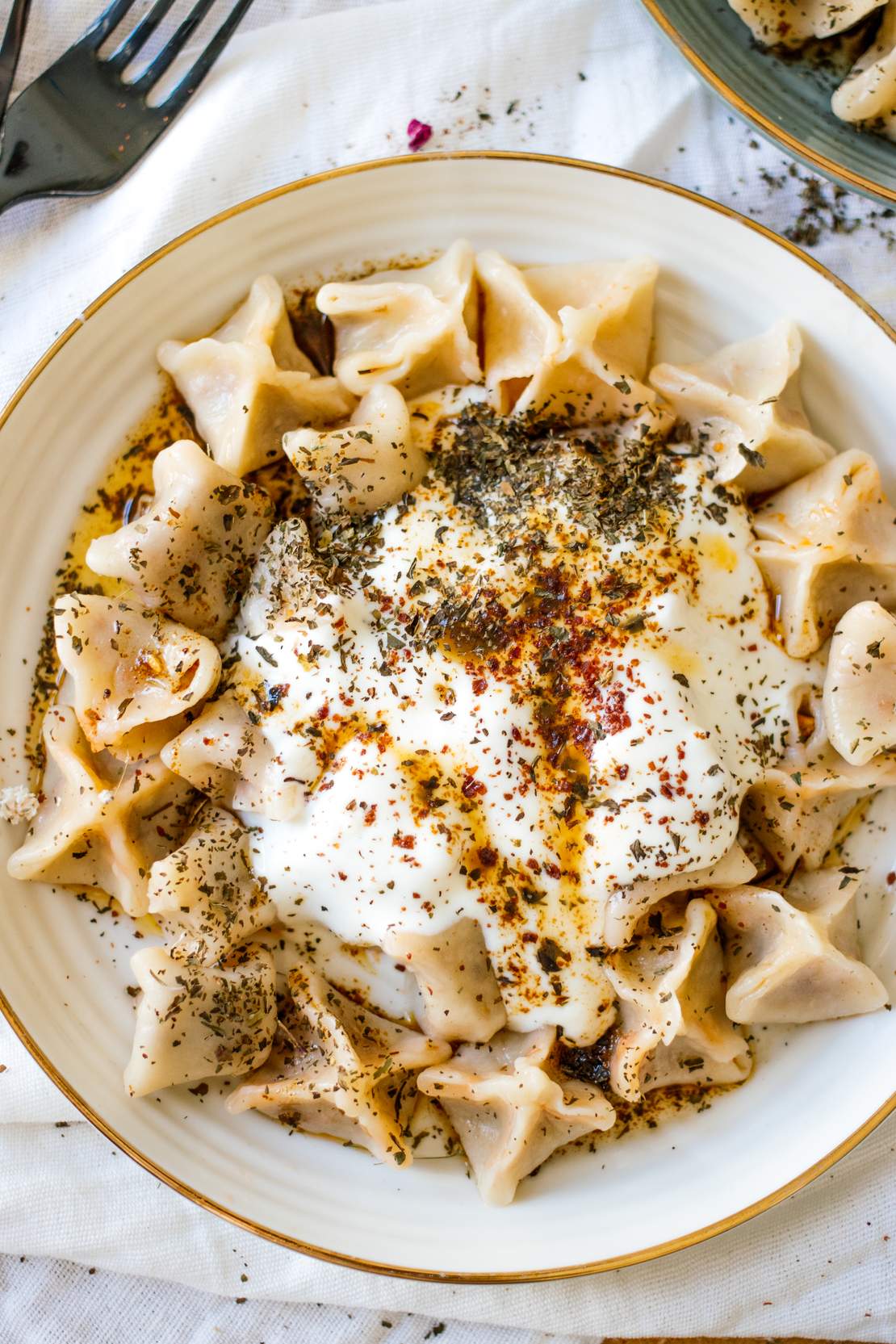 Vegan Manti wit Soy Filling
Ingredients
For the dough:
300 g (2.5 cups) flour
0.5 tsp salt
150 ml (0.66 cup) lukewarm water
semolina for dusting
For the filling:
1 shallot
250 g (9 oz) minced soy meat
0.5 tsp soy sauce
1 tsp ground cumin
1 tsp sweet paprika
5 tbsp tomato paste (or bell pepper paste)
vegetable oil for frying
salt
pepper
For serving:
500 g (2 cups) unsweetened plant-based yogurt
2 garlic cloves
100 g (1 stick) vegan butter
3 tsp paprika
sumac
dried mint
salt
Instructions
For the dough, add flour to a clean working surface, sprinkle with salt and form a hollow in the middle. Add lukewarm water to the hollow and start incorporating the flour little by little until a smooth dough forms. If the dough turns out to be too dry, add some more water. Cover the dough to prevent it from drying out and let it rest for approx. 20 minutes.

While the dough rests, prepare the filling and vegan yogurt sauce. Peel and finely dice shallot, also chop minced soy meat, so it's even finer and not too chunky. Heat vegetable oil in a frying pan and sear soy meat for approx. 4 - 5 minutes until browned nicely. Add soy sauce, onion, cumin, and paprika powder and keep frying until the onions are translucent. Add tomato paste, stir to combine and continue frying for a few more minutes over low heat. In case the filling is still too crumbly, add more tomato paste.

To have enough time to fold and cook manti later, prepare the plant-based yogurt sauce already now. Peel and finely chop garlic cloves. Add them to unsweetened plant-based yogurt, stir to combine and season with salt to taste. Refrigerate the sauce until it's serving time.

Once the dough has rested long enough, divide it into four equal sized parts. Take one part of the dough and cover the remaining to avoid it from drying out. Roll out the dough very thin, and if needed dust with semolina. Using a knife, cut the dough into squares that are approx. 2 - 3 fingers wide. It's better to start with only a few squares to try out how the manti are folded before cutting all of the dough.

Add approx. 1/2 teaspoon of filling to the center of a dough square. The take the dough into your hands and start by pressing the left two corners together, and the two right corners, too. You should now have like an open bag with two corners. Fold these into the middle and press together to seal. It takes some time to get a feeling of how much filling is too much, but we're sure, you'll manage just fine. In cases of emergency, there are tons of helpful videos online that you can watch. Repeat with all dough parts and filling until all manti are folded. Yep, this will take some time!

Once your done folding, it's time to bring water in a large pot to a boil. It shouldn't be bubbly, but only simmering. Work in batches to cook manti for approx. 5 minutes, then use a slotted spoon to remove them from the water and drain.

Parallelly melt vegan butter in a frying pan over medium heat and stir in paprika powder. That's it. Remove from heat.

Serve manti with cold plant-based yogurt sauce on top. Drizzle with vegan paprika butter and sprinkle with sumac and dried mint.