A Linzer Torte looks, compared to a vegan Black Forest Cake or a vegan Frankfurter Kranz (Crown Cake), almost .. boring. Nevertheless, it's one of the absolute cake classics, which at least doesn't need much time and is still very delicious. If you are thinking about the related Linzer cookies, just have a look at this recipe.
The Linzer Torte traditionally comes from Austria and consists of just two components: a short pastry with almonds and spices and red currant jam. If you don't cook the jam yourself, you only have to take care of the dough. So the hardest work is to roll out the dough and to place the dough strips carefully onto the cake. When you have completed this step, you can lean back and wait for your homemade vegan Linzer Torte.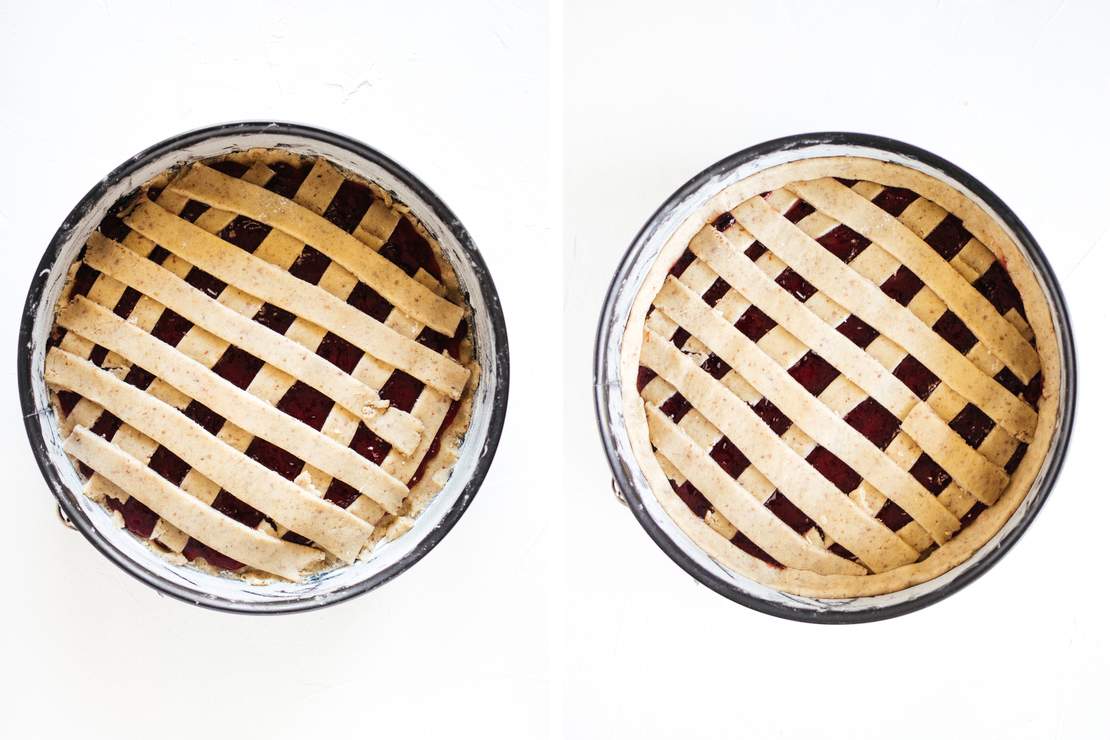 Vegan Linzer Torte
1 cake (12 pieces)
45 minutes (+60 minutes waiting time)
Ingredients
1 tbsp vegan butter (for greasing)
1 tbsp flour (for greasing)
2-3 tbsp plant-based milk
1 tsp agave syrup
dough
250 g wheat flour
100 g white sugar
8 g baking powder
1 pinch of salt
0.5 tsp cinnamon
1 pinch of cardamom
1 pinch of ground cloves
100 g ground almonds
200 g plant-based butter
serving
370 g currant jam
1 tbsp powdered sugar
Instructions
Mix the flour, sugar, salt, baking powder, cinnamon, ground cloves, cardamom, and ground almonds in a bowl.
Knead in the plant-based butter and form a ball. Let the dough rest in the fridge for 30 minutes.
Halve the dough and grease a cake tin (26cm diameter) with vegan butter and sprinkle with a little flour.
Place the first half of the dough in the cake tin and use your fingers to form an even cake base.
Place the red currant jelly in a bowl and stir until smooth. Fill in the jam and spread evenly, leaving about 1 cm / 0.4 inch all around for the edge.
Roll out half of the remaining dough and cut into strips with a pizza cutter or knife.
Place half of the dough strips from the lower left side to the upper right side. A long knife or an angled plate are very helpful for placing the strips on the cake.
Place the second half of the strips from the lower right corner to the upper left corner.
Take the remaining dough and shape several (5-9) small rolls with your hands. Place the rolls into the tin as an edging, and press down gently.
Mix plant-based milk and agave syrup in a small container and brush the dough.
Bake in the oven at 180°C/356°F for about 30 minutes. Allow to cool and sprinkle with a little powdered sugar before serving.
More Vegan Cakes & Cookies