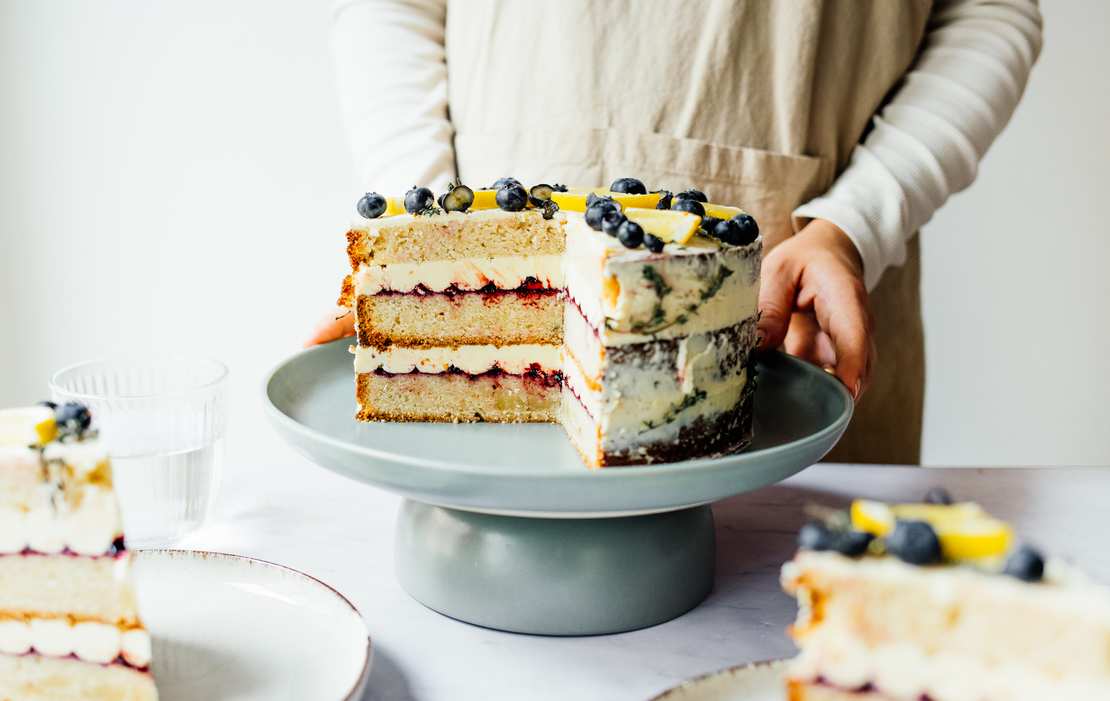 Vegan Lemon & Thyme Naked Cake
Summer, sun, ... cake? While we survive the cold seasons with pound cakes, sand cakes and brownies, we look forward to bringing berries, lemons, fresh custard creams and fruity fillings to our cake plates in summer. Once the temperatures reach 20 °C, we toss heavy creams, filled pastries and dry cakes aside because now it's time for airy cakes and everything the seasonal fruit shelf offers.
This is precisely what led to one of our first cake recipes in 2016: a naked cake with lemon and thyme. A big project since we had just started the blog! So, in the summer of 2023, we decided to revisit the recipe because, after seven years, a fresh coat of paint certainly can't hurt. So, we (slightly) altered the recipe and added some new photos!
Before you can indulge in this summery vegan naked cake, here are a few last tips for you:
We recommend using a springform pan with a diameter of 16 or 18 cm (6 or 7 inches) for the cake layers. The standard springform pans are usually about 24 or 26 cm (9.5 or 10 inches) in diameter. However, we prefer smaller ones for cakes because the layers turn out way thicker, making your cakes look much more elegant and beautiful. If you have three of these small baking pans, you'll save a lot of time because you can bake all three cake layers simultaneously. Be sure to level the cake tops and let them cool completely before assembling. Otherwise, your cream will melt instantly, which we certainly don't want.
We add lemon juice, zest, and plucked thyme leaves to our cake batter. If you prefer to use thyme only as decoration, that's fine too. However, we love the combination and can't recommend it enough. The cream is made of plant-based whipped cream and custard, which gives it a nice airy flavor. However, we also add some vegan butter for stability. Ultimately, we only thinly coat the cake with the cream to achieve the typical look of a naked cake.
And now, grab a cold drink and enjoy this simple but special vegan naked cake!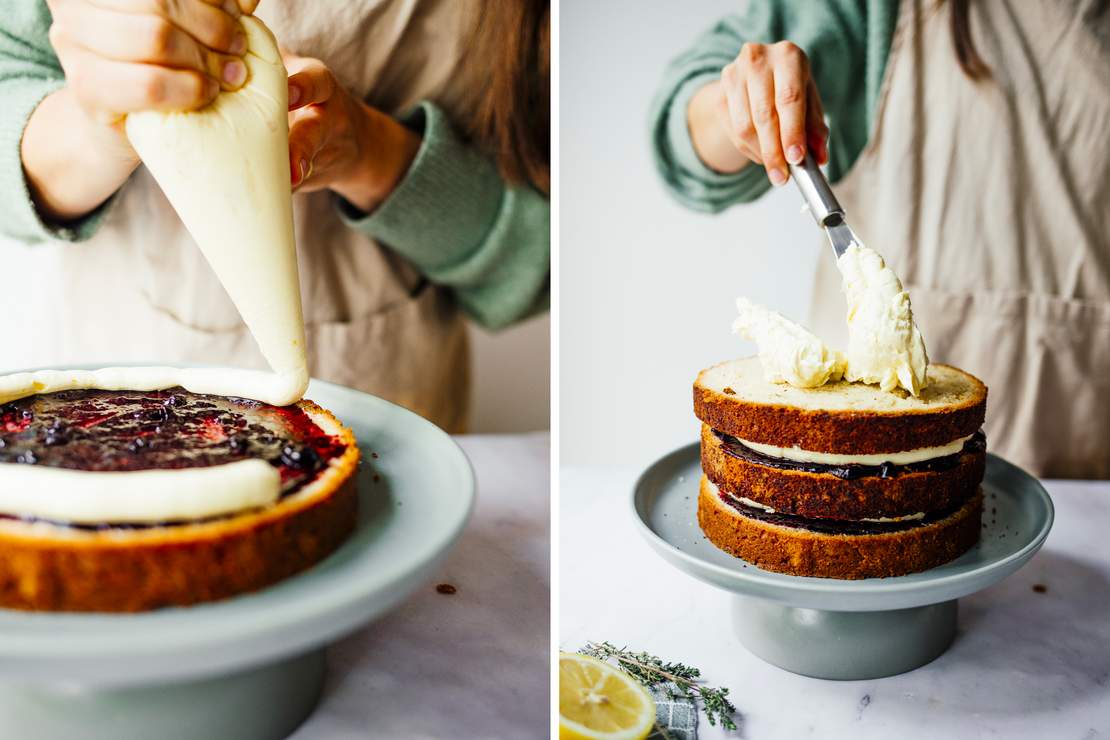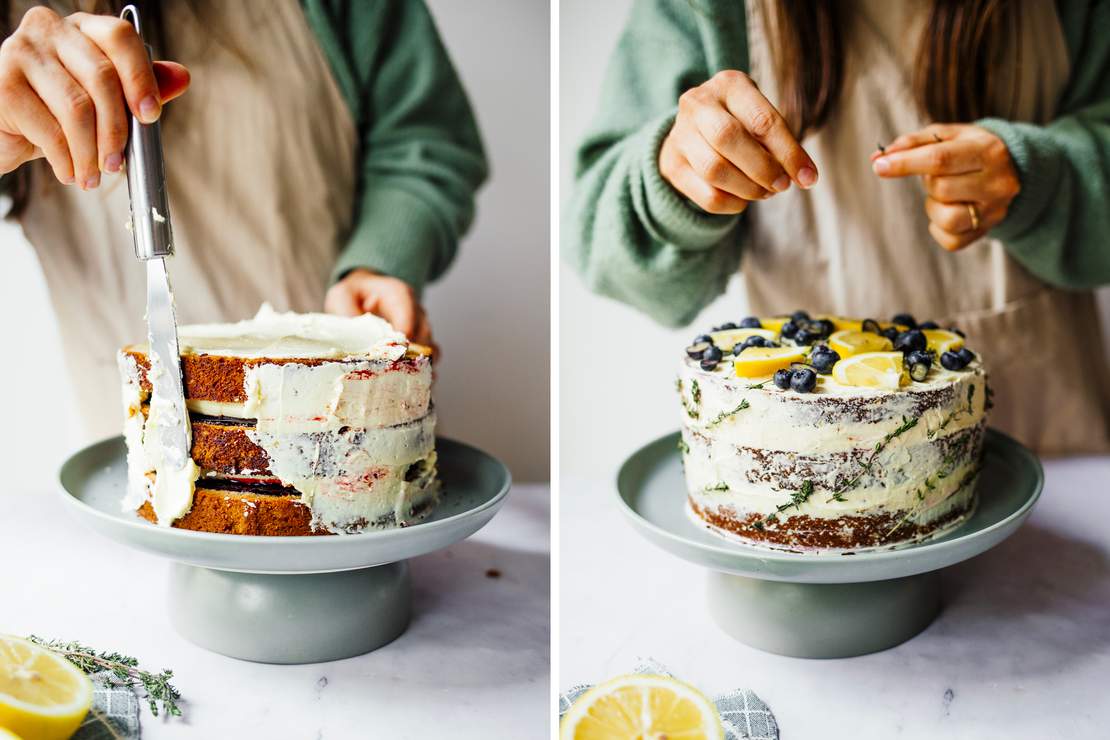 Vegan Lemon & Thyme Naked Cake
1 cake (∅ 16–18 cm / 6–7 inches)
60 minutes (+ 90 minutes baking and cooling time)
Ingredients
For the cake layers:
900 g (7 cups) wheat flour (Type 405)
400 g (1.75 cups) sugar
8 g (0.33 oz) vanilla sugar
8 g (0.33 oz) baking powder
0.5 tsp salt
400 g (3.5 sticks) vegan margarine
300 ml (1.25 cups) plant-based milk
2 lemons
50 ml (0.25 cup) sparkling water
5 sprigs of thyme
For the vegan quark cream:
200 ml (0.75 cup) vegan whipped cream
8 g (0.33 oz) whipped cream stiffener
8 g (0.33 oz) vanilla sugar
400 g (0.75 lb) plant-based curd/skyr (room temperature)
250 g (2.25 sticks) vegan butter (room temperature)
powdered sugar
Additionally:
blueberry jam
thyme sprigs
lemons
blueberries
Instructions
Preheat the oven to 180 °C (convection heat) and grease a cake pan (∅ 16–18 cm / 6–7 inches).
Tip: If you own three cake pans (∅ 16–18 cm / 6–7 inches), you can bake all three cake layers simultaneously.
Beat vegan margarine and sugar in a bowl. Add wheat flour, vanilla sugar, baking powder and salt and mix again. Then add plant-based milk, juice and zest of both lemons and sparkling water. Pluck the thyme leaves from the stems and fold them in.

Pour one-third of the batter into the greased cake pan and bake for 30 minutes. Repeat with the remaining batter until you have three identical cake layers. Let all cake layers cool completely after baking and trim them with a kitchen knife or a cake cutter if needed.

To make the cream, whip plant-based cream with cream stiffener and vanilla sugar until stiff. Fold in vegan custard and vegan butter and sweeten to taste with powdered sugar. Fill the cream into a piping bag and store it in the refrigerator.

Now assemble the cake. Spread blueberry jam on the first cake layer and apply vegan cream using a piping bag. Repeat with the second cake layer and place the third one on top.

Cover the entire cake with a thin layer of cream and decorate with thyme sprigs, lemon slices and blueberries.
More Vegan Cakes & Cookies