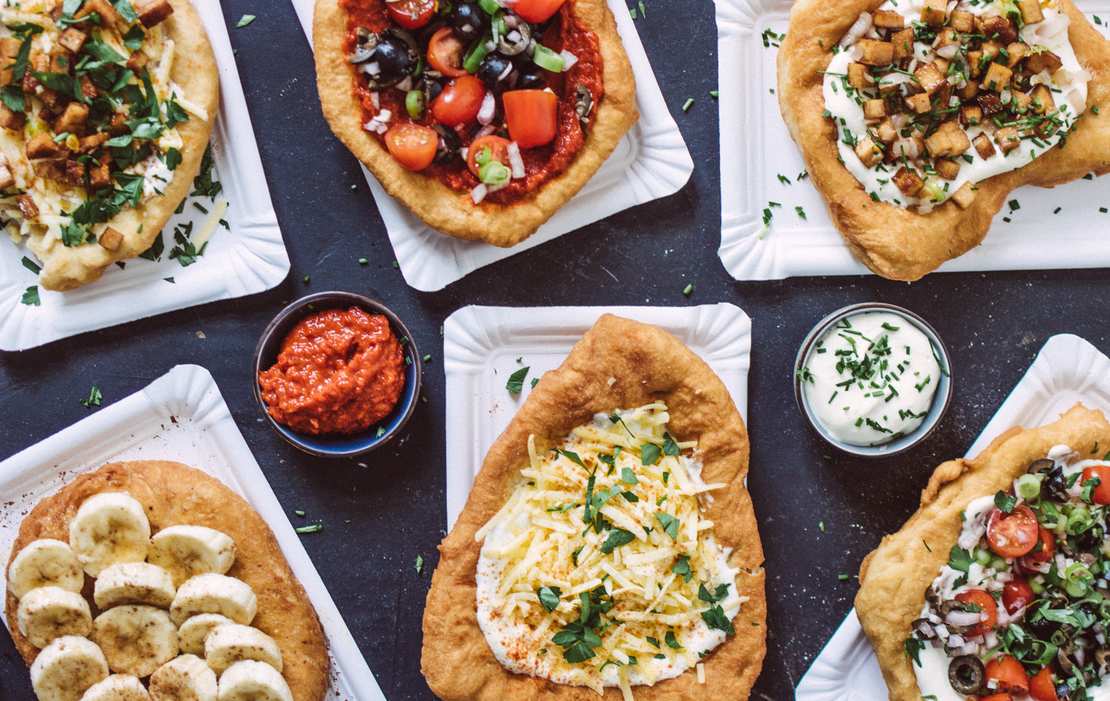 We haven't deep-fried anything for quite a long time, so today is the day. We're even throwing kind of a deep-frying party.
When you're living in Europe, you probably know lángos already, but how is it in America? Do you eat or even know this dish? Since most lángos is not vegan, we like to make homemade ones and invite friends over for this. Prepare enough dough and toppings and then just deep-fry them one by one. This way, everyone can try out new toppings and find their favorite one - from savory to sweet.
Here are our 4 favorite lángos toppings.
Vegan langos
Ingredients
42 g (1.5 oz) fresh yeast
300 ml (1.25 cup) milk
400 g (3.25 cup) flour
1 l vegetable oil for frying
Classic (for 2)
6 tbsp vegan sour cream
6 tbsp vegan cheese
1 tsp paprika
fresh parsley (chopped)
With smoked tofu (for 2)
6 tbsp vegan sour cream
200 g (7 oz) smoked tofu (diced and fried)
1 onion (diced and fried)
1 garlic clove (diced and fried)
chives (chopped)
With ajvar (for 2)
6 tbsp ajvar
1 handful cherry tomatoes
10 black olives (halved)
1 shallot (finely diced)
2 green onions (cut in fine rings)
Sweet (for 2)
1 banana (sliced)
2 tsp ground cinnamon
maple syrup for drizzling
Instructions
Add yeast to 100 ml (0.5 cup) lukewarm milk and stir until dissolved. In a second bowl, mix flour and salt and form a hollow in the middle. Add yeast-milk mixture into it and start kneading with approx. 100 g (0.75 cup) flour to form a pre-dough. Cover with a clean kitchen towel and let rest in a warm place for approx. 15 min.
Start kneading in remaining flour and remaining milk little by little until a smooth dough forms. Cover again with the kitchen towel and let rise in a warm place for approx. 30 min. until the volume has doubled.
Heat oil in a pot or a deep pan until the temperature reaches 180°C/350°F.
In the meantime, flour your work surface and remove dough from bowl. Knead with your hands and divide the dough into 6 equal-sized pieces. Form to disks with your hands, the middle of the dough should be no as thick as the outside. Deep-fry langos one after one from both sides until they are golden brown.
Remove deep-fried langos from oil and degrease on some kitchen towel. Afterwards you can add your toppings of choice and enjoy it while it's still warm!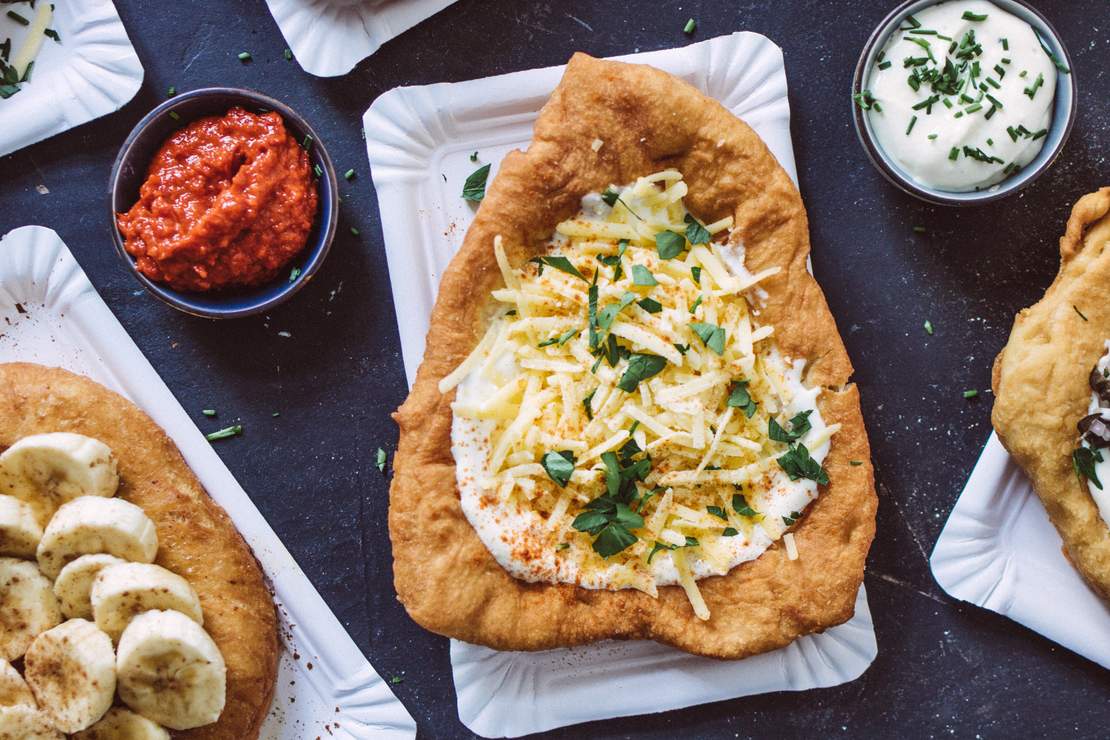 Vegan Sour Cream
Ingredients
200 g (7 oz) soy curd/quark
150 g (5.5 oz) vegan cream cheese
1 tsp garlic powder
1 tbsp cider vinegar
1 lemon (juice)
salt
pepper
Instructions
Squeeze out lemon.
In a bowl, whisk together all ingredients and add lemon juice.
Season with salt and pepper.