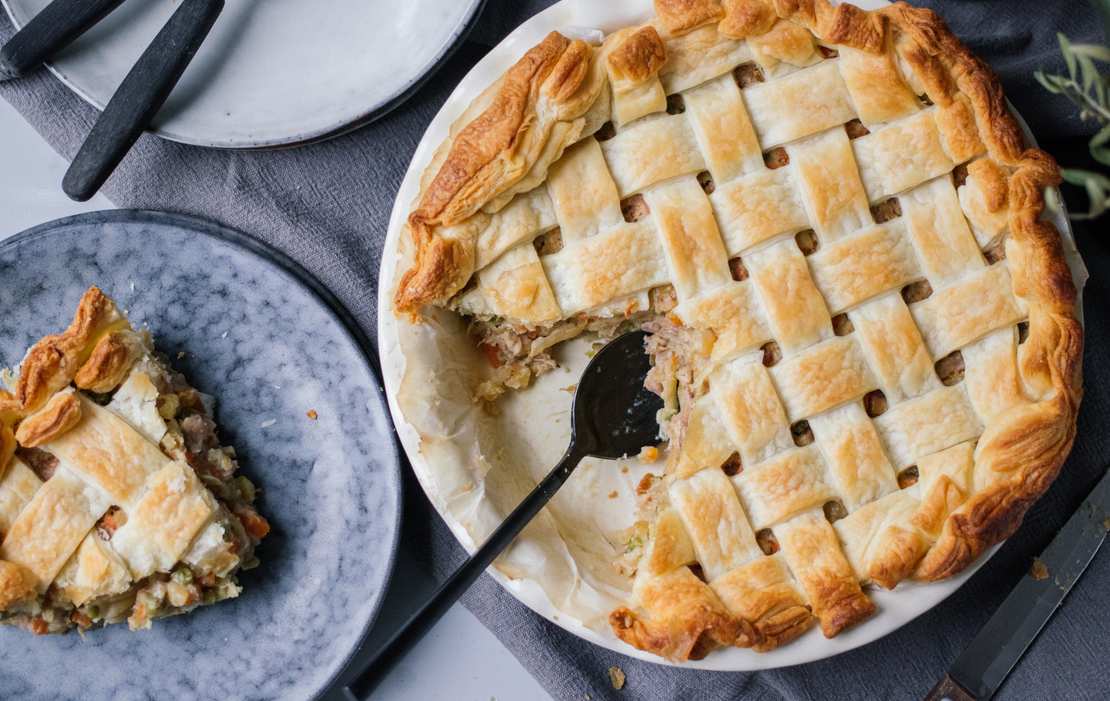 After our last posts of vegan yeast buns or peanut butter chocolate chip loaf cake, we got a few responses like "There is no more yeast in the supermarket. "or "I can't find flour anymore. "Yes, in times of the Corona crisis, grocery shopping can become somewhat difficult and will force you to get creative in the kitchen and rethink your cooking plans. Here's an alternative that could work out for you: puff pastry!
For this recipe, we used a vegan puff pastry that was refrigerated. It's usually thin, large, and can be used immediately. Frozen puff pastry will also work for this recipe. It only needs some time to thaw until you can lay several sheets side by side and roll them out.
So what are we going to cook? Vegan pot pie! The savory pie can be filled with everything you want basically. While the classic puff pastry is made from flour, butter, salt, and water, we're going for the convenient option with puff pastry today. Our filling consists of jackfruit, carrots, potatoes, and peas that will bathe in a creamy sauce. But you can adjust the filling, depending on what you like and currently find at home. Mushrooms, leeks, corn, cabbage, chickpeas will also feel perfectly comfortable between two sheets of puff pastry.
Vegan Jackfruit Pot Pie
1 pie
50 minutes (+35 min. baking time)
Ingredients
400 g (14 oz) jackfruit
2 onions
2 garlic cloves
2 carrots
350 g (12.5 oz) potatoes (or sweet potato)
200 g (7 oz) frozen peas
3 tbsp flour
250 ml (1 cup) vegetable broth
250 ml (1 cup) plant-based heavy cream
1 lemon
2 sheets vegan puff pastry
2 tbsp olive oil
salt
pepper
nutmeg
vegetable oil for frying
Instructions
Peel and finely dice onion and garlic. Peel potatoes (or sweet potato) and dice them, just as the carrots. Drain canned jackfruit.

Heat some vegetable oil in a frying pan and start by frying jackfruit for approx. 5-6 minutes. Add diced onion and keep frying for approx. 2-3 minutes, then add garlic and fry for another minute. Add carrots and potatoes and fry for approx. 10 minutes. Afterward, you should be able to pull apart the jackfruit with forks. Keep frying for 3-4 more minutes, then add frozen peas.
3. Add flour on top of the veggies, then slowly stir in vegetable broth. Add plant-based heavy cream and stir to combine. Season with salt, pepper, nutmeg, and lemon juice to taste, then let the filling simmer for approx. 5 minutes.
Grease a large round pie dish and transfer one sheet of vegan puff pastry inside. It should overhang, no worries. Add the jackfruit filling.

Cut the remaining second sheet of vegan puff pastry in same-sized stripes and layer them to form a lattice pattern on top of the filling. It's kind of hard to describe this process in words – if needed, just watch a Youtube video on this topic, it's an actual easy thing to do! Afterward, trim some of the overhangs, so it's only about 2-3 fingers wide, then press to seal the pastry.

Season olive oil with salt and pepper and brush the top puff pastry with the mixture. Bake pot pie at 200°C/390°F for approx. 35-40 minutes, or until golden brown. Make sure to let the pie sit and rest for a few minutes before cutting it.