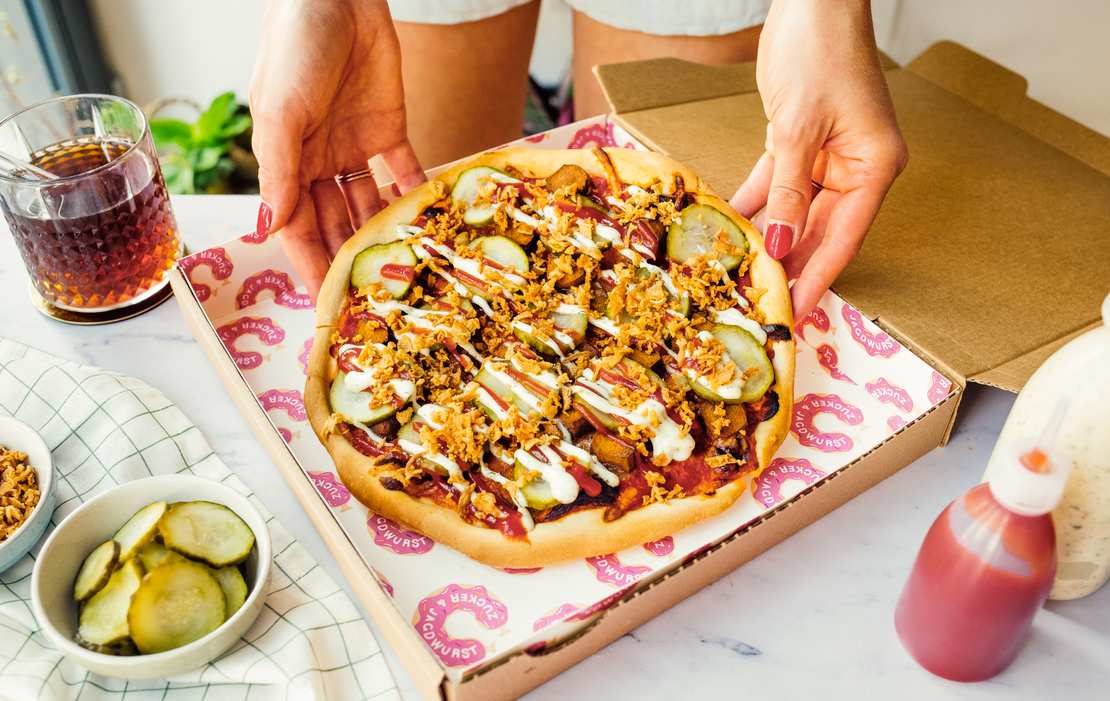 We love crossover dishes, whether it's Oktoberfest tacos, pretzel pizzas or breakfast burgers. So it's no surprise that our hearts beat fast when we first heard about the "Crazy Dog Pizza" from Domino's. It's topped with classic hot dog toppings: sliced sausages, Danish pickles, remoulade, ketchup, and fried onions. Well, if this doesn't sound genius, right?
Plus, it's not even difficult to veganize this pizza! We replaced the cheese, remoulade, and sausages with plant-based alternatives and followed the original topping order as closely as possible. The sausages are baked with the pizza crust, while the Danish pickles, sauces, and fried onions are layered one after the other after baking. We also based the diameter of the pizza on the standard sizes of Domino's, which is why our pizza has a diameter of 25 cm/10 inches. It's the "Classic" size of Domino's. Of course you don't have to stick to all these guidelines so strictly.
If you have the time, you could also cook the tomato sauce yourself or prepare homemade fried onions, but since this recipe belongs to our Vegan Fast Food Week, here is the short and quick recipe version for you. By the way, you can easily prepare this recipe gluten-free by replacing the wheat flour with gluten-free flour. Depending on which plant-based sausages, remoulade, and shredded cheese you choose, you can also make this recipe soy-free or nut-free. To do so, simply look at the ingredient lists and instead of almond-based cheese choose a coconut oil-based cheese or instead of tofu-based sausages, use seitan-based ones.
Now close your eyes and imagine what the combination of a hot dog and a pizza tastes like together ... that's exactly what you can expect with this hot dog pizza, and we can tell you: it's worth the effort!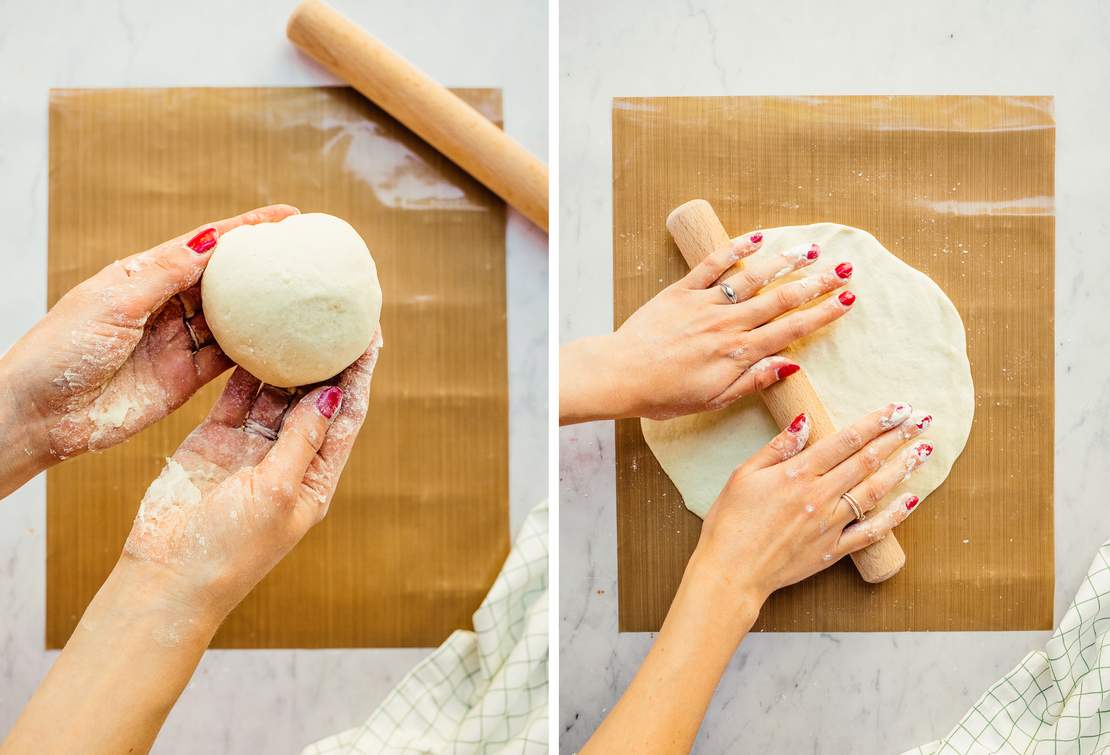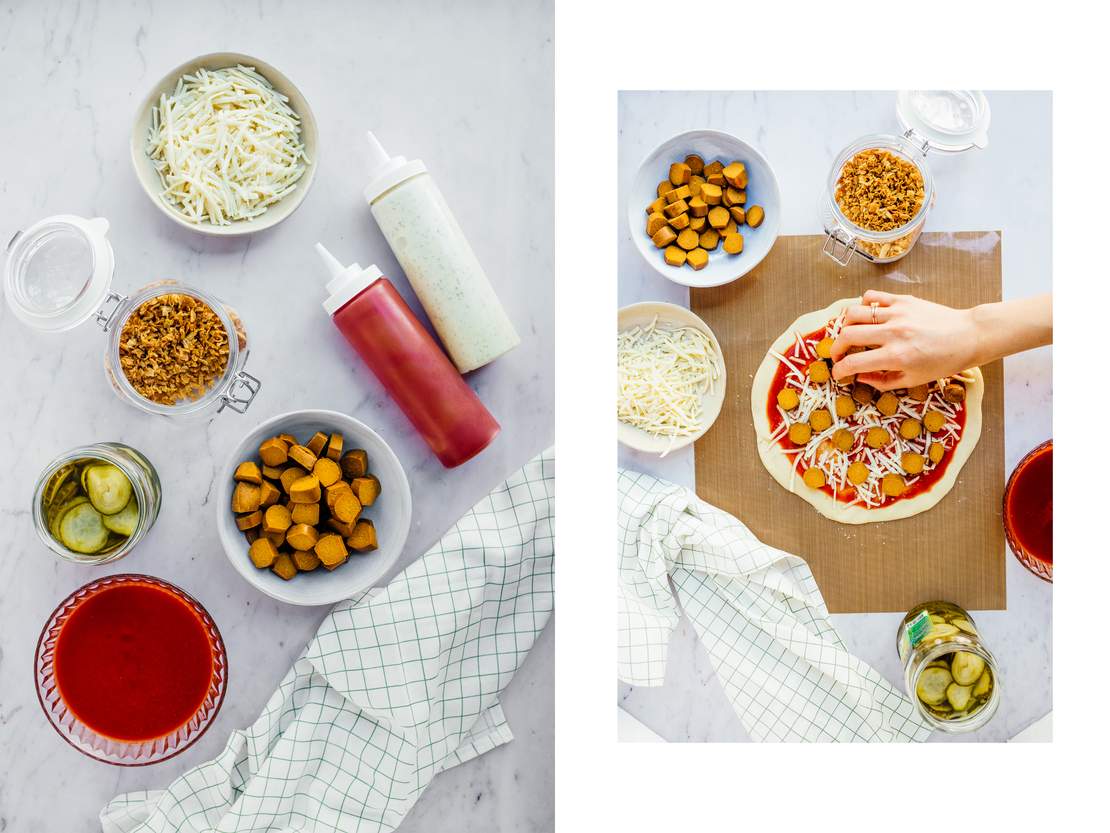 Vegan Hot Dog Pizza
2 pizzas
30 minutes (+ 90 minutes resting time)
Ingredients
For the dough:
125 ml (0.5 cup) lukewarm water
4 g (0.25 oz) dry yeast
1 tsp sugar
1 tsp olive oil
250 g (8.75 oz) wheat flour type 00 or 405
1 tsp salt
For the topping:
180 g (6.33 oz) vegan Vienna sausages
100 ml (0.5 cup) strained tomatoes
100 g (3.5 oz) vegan sprinkle cheese
salt
pepper
For the toppings:
jarred pickle slices
ketchup
vegan remoulade
fried onions
Instructions
For the dough, add lukewarm water to a bowl and stir in active dry yeast, sugar, and oil. Add the mixture to the bowl of a stand mixer or use a hand mixer on low speed to start to knead the dough on the lowest level while adding the flour gradually until a dough is formed. Increase to medium-high speed and knead the dough for approx. 5-10 minutes, until it's smooth.

Once the dough forms into a large ball, remove it from the bowl and knead by hands for approx. 5 more minutes. Transfer the dough to a lightly greased bowl, cover it with a clean kitchen towel, and let it rest for at least an hour, or until it doubles in volume.

Preheat the oven to 250°C/480°F (top and bottom heat) (for at least 20 minutes) and place a baking tray on the lowest rack of your oven to heat it up as well (if you have a pizza stone, feel free to use it at this point).
Tip: The maximum temperature of some ovens is only at 220°C/430°F or 230°C/450°F, but no worries! Just bake your pizza at the maximum temperature – it might need about 1-2 minutes longer.
Remove the dough from the bowl, salt it well, and knead it again by hands. Divide the dough in two and roll them out on a floured working surface (not too thin) until they have a diameter of 25 cm/ 10 inches (Domino's Classic size). Transfer each dough to a sheet of parchment paper – this will make it easier to move the pizza to your hot baking sheet later. Cover the pizza bases with clean, damp kitchen towels and let them rise for another 15-30 minutes.

In the meantime, slice the vegan Vienna sausages and season the strained tomatoes generously with salt and pepper to taste. Spread tomato sauce on top of your pizza bases, then sprinkle with vegan cheese, and top with vegan Vienna sausages.

Carefully transfer the first pizza on your hot baking sheet and bake on the lowest rack for approx. 15 minutes at 250°C/480°F (top and bottom heat). It's done when you can easily remove the pizza crust from the parchment paper and when you see browned spots on the bottom of your crust. Repeat this step with your second pizza.

Top your pizzas with jarred pickle slices, ketchup, and vegan remoulade (squeeze bottles help to drizzle the sauces evenly), and sprinkle with fried onions. Serve directly.