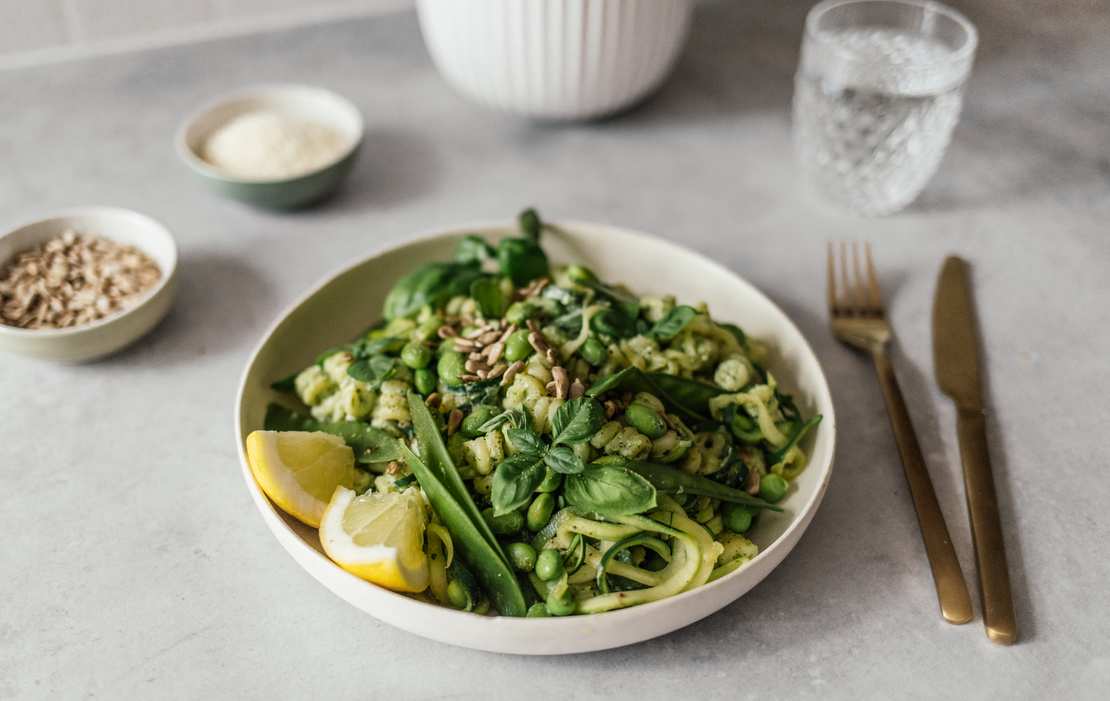 Vegan Green Goddess Pasta
Anyone regularly searching for new recipes will probably have come across this dish: "Green Goddess Pasta". But what exactly is meant by "Green Goddess Pasta" or a "Green Goddess Salad"? For months, more and more recipes with these titles have been published, and especially on Tiktok and Instagram, the term has become a real trend. But what's behind it?
The release for the trend was probably the Veganuary 2022, when many people participated in the challenge to eat vegan for a month and were, therefore, looking for new recipes. The Green Goddess Salad must have seemed like the perfect recipe as it can be prepared easily vegan or vegetarian and is also very healthy because of the many vegetables. Traditionally, the recipe was made with a dressing of mayonnaise, anchovies, sour cream, and fresh herbs. However, the vegan version contains only green vegetables, rich in vitamin C, valuable fiber, and other vitamins, and is prepared with either a pesto dressing or another vegan herb dressing. You can now find our favorite version of this trending dish here.
This refreshing, cold Green Goddess Pasta is the perfect lunch or dinner for warm days and is cooked in just 30 minutes! So if you don't want to spend a lot of time in the kitchen after a busy day but still want to eat something more than pasta with pesto or tomato sauce, you should definitely give this delicious summer pasta a try!
For the recipe, simply boil down some pasta and veggies of your choice and mix it all up with a creamy green sauce made with onion, garlic, agave syrup, lemon juice, mustard, vegan yogurt, vegan cream cheese, and lots of herbs. If you really want to cook a Green Goddess Pasta or even Pasta Verde, your vegetables should be green, of course, but even here, you have options for variation. For example, instead of edamame, zucchini, and snow peas, you can use green asparagus, green beans, spinach, cucumbers, green onions, or green vegetables. However, we especially liked the snow peas in the pasta, as the slight sweetness of the peas complemented the savory dish very well.
For the sauce, you can take any herbs of your choice and puree them with the rest of the ingredients. You don't even have to cook the sauce, which saves you time and makes for a very refreshing pasta dish that almost has the character of a salad - the perfect summer pasta! So have fun cooking and enjoy it!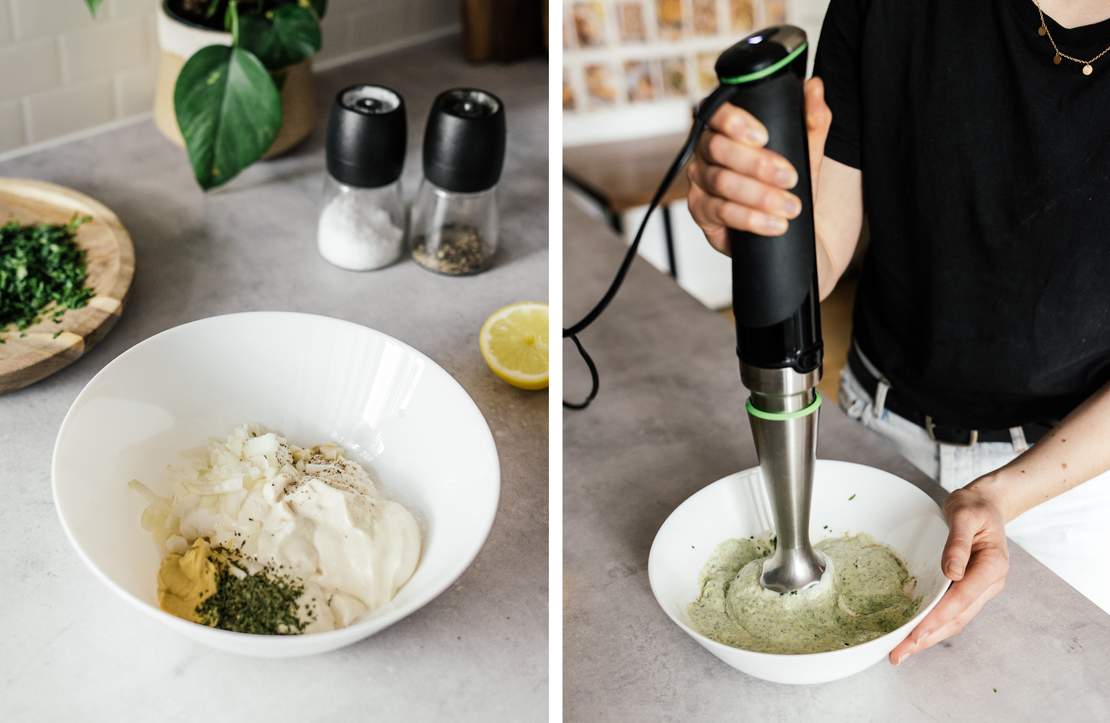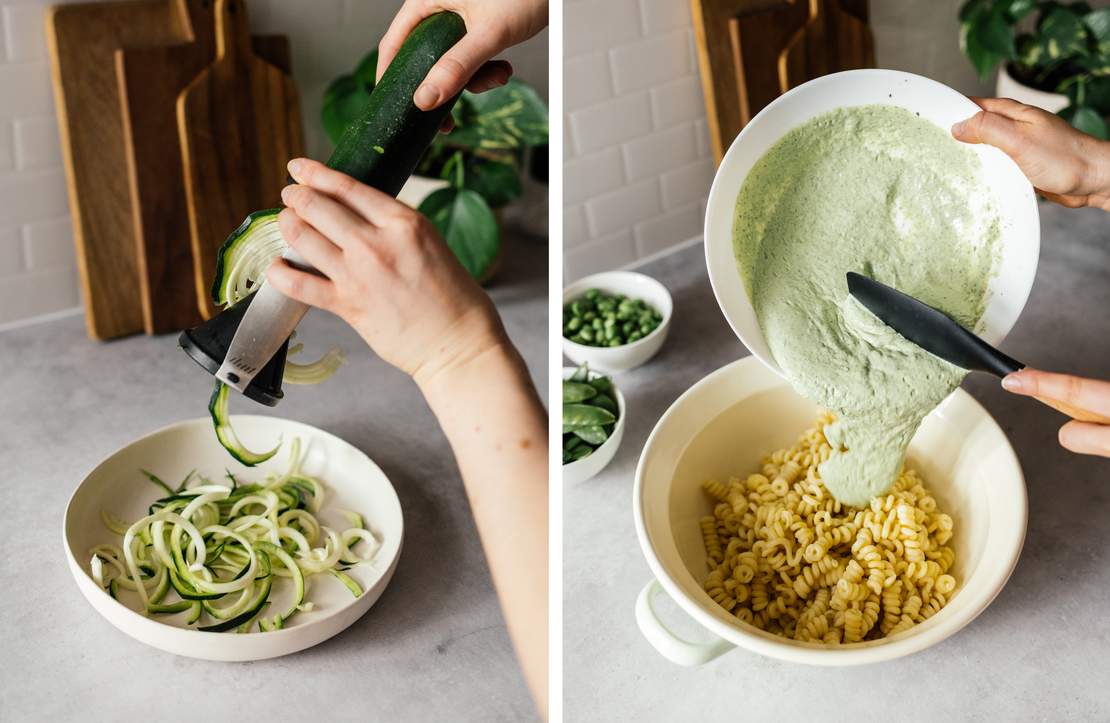 Vegan Green Goddess Pasta
Ingredients
For the pasta and the veggies:
400 g (14 oz) spiral pasta
300 g (10.5 oz) edamame
200 g (7 oz) sugar snap peas
50 g (1.75 oz) sunflower seeds
2 zucchini
100 g (3.5 oz) vegan parmesan cheese (optional)
salt
vegetable oil
For the sauce:
1 onion
1 garlic
30 g (1 oz) fresh herbs (e.g. parsley, chives, basil)
300 g (10.5 oz) vegan yogurt
300 g (10.5 oz) vegan cream cheese
3 tbsp mustard
2 tsp agave syrup
2 lemons (juice)
salt
pepper
Instructions
For the sauce, peel and chop the onion and garlic. Next, wash and coarsely chop the fresh herbs. Then, in a bowl, puree vegan yogurt, vegan cream cheese, mustard, agave syrup, lemon juice, onion, garlic, and fresh herbs with a blender until you get a green sauce. Season to taste with salt and pepper.

Bring salted water to a boil in a saucepan and cook the pasta al dente according to package instructions. Then drain the water, transfer the pasta into a large bowl, and set aside.

In parallel, bring another pot of water to a boil and blanch the edamame and sugar snap peas in it for about 5 minutes. Toast the sunflower seeds in a fat-free pan over medium heat for about 10 minutes. Keep tossing them in the pan so they toast evenly and don't burn.

Cut the zucchini into thin strips with a spiral cutter. Then heat a pan with vegetable oil and fry the "zoodles" in it for about 5 minutes.

Once the pasta is cooked, add the green sauce and the vegetables to the pasta and mix well. Serve with toasted sunflower seeds, fresh herbs, and vegan parmesan cheese.