Vegan Garlic Twist Bread with Homemade Vegan Garlic Butter
A BBQ just doesn't feel right without a garlic bread or herb baguette, right? But this intensive garlic bread is so delicious (at least if you like garlic) that you won't even start to waste time on the grilled vegetables. In fact, there not even a need for a BBQ when you do this. We're not talking about a side of bread here, but the winner in the category "Garlicky Gems".
Of course we hightly recommend to fill this bread with our homemade garlic butter, for which you will roast a whole bulb of garlic in the oven until your kitchen feels as if you were a garlic clove yourself, sheltered in the coziness of the bulb. If you want to skip this step though, feel free to use a bought version. And if you don't even like garlic, just fill the bread to your own liking, for example with our ajvar butter, herb butter, or tomato butter.
Yes, this baking project takes a bit of time, but it's worth it every minute. You'll agree with us as soon as you spread an extra portion of garlic butter over the still warm garlic bread – two are better than one, right?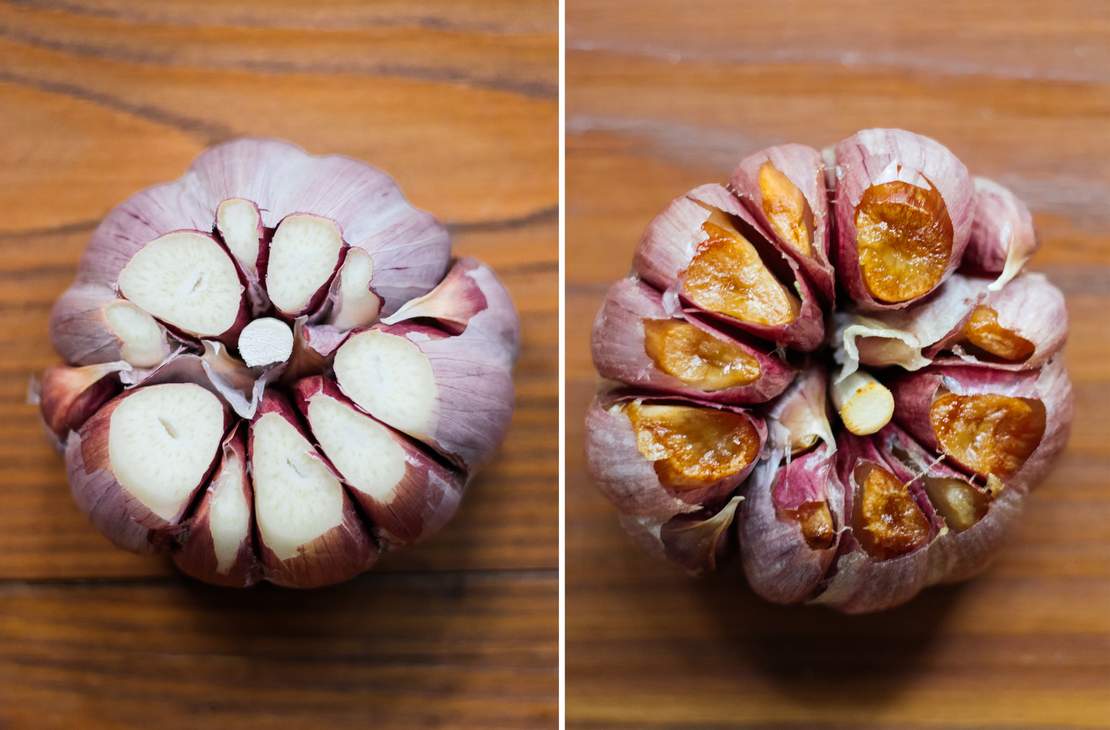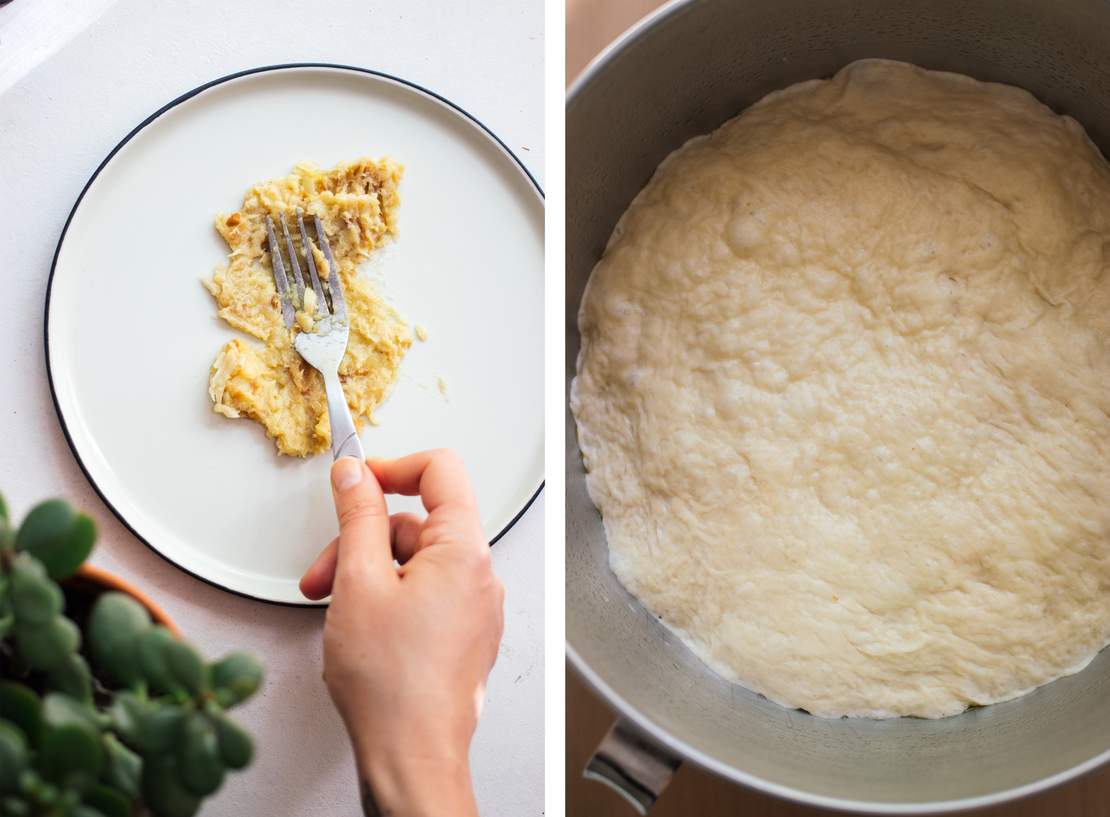 Vegan Garlic and Herb Butter
approx. 250 g / 1 cup
20 min. (+30 min. baking time)
Ingredients
1 garlic bulb
25 g (1 oz) mixed fresh herbs (e.g. chives, parsley, dill)
250 g (1 cup) softened vegan butter
1/2 lemon (zest)
salt
pepper
Instructions
Preheat oven to 180°C/360°F. Remove the outer dry layers of a garlic bulb. Make a cut at approx. the upper quarter of the garlic bulb. Make sure that the remaining bulb and all of the garlic cloves stay intact and together. They shouldn't fall apart.

Brush the cut side of the garlic with oil, then losely wrap in foil. I used reusable parchment paper for this, but you can also use aluminum foil. Transfer to a baking dish and bake for approx. 30 minutes.

Let the baked garlic bulb cool out until it's cool to the tough. It should be really easy now to squeeze out the baked separate garlic cloves. Mash them with a fork until a garlic paste forms. Cut off tougher stems of the herbs of your choice. Wash, dry, and finely chop the remaining stems and leaves.

Add soft vegan butter, chopped herbs, mashed garlic and lemon zest to a bowl. Stir to combine and season with salt and pepper.

Either transfer the vegan garlic butter to a container or a small bowl, or roll it into a log and wrap in plastic wrap. Refrigerate until needed. If you use a bowl or container make sure to cover or close it in the fridge.
Vegan Garlic Twist Bread
1 large bread
25 Min. (+ approx 2.5 hrs. resting time + 30 min. baking time)
Ingredients
For the dough:
500 g (4 cups) flour
250 ml (1 cup) lukewarm water
0.5 tsp sugar
42 g (1.5 oz) fresh yeast
2 tsp salt
40 ml (3 tbsp) olive oil
For the filling:
approx. 150 g vegan garlic butter (recipe on the blog)
Instructions
Crumble fresh yeast with your hands and add to the bowl of a kitchen machine along with sugar and warm water. Stir to combine and let sit for approx. 5-10 minutes, or until the surface is bubbly.

Add flour and salt to the bowl and start to knead. As soon as almost all flour is incorporated, add olive oil. Knead for approx. 10 minutes until a smooth dough forms. Transfer the dough onto a floured surface and keep kneading by hand for several minutes. If needed, add more flour. Form the dough into a ball.

Grease the bowl with some oil, then transfer the dough back in it. Cover with a clean kitchen towel and let rest and rise at a warm place for approx. 1-2 hours, or until the volume of the dough has doubled. In the meantime, remove the garlic butter from the fridge to soften.

As soon as the dough volume has doubled, flour a working surface and roll out the dough into a large rectangle. Set aside approx. 3 tbsp of the vegan garlic butter, and spread the remaining butter on the dough. Of course, you don't have to use all of it. Keep the rest in the fridge for later.

Start to roll the dough from the long side until you have a log. You could now basically shape the garlic bread however you like. For our example, leave approx. 3-4 fingers wide space from the top, then halve the remaining log. Turn the halved dough parts to make sure that the cut side is upside. Now carefully fold the left dough part over the right one and continue to do so until you have a braided dough.

Grease and flour a baking dish of your choice. If you use a loaf pan, you can transfer the dough into the pan as it is. If you're using a springform pan, you should form it into a circle and press together the ends of the dough to seal. Let rest and rise for another 30 minutes.

In the meantime, preheat oven to 200°C/390°F. Bake garlic bread for approx. 30 minutes or until golden brown. Remove from the oven. While it's still warm, brush with the 3 tbsp garlic butter that we've set aside earlier. Let the bread cool down a bit before serving.