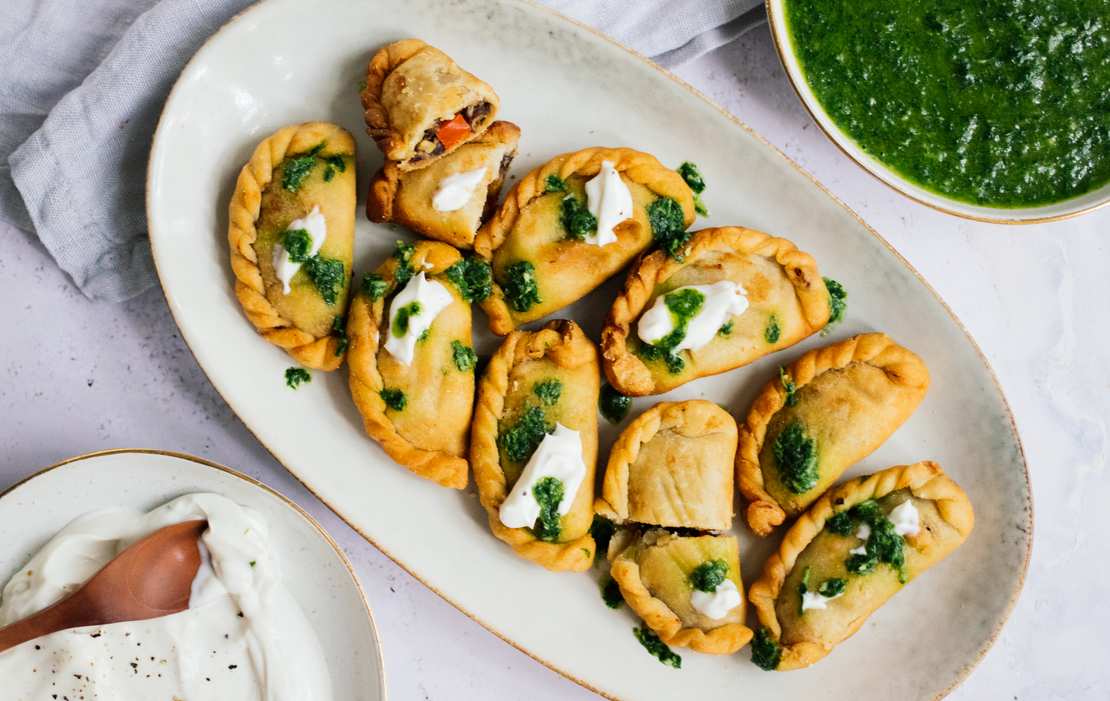 Vegan Empanadas with Veggie Filling
After eating quite a few empanadas during my holiday in Barcelona, I was delighted to discover that I could get convenient ready-made empanada dough in Mexican supermarkets in Berlin. I only needed to fill them, then deep-fry or bake the empanadas.
However, during corona, I had a bit more time (and the Mexican supermarket is also not around the corner), so I made empanadas from scratch for the first time.
But not all empanadas are the same. Being popular in many countries, they differ in shape, size, filling, and names. While they resemble golden brown crescents in Argentina (but they also have triangular variants there), Spanish empanadas are often bigger, baked, and cut into smaller portions for serving (but known as empanadillas, they also have the crescent-shaped variant that I ate in Barcelona). Spanish colonists brought the dish to Latin America. At that time the empanadas were often stuffed with chicken or tuna, today they are loved to be filled with minced meat, seafood, cheese, or vegetables, but depending on the country you'll also find ones filled with palm hearts (Brazil), rice (Colombia) or sweet versions (Mexico).
For this recipe, I tried to stick to the empanadas I ate in Barcelona: they come with a dough without yeast and a vegetable filling with black beans. Following the Canarian mojo verde, we serve them with a green sauce made with lots of parsley and coriander and seasoned with cumin. I also had some vegan crème fraîche at home. Although this isn't traditional, I found that this creamy dip was a great counterbalance to the fresh green sauce. The empanadas can be fried or baked. Since they are easily transported, they make a great snack for a picnic.
Vegan Empanadas with Veggie Filling
20-25 empanadas
60 min. (+ 80 min. resting time)
Ingredients
For the dough:
150 g (1.25 cups) flour
100 g (0.75 cups) cornflour
1 tsp salt
125 g (1 stick) vegan butter
approx. 75 ml (0.3 cups) water
For the filling:
1 small bell pepper
1 scallion
2 garlic cloves
1 corn knob (or canned corn)
200 g (7 oz) canned black beans
2 tsp dried oregano
1 tsp paprika
0.5 tsp dried thyme
0.5 tsp cayenne pepper
salt
pepper
vegetable oil for frying
For the green sauce:
75 g (2.5 oz) fresh herbs (e.g., parsley, cilantro, basil)
2 garlic cloves
1.5 tsp salt
2 tsp ground cumin
1 tsp nutritional yeast
1 tsp red wine vinegar
175 ml (0.75 cups) olive oil
0.5 lime (salt)
pepper
Also:
vegan crème fraîche for serving
vegetable oil for frying
Instructions
For the dough mix flour, cornflour, and salt in a bowl. Dice vegan butter and add it to the bowl. Use your fingertips to incorporate the vegan butter until you get super fine crumbles. Add water little by little and use as much as needed until a smooth dough forms (you might need more or less of what we wrote). Wrap the dough and refrigerate for approx. 1 hour.

In the meantime, prepare the filling. Deseed and finely dice bell pepper. Cut scallion in rings and finely chop garlic. Cut corn from the cob. Drain and rinse black beans.

Heat vegetable oil in a frying pan over medium heat. Start by frying bell pepper and corn for approx. 7-8 minutes or until browned. Season with oregano, paprika, thyme, cayenne, salt, and pepper. Add garlic and scallions and keep frying for approx. 2-3 minutes. Add canned black beans and fry for another 2-3 minutes, then use a fork or so to mash the vegetable filling. What we want with this is mainly to smash the black beans as this will thicken and "bind" the vegetable mixture a bit – season to taste.

As soon as the dough has rested long enough in the fridge, dust a working surface with flour and roll out the dough, approx. 0,3-0,5 cm (1/8 inch) thick. Use a cookie cutter, a glass, or a small bowl to cut out circles.

Add approx. 1-2 tsp of the filling in the center of a dough circle, then press the edges together. You can use a fork to seal the edges or fold them nicely. Roll out remaining dough and repeat the step. Refrigerate the filled empanadas for another 20 minutes.

In the meantime, add fresh herbs, garlic, salt, cumin, nutritional yeast, red wine vinegar, olive oil, lime juice, and pepper to a food processor or use an immersion blender to mix all ingredients until you have a smooth green sauce – Season to taste.

Heat vegetable oil to a deep, smaller frying pan until it's approx. 2-3 cm (1 inch) high. It's hot enough once you can stick a wooden skewer into the oil and see bubbles appear around it. Deep-fry empanadas in batches until they are golden brown from both sides. Alternatively, you can also bake empanadas at 180°C/355°F for approx. 20 minutes. Serve with vegan crème fraîche and green sauce.
More Vegan Brunch Recipes