Vegan Christmas Spritz Cookies
Vanilla crescents, vegan thumbprint cookies, Linzer cookies, and cinnamon cookies: every year, we look forward to baking the good old cookie classics of yesteryear and showing family and friends that it's a snap to veganize them. Nevertheless, we also enjoy some variety on our cookie plate. We've never tried Christmas spritz cookies before but fell in love with the funny name – in Germany, they are called flaming hearts. A spritz cookie consists of two baked biscuits with a filling of jam or nougat in between and is covered by a chocolate layer. You may already realize that these aren't "light" cookies that can be snacked away quickly. For these cookies, you should bring a good appetite.
The name of the cookies comes from the shape as the dough is piped in the form of small flames. A piping bag with a serrated tip is therefore essential for this recipe because otherwise, you won't get this beautiful shape. The remaining utensils are probably already in your kitchen: mixing bowl, whisk, a small pot, and a heat-proofbowl or dish for a double boiler.
The ingredients are also quite simple and can be found in any organic market. We used icing sugar, unsweetened cocoa powder, and dark chocolate with 70% cocoa content from Naturata. Naturata is one of the leading suppliers of organic and Demeter certified groceries in Germany. The idea to supply products to organic markets, which were still unpopular at the time, was born back in 1976. Naturata, however, quickly began not only to supply but also to develop and market its own products. This was a big step at that time because, at the end of the 1970s, only a few products were available in organic quality at all. Now there are around 300 Naturata products, more than half of them in Demeter quality. We are particularly pleased that for many of Naturata's products all CO₂ emissions generated are offset. Naturata supports various climate protection projects worldwide through offsetting with myclimate. We recommend taking a closer look at Naturata's packaging next time because you'll find a tracking number printed on it that you can use to check which project is being supported by the purchase of your product through their website www.myclimate.de.
Vegan Christmas Spritz Cookies
10 cookies
approx. 60 minutes
Ingredients
For the dough:
150 g (1.33 sticks) vegan butter (room temperature)
100 g (0.75 cup) icing sugar (e.g. from Naturata)
350 g (2.75 cups) wheat flour type 405
60 ml (0.25 cup) plant-based milk
150 g (0.66 cup) applesauce
1 bourbon vanilla pod (e.g. from Naturata)
1 pinch of salt
20 g (0.75 oz) unsweetened cocoa powder (e.g. from Naturata)
For the decoration:
60 g (2 oz) vegan baking nougat
vegan chocolate (e.g. from Naturata)
vegan Christmas sprinkles
Instructions
Preheat oven to 160°C/320°F (circulating heat). Beat warm vegan butter with icing sugar in a large bowl. Gradually add wheat flour, plant-based milk, applesauce, vanilla pulp, and salt until a smooth dough forms. Half the dough and transfer one half into a piping bag with a serrated tip. Mix unsweetened cocoa powder into the other half of the batter and transfer it to a second piping bag.

First, pipe the light-colored dough onto a parchment paper lined baking sheet, then repeat with the cocoa dough. Make sure you end up with an even number, e.g. ten light and ten dark cookies, so each "bottom" has a "lid" at the end. The cookies should be equal-sized.

Bake the cookies for about 10 - 12 minutes at 160°C/320°F (circulating heat) until they're slightly browned at the edges. Then remove from the oven and let cool out completely.

For the filling, heat vegan baking nougat until it's liquid. Spread about 1-2 tablespoons of the vegan baking nougat on the smooth bottom side of one cookie and press a second cookie, also with the smooth bottom side, on top. Then let it cool until the nougat sets.

Melt vegan chocolate in a heatproof bowl over a pot of simmering water. Dip the Spritz Cookies halfway into it, then place them on a rack or parchment paper. Decorate with Christmas sprinkles and let the cookies dry.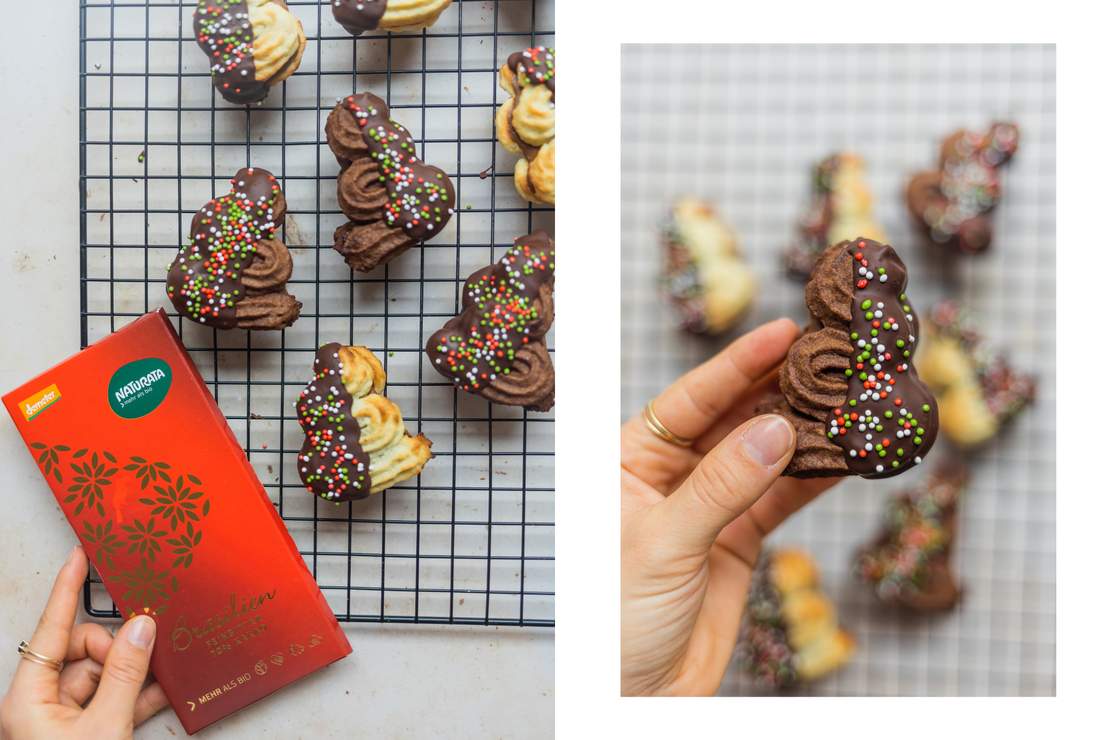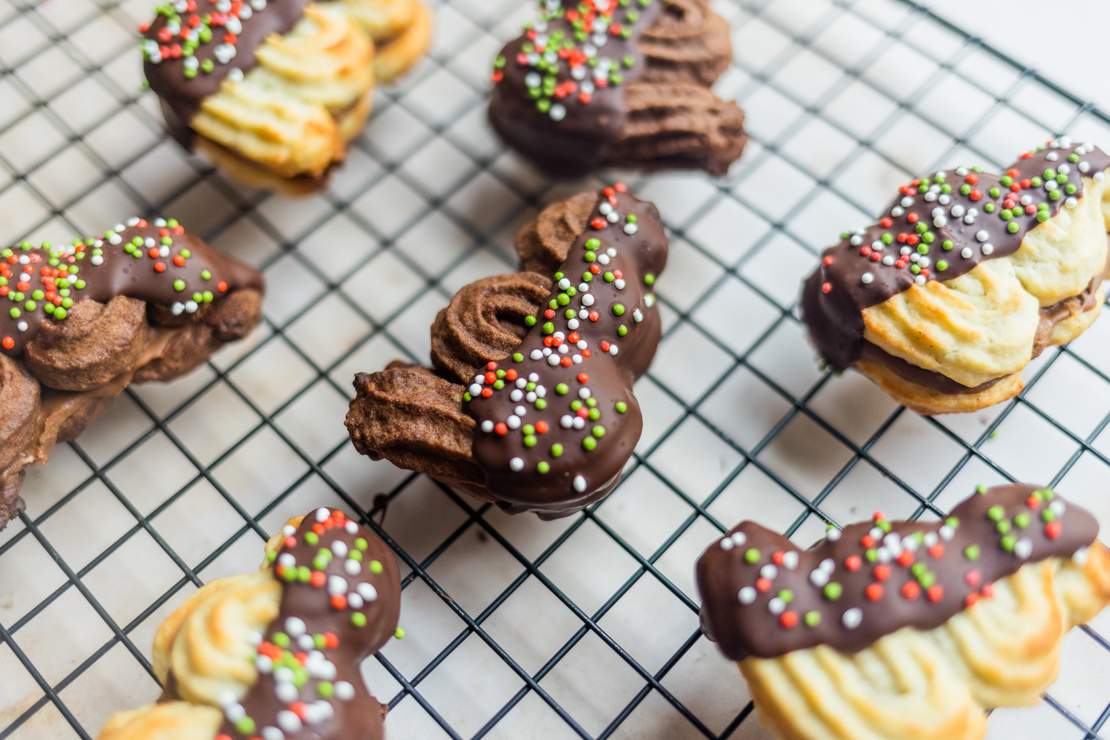 More Vegan Christmas Cookies