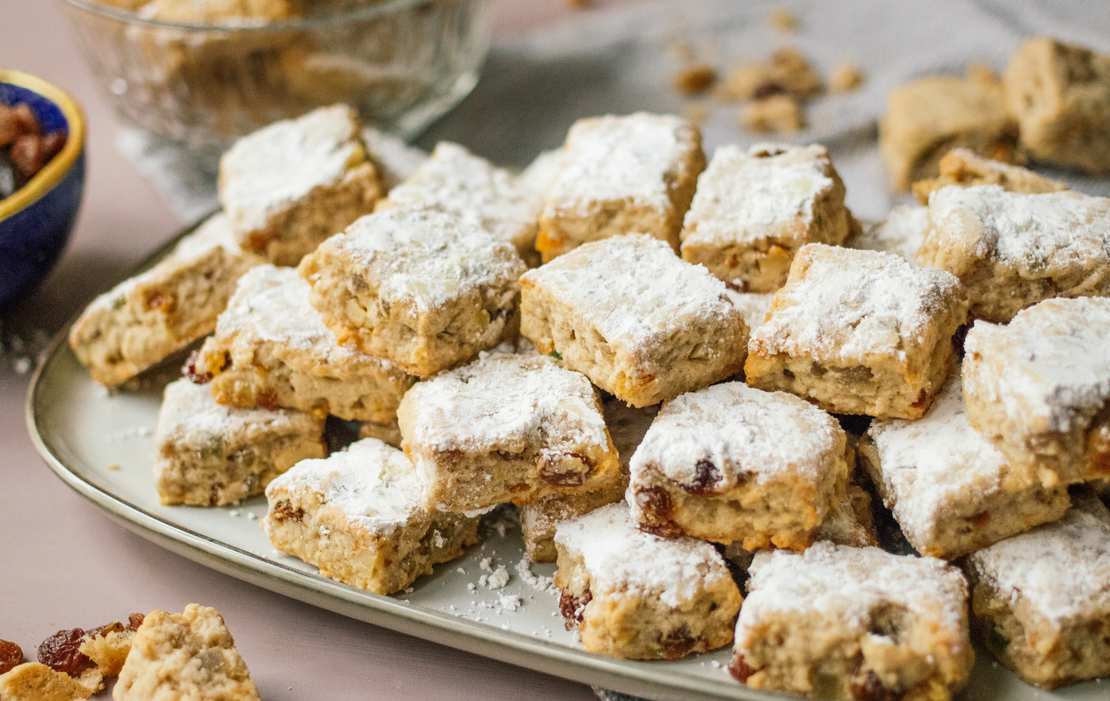 Vegan Stollen Bites (Christmas Fruitcake)
German Christmas without stollen? That's pretty hard to imagine. The traditional sweet German bread with raisins and a thick layer of icing sugar is a Christmas staple, but what can I say... I don't really like stollen. I tried various variations: poppyseed stollen, marzipan stollen, almond stollen – but somehow, they all were not my cup of tea. That changed when I tried stollen bites for the first time. As the name says, stollen bites are basically just tiny versions of a proper stollen. Maybe I just prefer these over the usual large slices of stollen, as you have a bigger surface area that can brown slightly in the oven.
Stollen bites basically taste just like stollen and are prepared in almost the same way (which makes it even weirder, why I like them so much better than the original). A slightly sticky yeast dough is mixed with dried fruits and nuts, which you can choose according to your taste. If you don't like raisins, use cranberries instead. If you're allergic to nuts, leave them out completely. If you only want to use candied orange peel, leave out the candied lemon peel. I tried the stollen bites several times and preferred the ones with soaked dried fruits as this makes them softer. If you don't have time for this step, it still makes sense to let them soak in orange juice for at least 30 minutes or an hour. Traditionally, this step would be done with rum, but I just down like its taste. Plus, if you opt for rum, you should probably reduce the amount of liquid for this step.
In the end, the main difference is the shape. Instead of forming a big loaf, you roll out the dough after resting time, then cut it into smaller pieces. It's also important to get a feeling of when they are done baking, as a few minutes can make the difference between a crispy cookie consistency and a tender stollen-like texture. We got the best results after 12-13 minutes. Just make sure that the surface of the bites are not crispy or browned yet. They should rather feel a little too soft when you remove them from the oven because they will become firmer when they cool down.
With this recipe, you'll bake a lot of stollen bites (at least two baking sheets and over 50 bites). Stored in an airtight container, they will keep well for weeks, but if you want to just test the recipe first, it's best to halve the ingredients.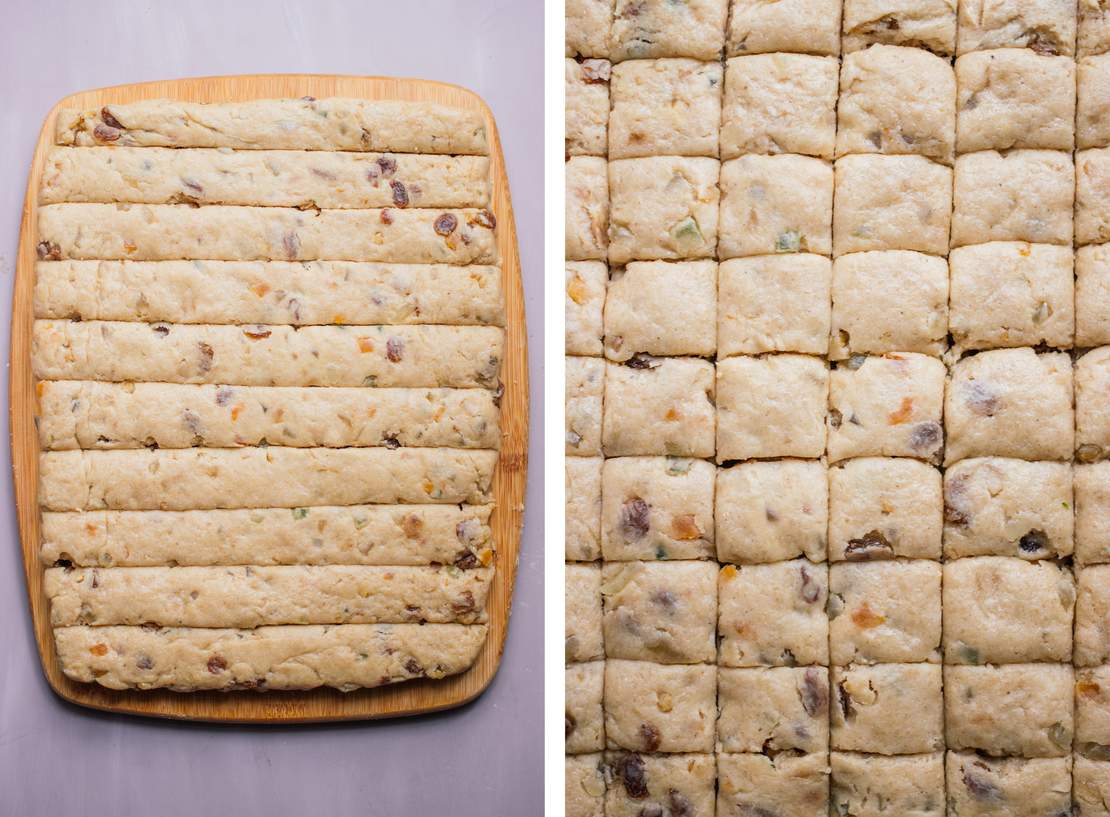 Vegan Stollen Bites (Christmas Fruitbread)
approx. 55 bites
30 minutes (+ 25 min. baking time + resting time)
Ingredients
For dried fruit and nuts:
50 g (2 oz) walnuts
100 g (3.5 oz) candied orange peel
100 g (3.5 oz) candied lemon peel
100 g (3.5 oz) raisins (or cranberries)
100 ml (0.33 cup) orange juice
For the dough:
500 g (4 cups) flour
150 g (0.75 cup) sugar
100 g (3.5 oz) ground almonds
1 tsp stollen spice
7 g (1 tbsp) active dry yeast
7 g (1 tbsp) vanilla sugar
50 ml (0.25 cup) vegetable oil
200 g (1.75 sticks) vegan butter
0.5 tsp bitter almond flavor
150 ml (0.66 cup) plant-based milk
For serving:
Instructions
Roughly chop walnuts and add them to a bowl along with candied orange and lemon peel and raisins. Pour over orange juice and let the mixture sit and soak overnight.

Mix flour, sugar, ground almonds, stollen spice, active dry yeast, and vanilla sugar in a large bowl. Add vegetable oil, vegan butter, bitter almond flavor, and plant-based milk. Knead everything into a slightly sticky dough.

Drain excess orange juice from the mixture of candied fruit peel and knead the mixture into the dough.

Let the dough rest in a warm place for approx. 30 minutes. In the meantime, preheat the oven to 180°C/355°F (circulating air) and line a baking sheet with parchment paper.

Roll out dough on a floured surface until it's approx. 2-3 cm (1 inch) thick. Cut into small bites and transfer them to the lined baking sheet. You will definitely need two baking sheets for all of the bites, so you can either bake them in batches or, if you own two baking sheets, distribute them on both and bake them at the same time.

Bake the stollen bites for approx. 13 minutes. They shouldn't get brown or crispy on the top but rather seem to be a bit underbaked, which will result in super-soft stollen bites. Remove from the oven and let the bites cool down on a wire rack. In case you're baking the bites in batches, now is the time to bake the remaining ones.

Dust stollen bites with a thick layer of confectioner's sugar and store them in airtight containers.
More Vegan Christmas Recipes