Vegan Chocolate and Jam-Stuffed Pancakes
What would a breakfast week be without our very favorite breakfast companions pancakes? Even though we already have a lot of pancake recipes on the blog, these little round treats can't be missing from a week that's all about breakfast, right? You're probably already having a hard time deciding on one pancake recipes, but if you're reading this, the search may have a quick end because we can tell you that this recipe takes the world of pancakes to a new level. We're presenting: stuffed pancakes!
The recipe is super easy and quick to make – you only need some time for preperation aka freezing time. For the filling, we chose jam and a vegan chocolate spread, but of course, you can use whatever you like. We spread our fillings in small circles on parchment paper and froze them overnight. A few hours will also do the job, if you don't have that much time, but who want's to get up at night for this job when you want to enjoy pancakes early in the morning, right? So from now on, maybe just always have some frozen jam or chocolate spread on hand. The frozen jam or chocolate circles should be smaller than the pancakes at the end because we don't want the filling to run out.
As a small tip, we recommend to take the frozen jam and chocolate circles out of the freezer one at a time when you prepare the pancakes. We left them next to the stove the first time, and they thawed right away. But now, nothing should stand in the way of your stuffed pancakes, so off to the kitchen!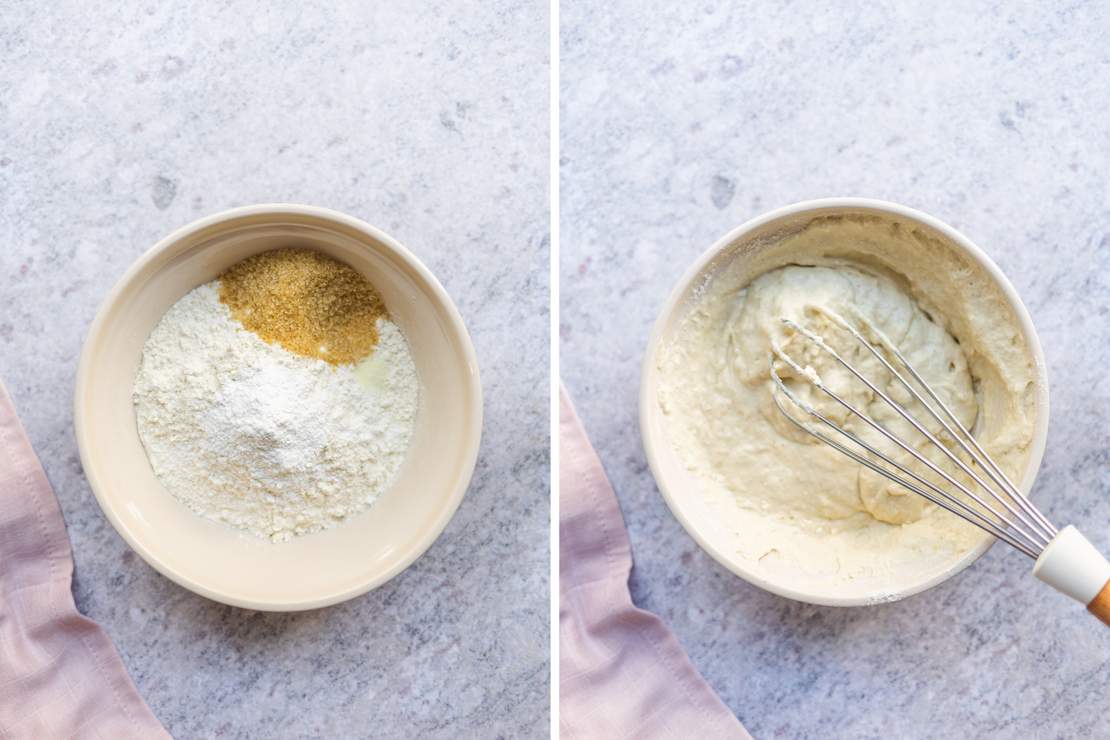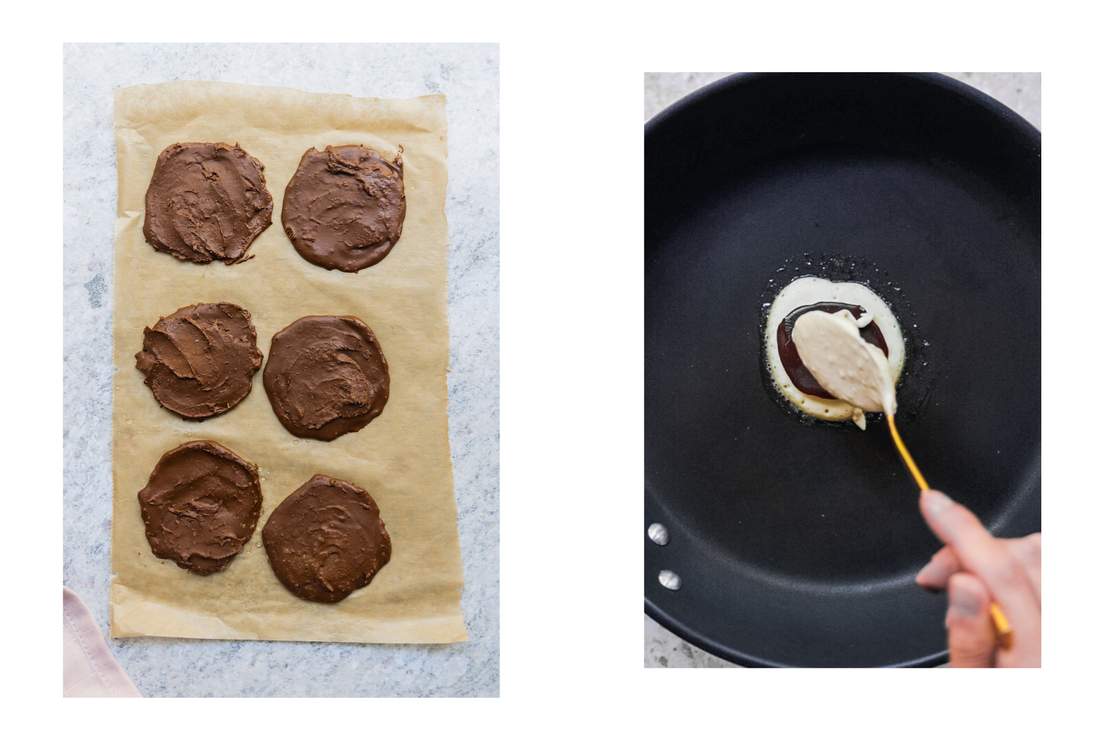 Vegan Chocolate and Jam-Stuffed Pancakes
6 Pancakes
30 minutes (+ freezing time)
Ingredients
For the batter:
150 g (1.25 cup) wheat flour type 405
8 g (1.5 tsp) baking powder
25 g (1.5 tbsp) cane sugar
1 pinch of salt
180 ml (0.75 cup) plant-based milk
90 g (0.5 cup) plant-based yogurt
vegan butter or neutral vegetable oil for frying
For the filling:
Also:
fresh berries (e. g. blueberries)
chopped nuts
Instructions
Prepare the filling for the pancakes the night before. To do this, add three round dollops of chocolate spread and jam on a sheet of parchment paper, smooth them out, and freeze until they're firm.

For the batter, add flour, baking powder, cane sugar, and salt to a bowl, and mix well. Add plant-based milk and plant-based yogurt and whisk to combine, until you get a smooth batter.

Heat vegan butter or vegetable oil in a frying pan over medium heat. Add a tablespoon of the pancake batter, then place one frozen slice of chocolate spread or jam on top, and cover it with another tablespoon of the batter. Once the pancake is browned on the bottom, carefully flip it, and fry the other side as well until the bottom side is golden brown as well.

Fry all pancakes and serve while they're still warm, optionally with fresh berries and chopped nuts.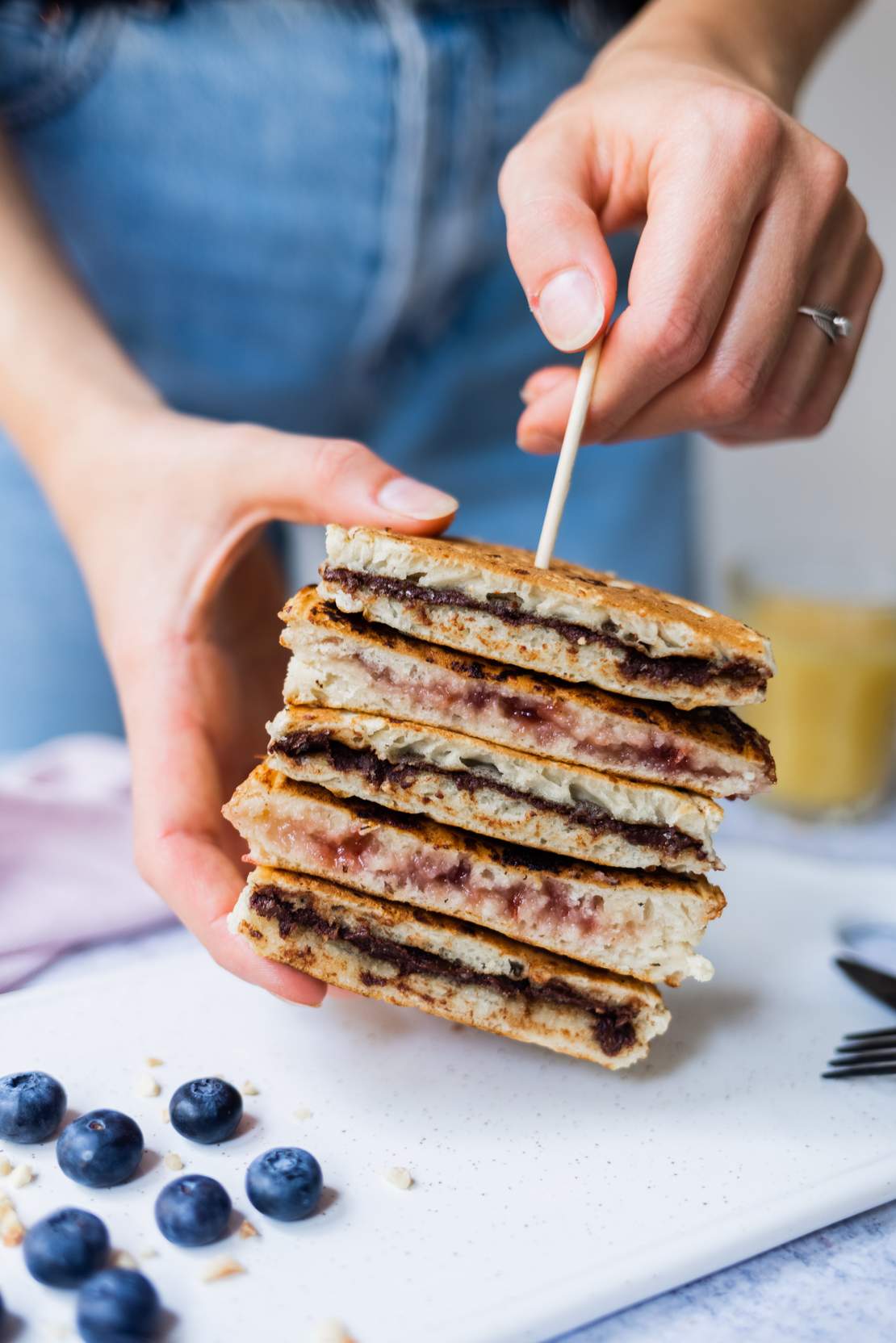 More Vegan Brunch Recipes