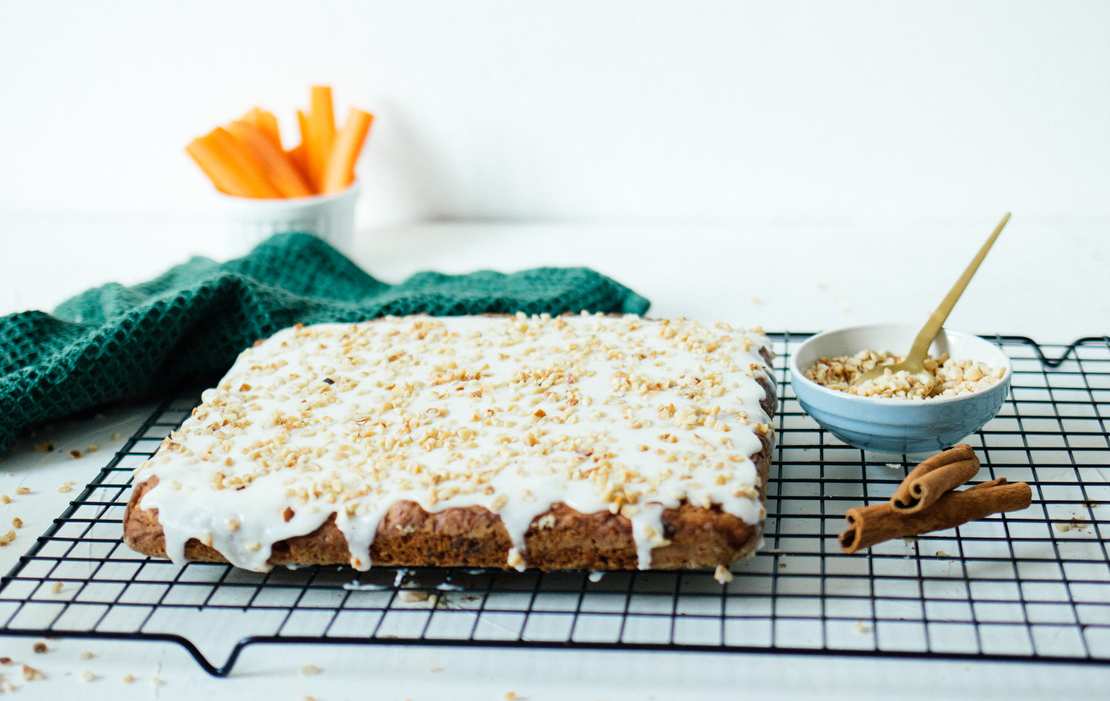 Vegan carrot cake with yogurt frosting
It's strange that we needed almost two years, to show you a recipe for vegan carrot cake. Cause at Easter we normally bake three cakes at one go, haha. And you should propably do the same! For this recipe we used a square baking pan, but a round one will work, too. So let's enjoy this juicy and aromatic vegan cake!
Vegan carrot cake with yogurt frosting
Ingredients
Dough
300 g (10.5 oz) carrots
100 g (3.5 oz) chopped hazelnuts
200 g (1.6 cup) flour
1/2 tsp ground nutmeg
1 tsp cinnamon
100 g (3.5 oz) brown sugar
1 pckg baking powder
250 g (8.8 oz) plant-based yogurt
75 ml (0.3 cup) oil
1/2 lime
Frosting
2 tbsp coconut oil
100 g (3.5 oz) plant-based yogurt
2 tbsp lime juice
15 g (0.5 oz) vanilla extract
300 g (10.5 oz) powdered sugar
Decoration
50 g (1.7 oz) chopped hazelnuts
Instructions
carrot cake
Wash and grate carrots. In the end you should get 250 g (8.8 oz) grated carrots.
Mix all dry ingredients in a big bowl: flour, sugar, chopped hazelnuts, nutmeg, cinnamon, salt and baking powder.
Add the wet ingredients too: grated carrots, oil, yogurt and lime juice. Mix well!
Grease a baking tin and dust with some flour. Add the dough and bake at 180°C/250°F for 60 minutes.
yogurt frosting
Add all ingredients for the frosting in a high container. Mix until you get a smooth mixture.
Let it cool in a fridge and spread over the cooled cake.
Sprinkle with chopped hazelnuts.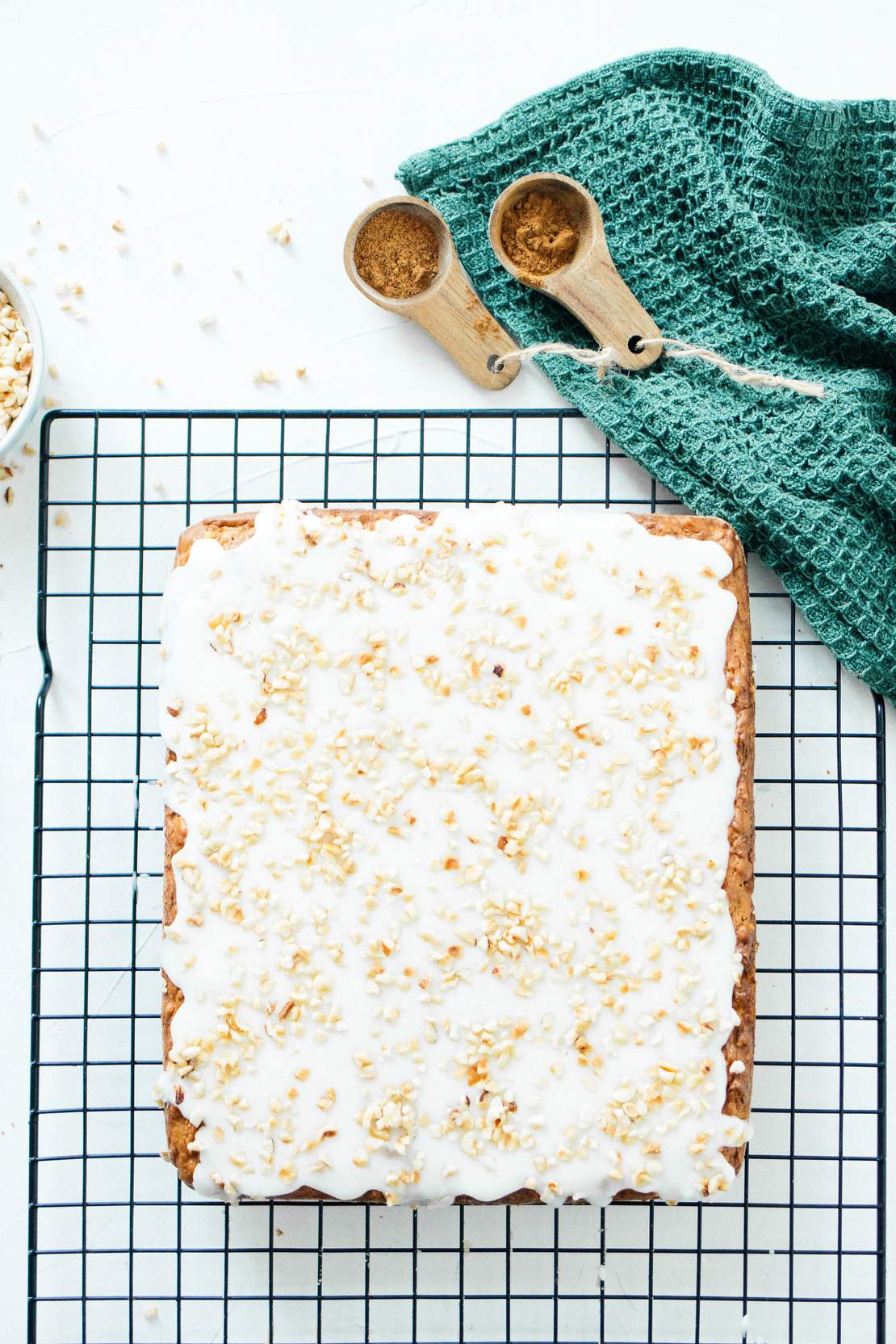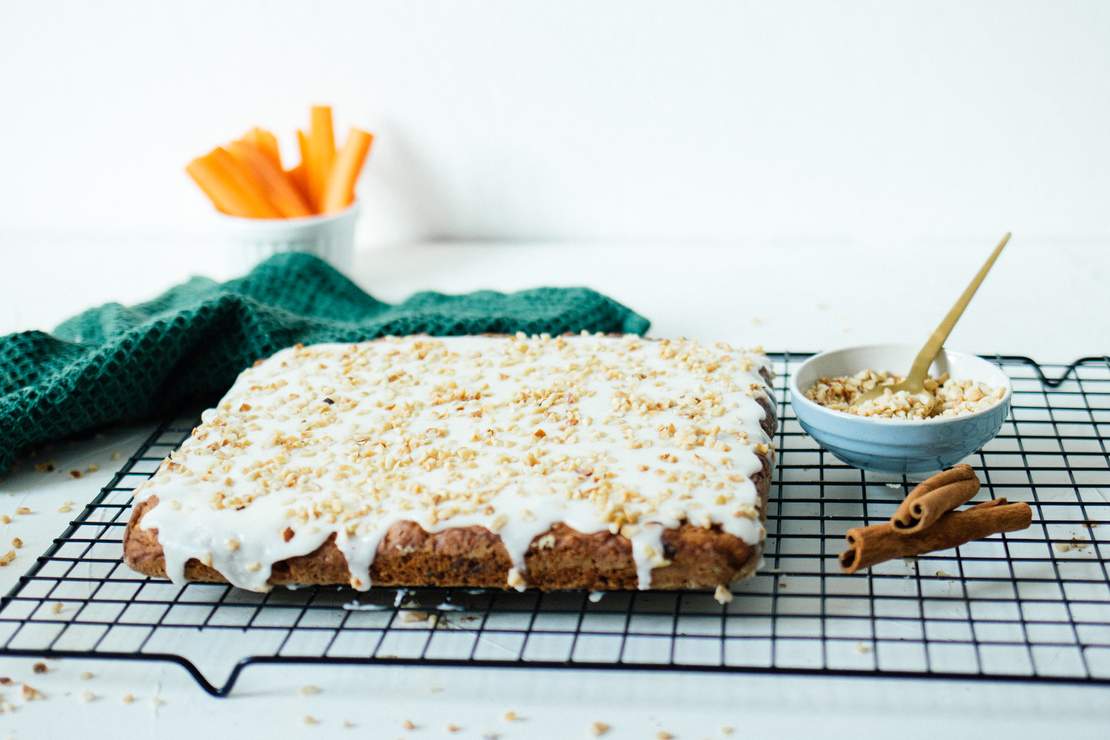 More Vegan Cakes & Cookies