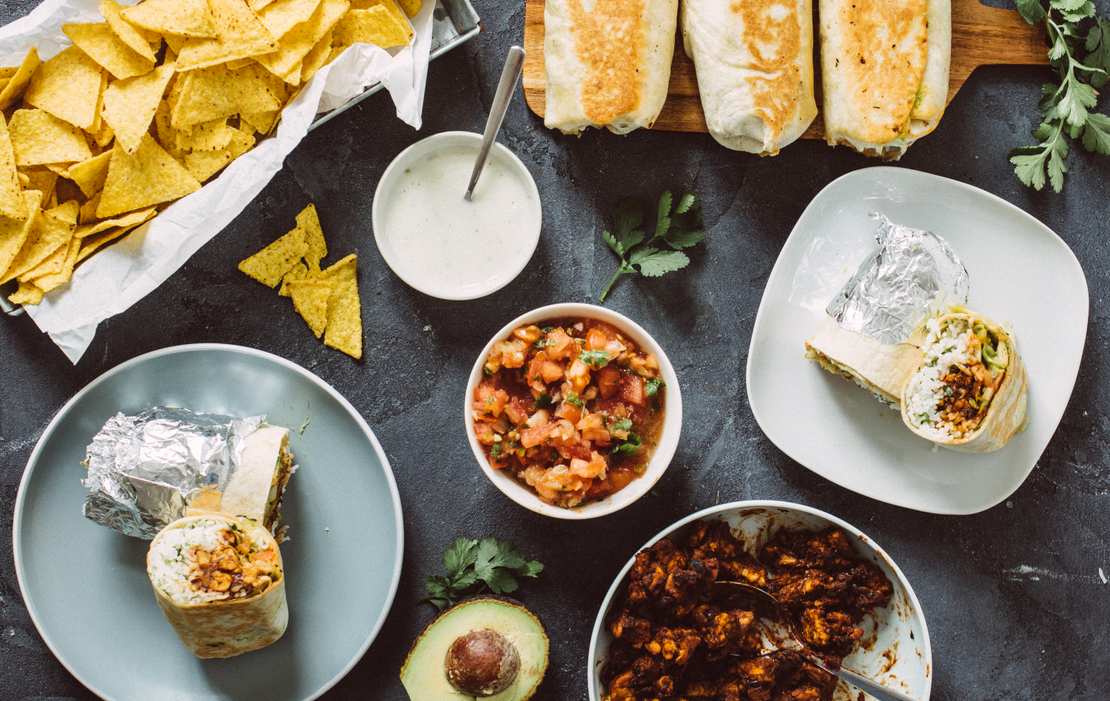 I know that it's such a spoiled thing to complain about, BUT still: Am I the only person who gets quite angry when the (not even that cheap) burrito I ordered turns out to be a tiny roll as thick as my little finger that consists half to only of beans? I almost feel ashamed but well, these emotions are real, so what to do now? Solution 1: Find the best burrito place in town, solution 2: make burritos at home.
But who has the superhero powder to cook the exact right amount of rice and filling for one burrito? Not me. I only have the kind-of superhero power to cook enough rice for half a village though it was meant to be for me only. In the end it just makes perfect sense to throw a little burrito party for your friends and prepare all ingredients ahead and put them on the table. This way, everybody can choose what she or he likes. Or you just use the leftovers for your next lunch. Or just eat six burgers on your own. It's up to you!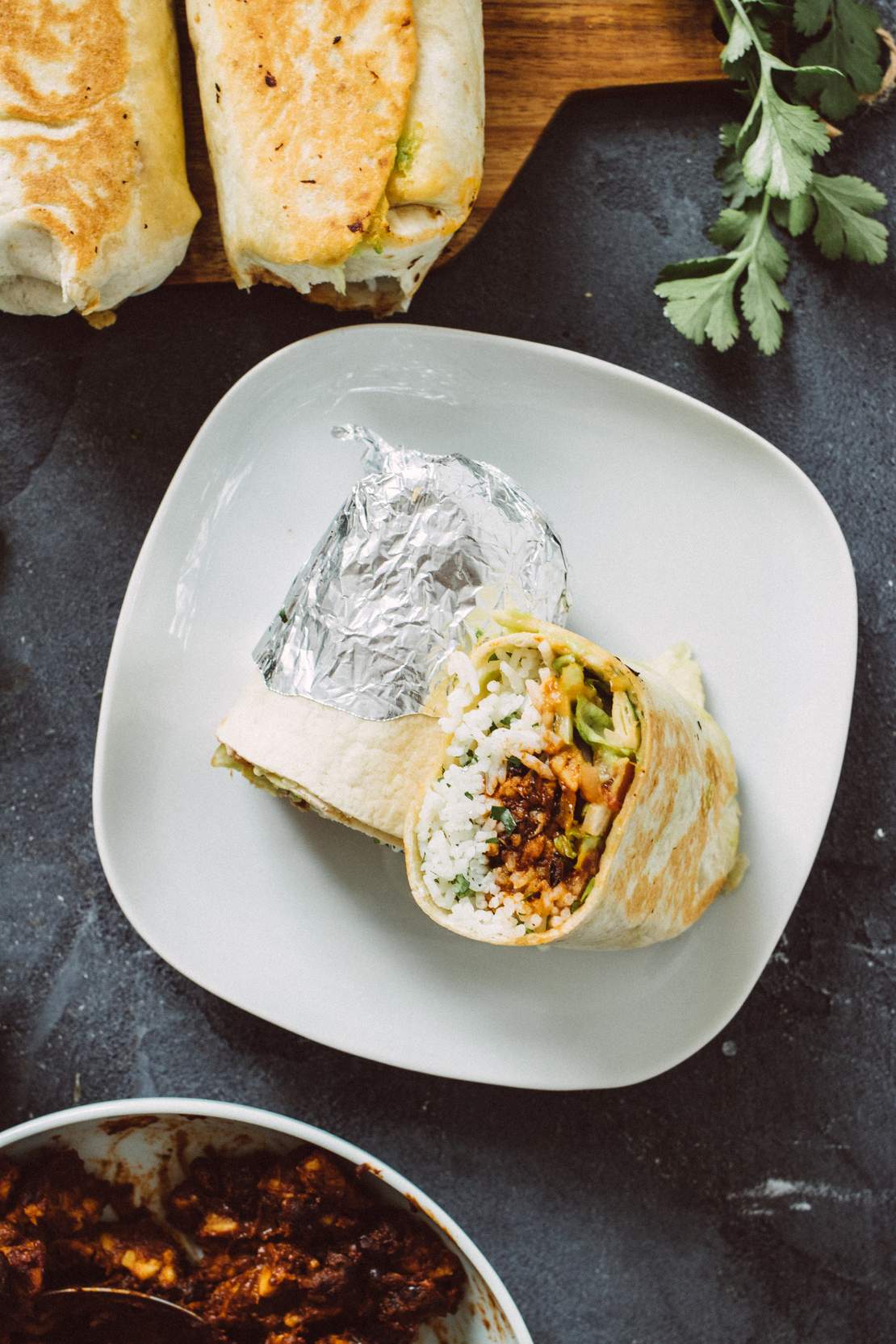 Vegan burritos with tempeh
Ingredients
6 wraps
1/4 iceberg lettuce
For the guacamole:
2 avocados
1 lime
salt
pepper
For the lime rice:
200 g (7 oz) basmati rice
1 lime
10 g cilantro
salt
pepper
For the creamy dip:
50 g (0.25 cup) soy yogurt
1/2 lime
0.5 tsp garlic powder
salt
pepper
For the tempeh-bean-mixture:
200 g (7 oz) tempeh
200 g (7 oz) black beans
4 tbsp tomato paste
1 tbsp soy sauce
1/2 tbsp olive oil
1 tsp maple syrup
2 tsp chili powder
1 tsp garlic powder
0.5 tsp caraway
0.5 tsp oregano
0.5 tsp nutmeg
0.5 tsp cinnamon
salt
pepper
For the salsa:
2 large tomatoes
1 shallot
5 g (0.2 oz) cilantro
1 garlic clove
1 jalapeno
salt
pepper
Instructions
Add rice and the double amount of salted water to a pot and bring to a simmer. Covered with a lid, let simmer for approx. 20 minutes until the rice is soft and all the liquid is soaken in. If it's still to hard, add some more water and let simmer again until the liquid is gone. In the meantime, finely chop cilantro. Once the rice is done, remove from heat and add chopped cilantro, lime zest and juice and stir to combine. Let rice cool down.

Slice iceberg lettuce and set aside. Finely dice tomatoes, shalott, garlic, cilantro and jalapeno with either a knife or best a food processor. Season with salt and pepper to taste.

Cut tempeh in pieces. Add tomato paste, soy sauce, olive oil, maple syrup, chili powder, garlic powder, caraway, oregano, nutmeg and cinnamon to a bowl and season with salt and pepper to taste. This sauce will be quite sticky. Add tempeh and toss to coat.

Heat oil in a large frying pan and fry tempeh for approx. 8 – 10 minutes. Add beans and stir to combine.

Transfer soy yogurt, lime zest, salt and pepper to a bowl and stir to combine. For the guacamole, halve and pit avocados and scoop out flesh. Using a fork or an immersion blender, mash avocados, olive oil and lime juice. Season with salt and pepper to taste.

Once all ingredients are prepared, take a wrap and top the bottom third with lime rice, tempeh and bean mixture, iceberg lettuce, guacamole, salsa and lime soy yogurt. Wrap tightly and directly wrap in aluminium foil or paper. You can also grill or fry it in a frying pan before to make it extra crispy.