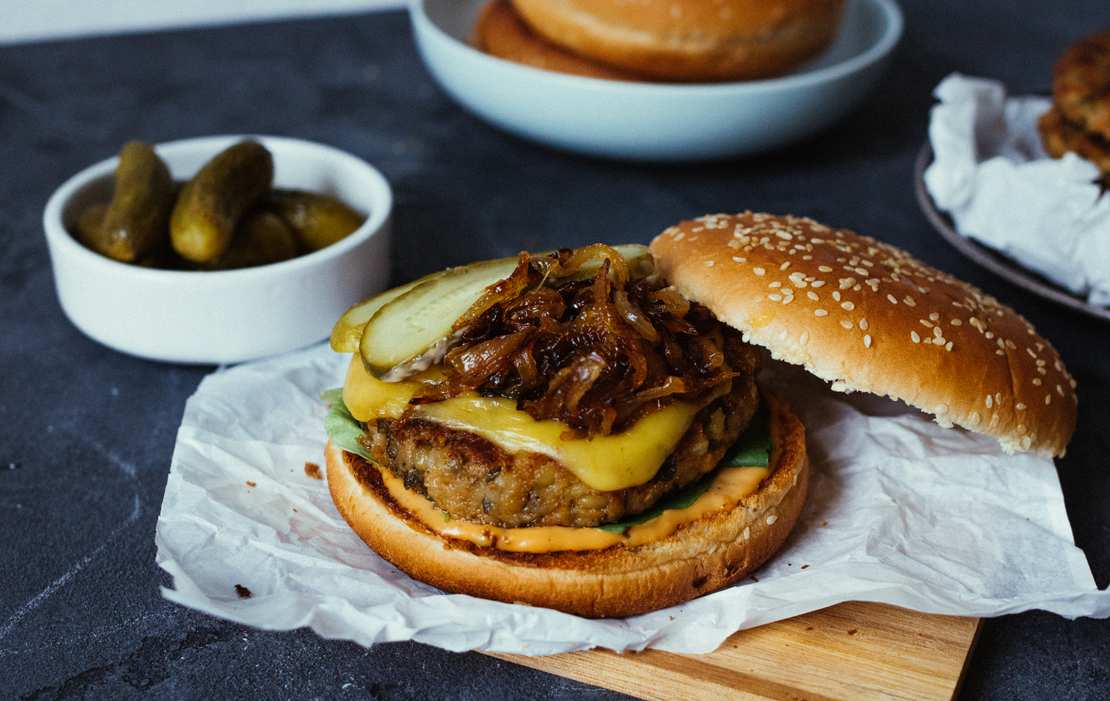 Vegan Burger with Veggie Patty
I am very picky when it comes to vegan burgers, almost TOO picky. Most of the times it's because of the vegan burger patties which are often too crumbly, too mushy or just taste bland. This is why I always prefer a soy steak burger in terms of consistency. But today, I am challenging myself to create a kind of veggie patty that I will like.
We start with a base of mashed potatoes - not too smooth, but chunky. But since this, and only this, would end up in one of these burger patties that I don't like, we'll add some carrot, chickpeas, mung beans and walnuts. This will make these burger patties sticky enough to avoid any egg substitute, but will also give the patty a "crunch" and some more texture.
You can get mung beans unpeeled, peeled or halved in organic food stores. Unpeeled mung beans always need to be soaked in water for at least 4 hours before you can use and cook them for approx. 20 minutes. Halved and peeled mung beans can be used directly without soaking them.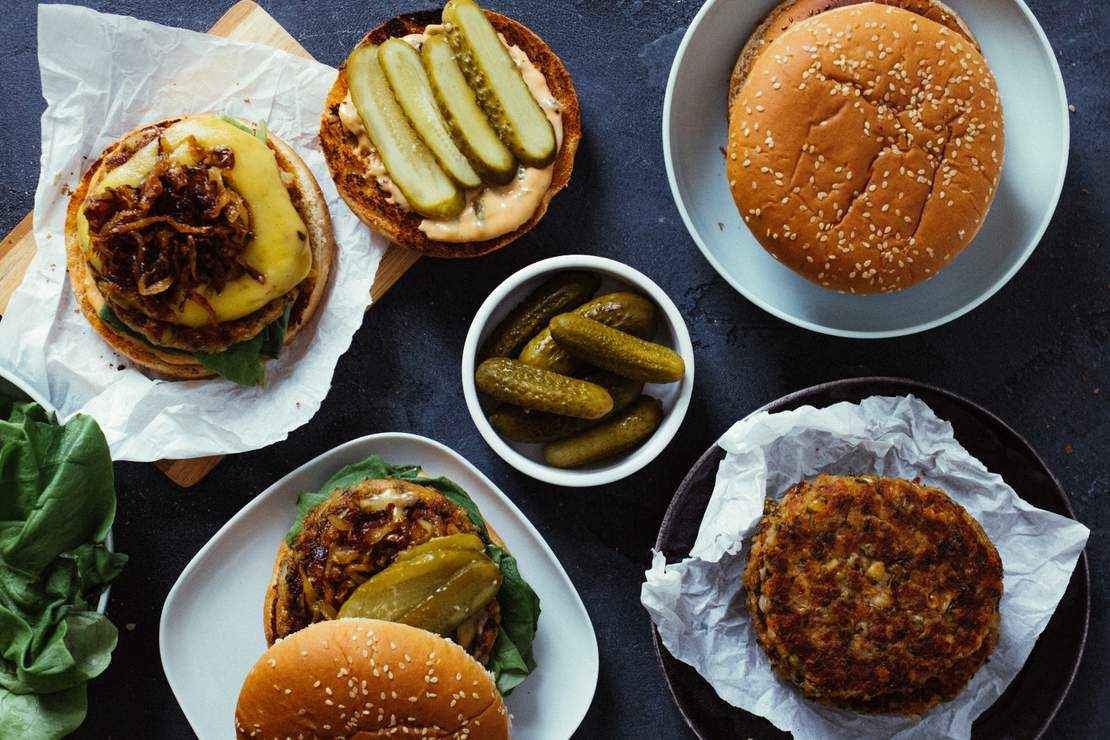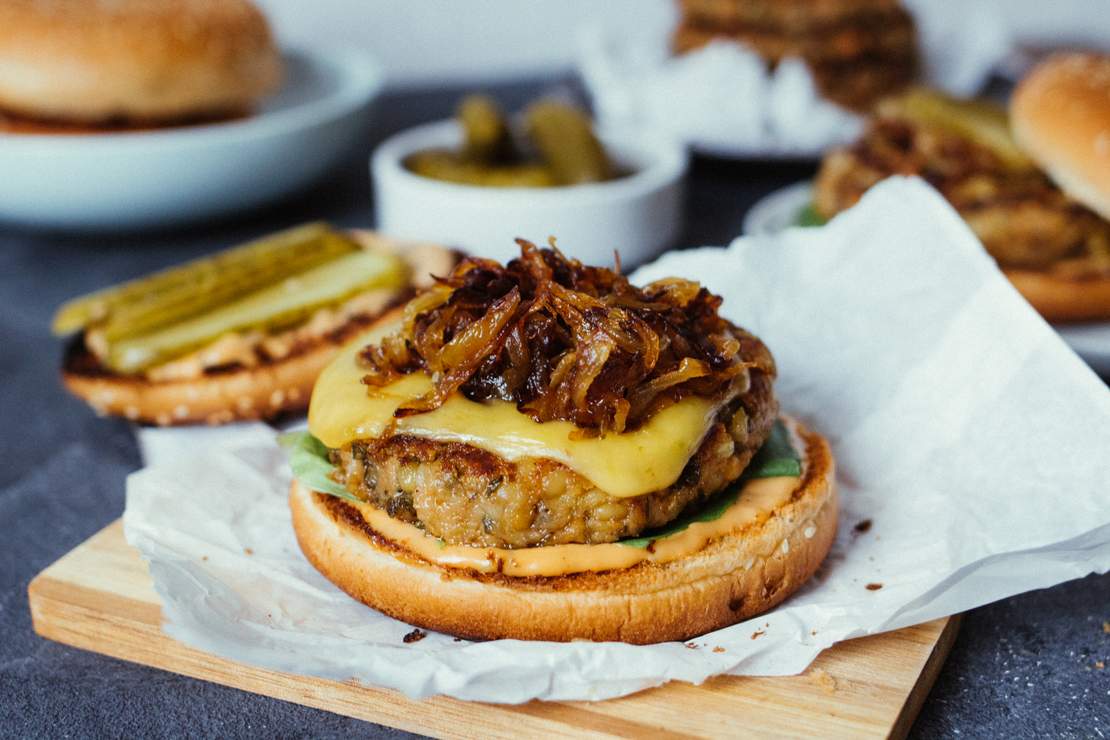 Vegan burger with veggie patty
4 burgers
45 minutes (+ 180 min. resting time)
Ingredients
4 burger buns
4 pickles
4 slices vegan cheese
0.5 leaf salad
For the patties
200 g (7 oz) dried mung beans (soaked in water at least 4 hours)
100 g (3.5 oz) chickpeas (canned)
2 potatoes (approx. 300 g / 10.5 oz)
1 small carrot (approx. 100 g / 3.5 oz)
1 garlic clove
1 onion
50 g (2 oz) walnuts
For the sauce
3 tbsp vegan mayo
1 tbsp mustard
1 tbsp ketchup
2 tbsp sweet relish
salt
pepper
For caramelized onions
4 onions (approx. 250 g/ 9 oz)
2 tbsp vegan butter
Instructions
Peel onions and cut them in stripes. Melt vegan butter in a large frying pan, add onions and season with salt. Fry onions for approx. 30 min. while stirring from time to time until they are deep golden brown. If needed, add some water every 10 minutes.

Rinse soaked mung beans, then add them to a pot with water. Cook mung beans for approx. 20 minutes, then drain. Peel and chop potatoes and carrots, also cook them in a pot with water for approx. 15 minutes or until they are soft. Drain as well.

In the meantime, you can peel and finely chop onions and garlic. Chop walnuts.

Add cooked potatoes, carrots, chickpeas and half of the cooked mung beans to a big bowl and mash them. It can still be chunky and shouldn't be too smooth. Add onions, garlic, walnuts, and remaining mung beans and season generously with salt and pepper to taste.

Form patties with your hands (not too big or thick, merely measure them with the help of your burger buns). Heat vegetable oil in a large frying pan and fry patties from both sides until golden brown.

For the sauce, add vegan mayo, mustard, ketchup and sweet relish to a small bowl and stir to combine. Season with salt and pepper to taste.

Time to create the burger! Toast burger buns and spread some sauce on it, then top it with salad, veggie patty, vegan cheese, caramelized onions, and pickles.