Vegan Bundt Cake with Wild Garlic
I love cake! Marble cake, chocolate cake, or crumble cake - I love them all, as long as they're sweet and with loads of chocolate. You can imagine how skeptical I was when Julia had the idea for a savory cake with wild garlic, but it actually turned out great! And we wouldn't be "Zucker&Jagdwurst" if we hadn't come up with something extra special. So here is our recipe for a vegan wild garlic bundt cake with a creamy feta filling. I don't know how I've lived without it!
My wild garlic cake is a savory version of my favorite cake: marble cake – preferably with a thick layer of chocolate on top (you can find my favorite recipe here). Instead of vanilla and chocolate batter, our cake consists of two savory batters with nuts and green wild garlic pesto. In between the batter layers, I added a plant-based feta cream. Can it get any better? If you don't have plant-based feta, you can use plant-based cream cheese or even plant-based crème fraîche. If your cream cheese is too firm, mix in some plant-based milk.
You can find wild garlic in most organic grocery stores. However, you can also pick it yourself. In spring, you can find it in shadowy forests. Its smell is unmistakable, but be careful: Don't mistake it for the similar-looking, highly poisonous lily of the valley. You can also use ready-made wild garlic pesto, but make sure that it's not too liquid or, if necessary, use less oil for the batter. If you're not into the taste of wild garlic, you can also exchange it with arugula or basil.
For the batter, I used plant-based skyr. You can also use other plant-based yogurts that have a similar thick consistency. The choice and amount of nuts are also entirely up to you. I chose walnuts, but of course, any other nut will do. And then there's the matter of the eggs. I want to replace a total of four eggs in this recipe. I use a vegan egg substitute, which you can find in organic grocery stores or larger supermarkets. The egg substitute I used (based on corn starch, pea protein, and potato starch) suggested one tablespoon of egg substitute for one egg. The amount can vary from product to product. The only important thing is that you add 200 ml (0.85 cup) of sparkling water so that the dough does not become too firm or liquid.
Vegan Bundt Cake with Wild Garlic
1 bundt pan (∅ 20 cm / 8 inches)
30 minutes (+ 45 minutes baking time)
Ingredients
For the wild garlic pesto:
170 g (6 oz) wild garlic
2 cloves of garlic
100 ml (0.5 cup) olive oil
2 tbsp nutritional yeast
salt
pepper
For the vegan cream cheese filling:
50 g (1.75 oz) plant-based feta cheese
50 g (1.75 oz) plant-based cream cheese
plant-based milk (optional)
salt
pepper
For the batter:
350 g (2.75 cups) wheat flour type 405 or spelt flour type 630
16 g (1.5 tbsp) baking powder
1 tbsp salt
1 tbsp onion powder
4 tbsp nutritional yeast
4 tbsp (28 g/0.25 cup) egg substitute
200 ml sparkling water
400 g vegan skyr
150 g walnuts
vegan butter for greasing
Instructions
Preheat oven to 180°C/355°F (convection heat). For the pesto, roughly chop wild garlic and garlic cloves and add both to a bowl. Add olive oil and nutritional yeast and process with an immersion blender until smooth. Season to taste with salt and pepper.

For the filling, mash the vegan feta with a fork. Add plant-based cream cheese and mix well. If your cream cheese is too firm, add a little plant-based milk. Season to taste with salt and pepper.

Combine flour, baking powder, salt, onion powder, and nutritional yeast in a large bowl. Mix vegan eggs with sparkling water. Next, add the plant-based skyr and vegan egg mixture to the dry ingredients and mix well using a hand mixer.

Divide the batter into two equal portions and add each to a bowl. Mix one half of the batter with the wild garlic pesto. Add the walnuts to the second batter and fold in.

Grease the baking tin thoroughly with vegan butter and pour in the green batter. Cover with the vegan feta cream. You can use a spoon to create tiny dollops (they should be about the size of a walnut). Then cover with the second, "neutral" half of the batter. Bake at 180°C/355°F (convection heat) for approx. 45 minutes.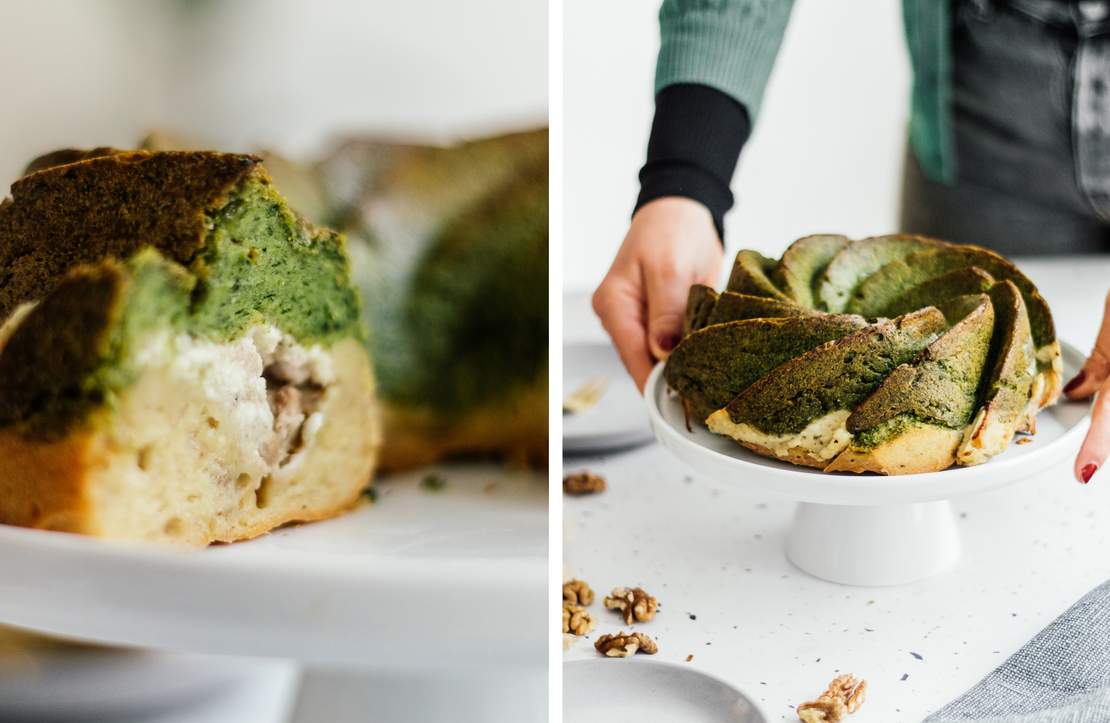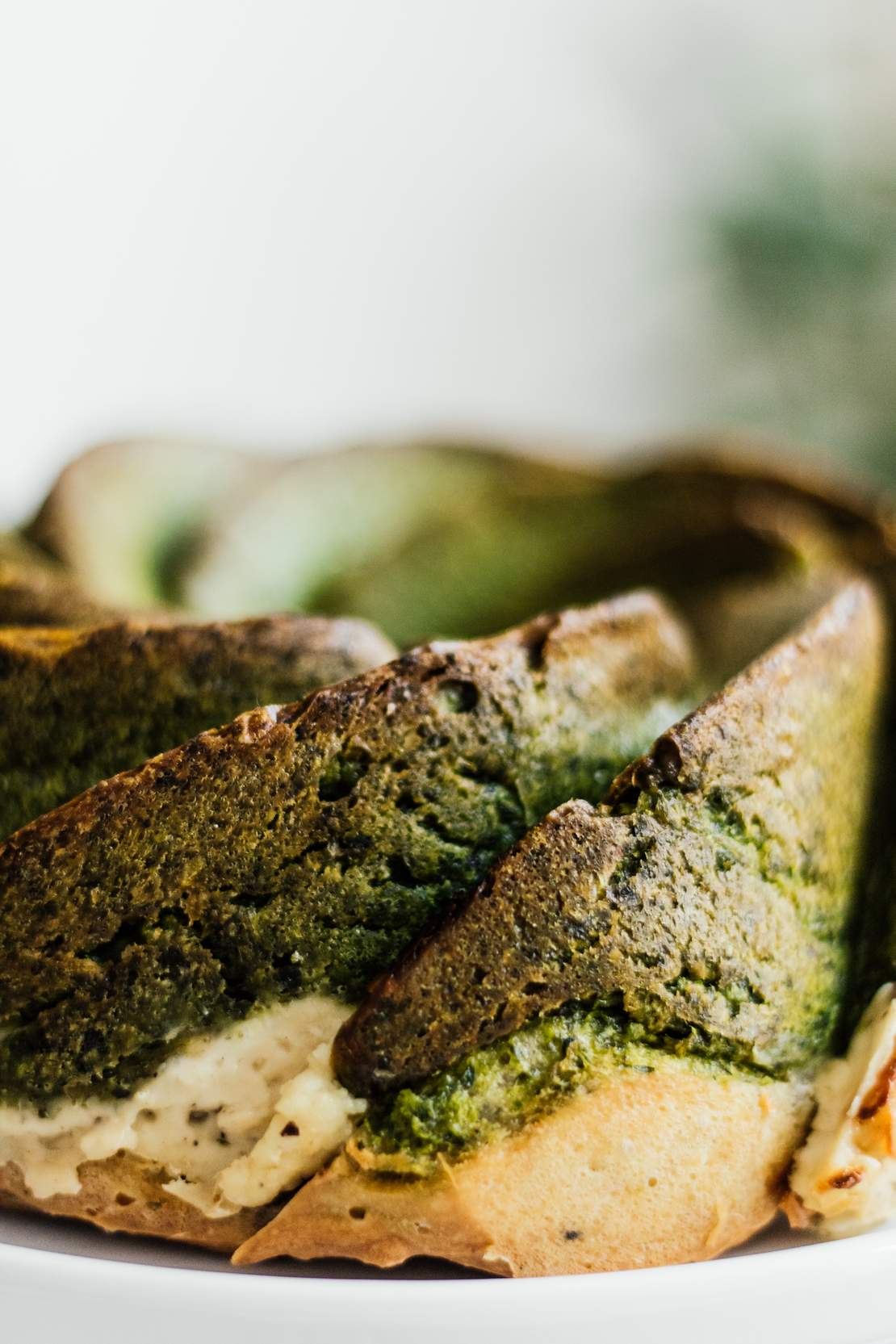 More Vegan Recipes for Traditional German Classics