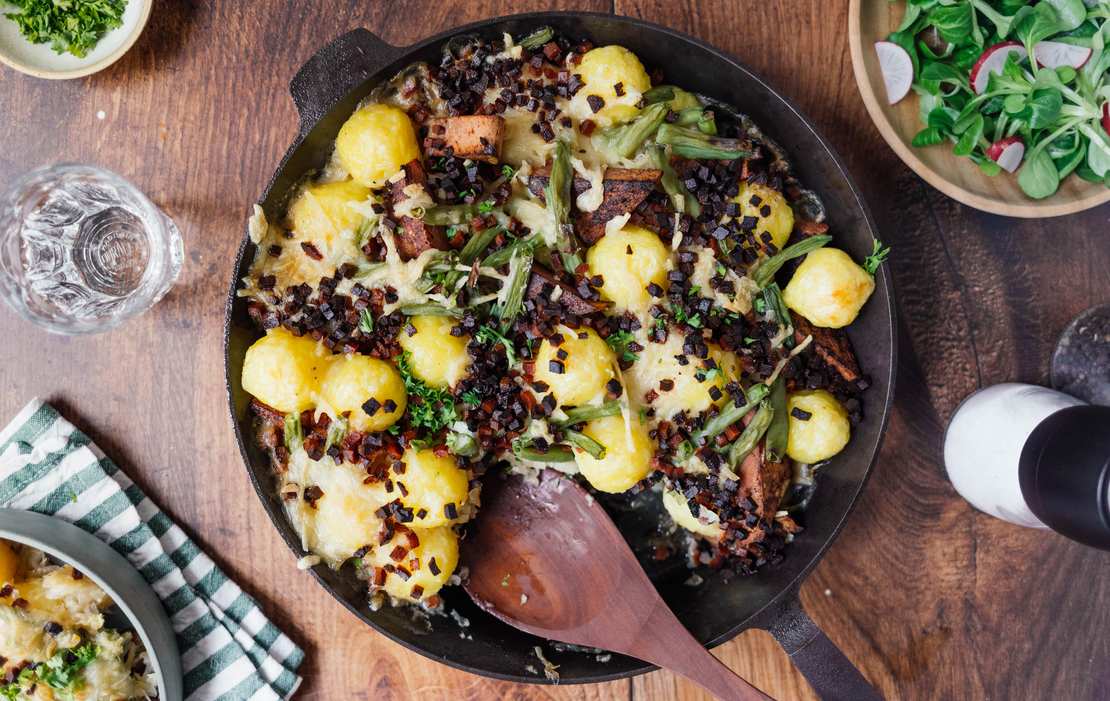 Vegan Potato Dumpling Casserole with Meatloaf and Sauerkraut
I don't really have connections with Bavarian cuisine. Since my parents are from Swabia, I grew up with Maultaschen (pasta squares filled with meat, potatoes and vegetables) and spaetzle, not veal sausage and obatzte. But there is some overlap, of course! After all, Leberkäse (meatloaf), Rostbraten (roast beef), dumplings and potato salad are part of both cuisines. So even though I've only been to Bavaria a few times, my interest in Bavarian dishes has grown. Homemade veal sausage or vegan obatzte: Yes, please!
So I was super excited when planning this recipe because it combines two foods I've always loved: Potato dumplings and meatloaf. Only now, I've combined them in one dish - I wonder why because they go together very well! We also added sauerkraut, some vegetables, vegan bacon and a light cream sauce. The result is a comforting dish that will leave you happy. So don't miss out!
Since making homemade potato dumplings requires a lot of preparation and time, we grabbed some vegan potato dumplings from "Burgis Knödelliebe"! Burgis is not a global player but a family business from the Upper Palatinate in Bavaria. The dumplings are made from local ingredients grown by farmers in the region. They aren't genetically modified and have been awarded the quality seal "Geprüfte Qualität - Bayern". We are therefore delighted that there are also plant-based products in the range, such as the Knödelinos, which are ideal for a casserole, as they are quick to prepare and fit wonderfully in terms of size in your casserole dish or cast-iron pan. By the way, you can prepare the Knödelinos not only in the pot, but also in a pan. You can find the Knödelinos in many supermarkets in the fresh or refrigerated shelf! And if you need more inspiration, you can find more recipes with Burgis dumplings here.
We wish you lots of fun with this Bavarian casserole, no matter where you are from - we hope you like it as much as I do!
Vegan Potato Dumpling Casserole with Meatloaf and Sauerkraut
4 servings
30 minutes (+ 20 minutes baking time)
Ingredients
For the casserole:
750 g (1.75 lbs) vegan mini dumplings (e.g. Knödelinos from Burgis)
200 g (0.5 lb) green beans
400 g (1 lb) vegan meatloaf (tofu or seitan-based)
120 g (0.25 lb) vegan bacon/smoked tofu
300 g (0.7 lb) sauerkraut
100 g (0.25 lb) plant-based shredded cheese
1 tbsp vegetable oil
1 tbsp water
For the sauce:
1 onion
2 tbsp butter
2 tbsp flour
200 ml (0.75 cup) plant-based milk
200 ml (0.75 cup) plant-based heavy cream
ground nutmeg
salt
pepper
To serve:
parsley
lamb's lettuce
radish
Instructions
Carefully place the Knödelinos in salted boiling water, ensuring they have enough room to float. Let simmer on low heat with the lid on for at least 12 minutes–don't bring it to a boil. When done, drain well.

Meanwhile, remove the ends of the beans, cut them in half and cook in boiling water for approx. 8–10 minutes. Fry vegan meatloaf and vegan bacon briefly, but at a high temperature. The vegan meatloaf and bacon should get roasted aromas without becoming dry. Drain the sauerkraut. Next, mix the shredded cheese with water and oil.

For the sauce, peel and finely dice the onion. Heat vegan butter in a small saucepan and fry the onion until translucent. Cover with flour and let toast briefly. Now gradually add plant-based milk and heavy cream, constantly stirring to avoid lumps. Season to taste with nutmeg, salt and pepper.

Preheat oven to 200 °C / 400 °F (convection heat). Grease a casserole dish or cast iron pan (28 cm/11 inches) and evenly spread mini dumplings, green beans, vegan meatloaf, vegan bacon, and sauerkraut. Pour over the sauce, and distribute shredded cheese and vegan bacon on top.

Bake the dumpling casserole for approx. 20–30 minutes at 200 °C / 400 °F (convection heat) until the plant-based cheese is golden brown. For the last 10 minutes, you can also switch to the grill function. Serve the casserole with chopped parsley, lamb's lettuce and a few radishes.
More Vegan Dumpling Recipes