For anyone not having time to bake a really big cake right now, those little tartlets are just perfect for you! You can even keep them in the fridge for some days. But caution! Some horror stories can butcher your tartlets-joy big times. We're talking about short pastry.
Maybe you're thinking: But why? You only need so little ingredients, but this is where it gets dangerous. With so few ingredients, you really can not mess them up. Here is the secret to short pastry: coldness! You NECESSARILY have to use cold vegan butter, cold water, let it rest in the fridge long enough, and even have cold hands when you get in contact with your dough. We could experience this by chance when preparing those tartlets because the last one got to warm, and immediately it was all bad. As long as you have this in mind, short pastry IS an easy recipe that you can top with endless options.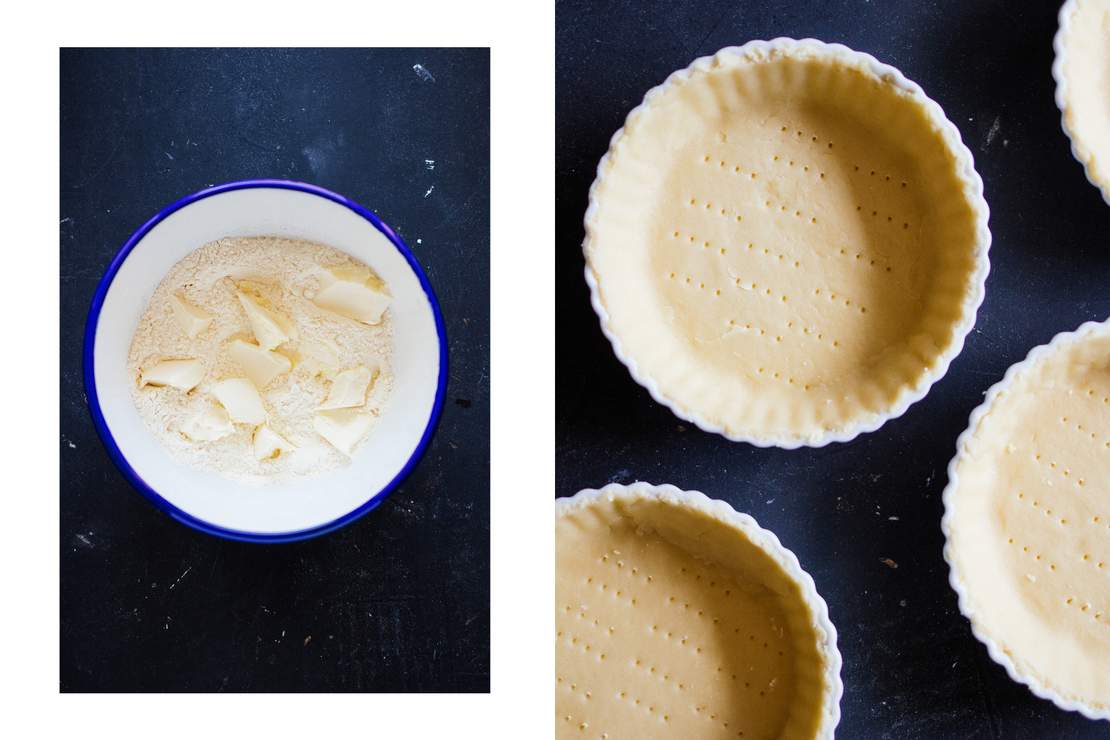 Vegan Berry Tartlets
Ingredients
Dough
200 g (7 oz) all-purpose wheat
100 g (3.5 oz) vegan butter
50 g (0.4 cups) sugar
a pinch of salt
3 tbsp ice water
Creme
300 ml (1.2 cups) vegan whipped cream
8 g (0.28 oz) cream stiffener
50 g (1.7 oz) vegan white chocolate
1 vanilla pot
optional: agave syrup
Toppings
400 g (14.1 oz) fruits & berries of your choice
15 g (0.5 oz) chopped pistachios
Instructions
dough
Mix wheat flour, sugar, and salt in a large bowl for the dough.
Add the cold vegan butter in flakes and knead in with cold hands.
Knead in 3 tbsp of very cold water, so your dough gets all soft. If it's still too tight, you can add more water carefully. The dough should not be sticky.
Let the dough rest in the refrigerator for at least 30 minutes.
cream
Whip the vegan cream with the cream stiffener in a bowl or a high container.
Melt the vegan white chocolate in a bain-marie, then stir in the whipped cream.
Scrape vanilla pod and add the seeds to the whipped cream. Add agave syrup to taste and chill in the fridge.
serving
Preheat the oven to 175 ° C, circulating air.
Lightly flour a surface and roll out the dough. It should be about 5 mm thick.
Cut out circles, but notice that its calibers should be about 1 cm more than your actual tartlet forms.
Grease the tartlet molds with vegan butter and sprinkle with a little flour.
Transfer your dough circles into your forms and press them up the borders, so everything is covered with dough. To keep them flat, you should pierce the dough with a fork several times.
Bake at 175 ° C for 10-15 minutes on a medium rack. The dough should be golden brown, but not too crispy. Afterward, let it chill and remove the tartlets from the tins.
If they are cooled down, you can add the cream and fruits of your choice. Finish with chopped pistachios and keep them in the fridge before serving.