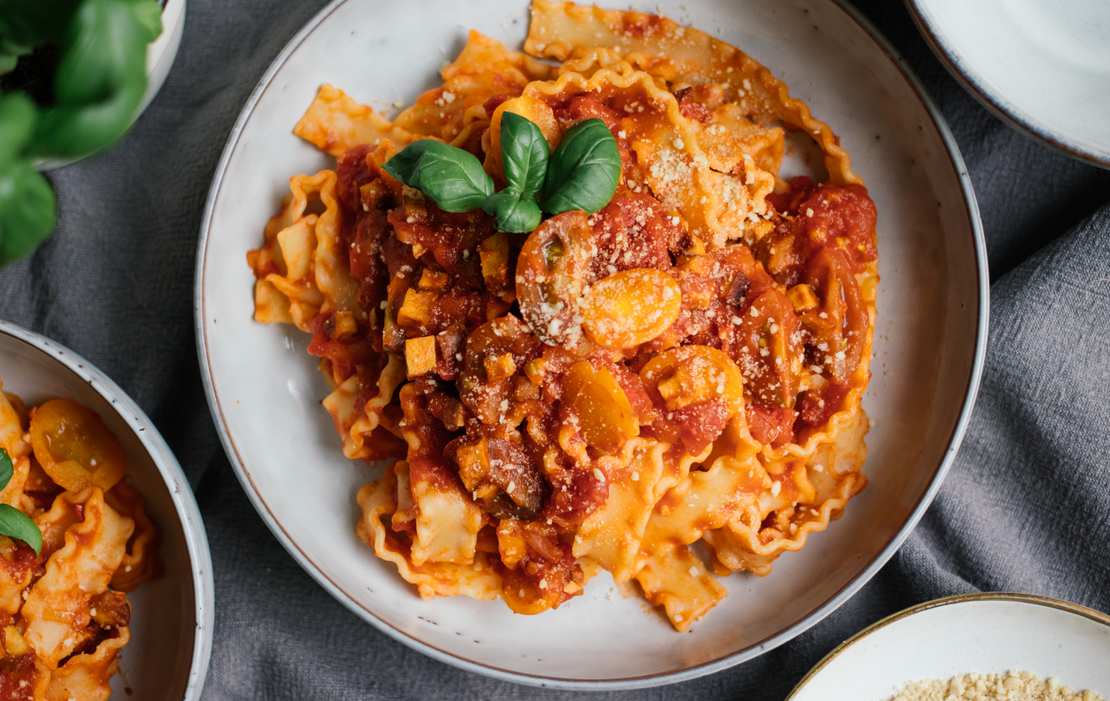 Vegan Pasta All'Amatriciana
Pasta all' amatriciana is a classic Italian pasta dish. It's best-known with bucatini, a long type of pasta with a hole running through the center, which is just the perfect spot for a sauce to make itself cozy. If you can't find them, just swap them out with spaghetti (which were originally used for this dish) or get cheeky and grab any pasta of your choice.
The dish itself is simple but delightful, consisting of a spicy tomato sauce which is home to bacon and pecorino – of course, we'll skip both of them. Instead, we'll fry smoked tofu with a dash of liquid smoke. We've used this ingredient on the blog several times, but in case you read about it for the first time: liquid smoke is a water-soluble liquid used for flavoring. You can buy it in larger supermarkets or order it online. A small bottle isn't cheap (it costs approx. 6-10€), but luckily you only need a few drops to create this distinct smoky flavor. Still, we'd say that liquid smoke is optional for this dish, and your pasta all' amatriciana will also taste great without it. Since the preparation of this dish is so simple and quick, you should probably bookmark this recipe as a no-fuss weeknight dinner option.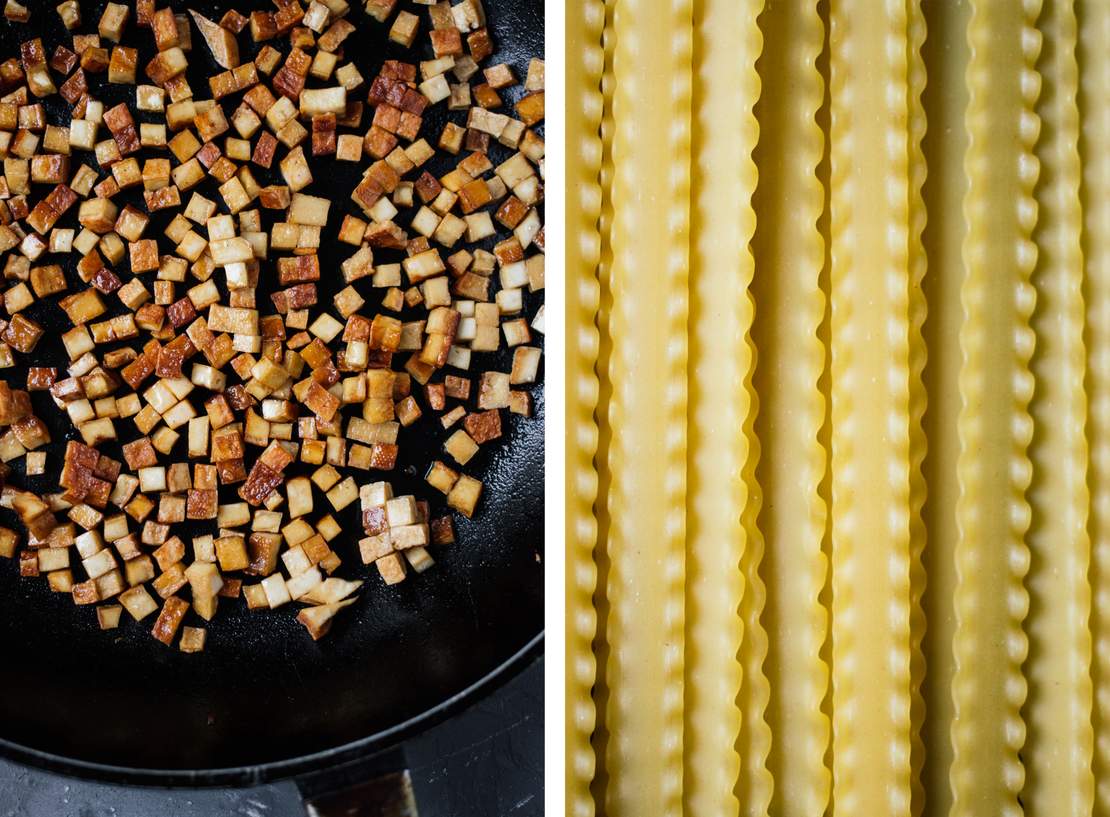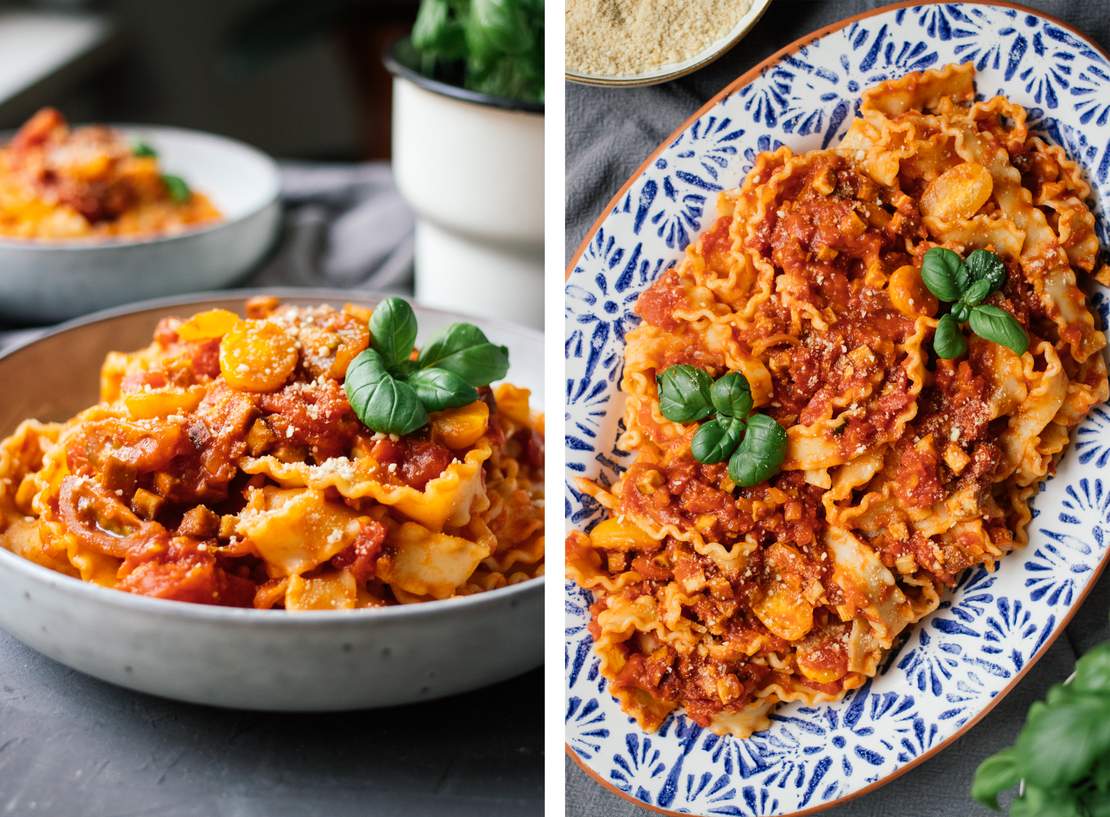 Vegan Pasta All'Amatriciana
Ingredients
300 g (11 oz) pasta
1 onion
2 garlic cloves
1 chili
200 g (7 oz) smoked tofu
0.5 tsp liquid smoke
1 tsp soy sauce
800 g (28 oz) canned whole tomatoes
150 g (5.5 oz) mixed cherry tomatoes
salt
pepper
olive oil for frying
basil for serving
vegan Parmesan for serving
Instructions
Peel and finely dice onion and garlic. Halve and deseed chili, then also finely dice it. Cut smoked tofu into smaller dice, and halve cherry tomatoes. 

 Heat olive oil in a large frying pan. Start by searing the smoked tofu for approx. 5 minutes. After half of the time, add liquid smoke and soy sauce. Remove tofu from the pan and set aside.

If needed, add some more olive oil, then add onion, garlic, and chili to the same frying pan. Fry for approx. 3-4 minutes over low heat. Add canned tomatoes and generously season with salt and pepper. Let simmer over medium-low heat for approx. 30 minutes, stirring regularly. Using a wooden spoon, you can also crush the canned whole tomatoes to release their liquids. At the very end of the cooking time, add back smoked tofu and halved cherry tomatoes.

 While the sauce is simmering, bring a pot of salted water to a boil and cook pasta according to package instructions. Before you drain them, make sure to reserve a cup of the cooking water. Drain the pasta and add them directly to the sauce in your frying pan. Toss to coat and add as much of the cooking water as needed to create a smooth, silky sauce.

Serve with fresh basil and vegan Parmesan cheese.