Stuffed & Grilled Portobello Mushrooms with Corn and Pepper Salsa
Mushrooms are the kind of food that you either love or hate. I spurned them as a child, but now I can't get enough of them. Whether they're sautéed as a side dish, pickled, cooked in a delicious mushroom cream sauce or served as scallops, a burger patty or goulash – I really enjoy eating them and am always fascinated by the delicious recipes you can conjure up from them.
In keeping with the spirit of summer and the barbecue season, however, today is all about grilled mushrooms. More specifically, we stuffed portobello mushrooms and then grilled them. Portobello mushrooms are basically button mushrooms that have grown very large. They have a firmer texture and a slightly stronger flavor than regular button mushrooms, and their size makes them perfect to stuff and grill. Among other things, we filled them with smoked tofu and topped them with vegan mozzarella. In addition, we served them with rice and a delicious homemade salsa. Simply wonderful!
For the salsa, we opted for a refreshing combination of bell peppers, sweet corn, onions, garlic, hot chili peppers, and fresh herbs. We mixed the veggies with some oil, maple syrup, and the apple cider vinegar and apple balsamic vinegar from Byodo.Apple balsamic vinegar adds a great fruity apple note and apple cider vinegar adds a refreshing acidity to the salsa. Byodo's classic kinds of vinegar all have an acidity of 5-6%, which is also perfect for pickling vegetables. Plus, all types of vinegar are vegan and made from 100% organic ingredients.
But back to the mushrooms. If you don't want to grill them, you can, of course, prepare them in the oven. In order to cook them faster and thoroughly, we recommend to sauté the mushrooms on both sides in a frying pan before filling them. Of course, you can experiment with the filling and adjust the recipe to your taste. To us, however, it tasted delicious! In addition to rice, all kinds of salads or potatoes would also be a good side dish.
And if you are wondering what else to do with portobello mushrooms, you can look forward to a [vegan mushroom steak] (https://www.zuckerjagdwurst.com/en/recipes/vegan-summer-salad-with-nectarine-and-portobello-steak) and a mushroom burger patty.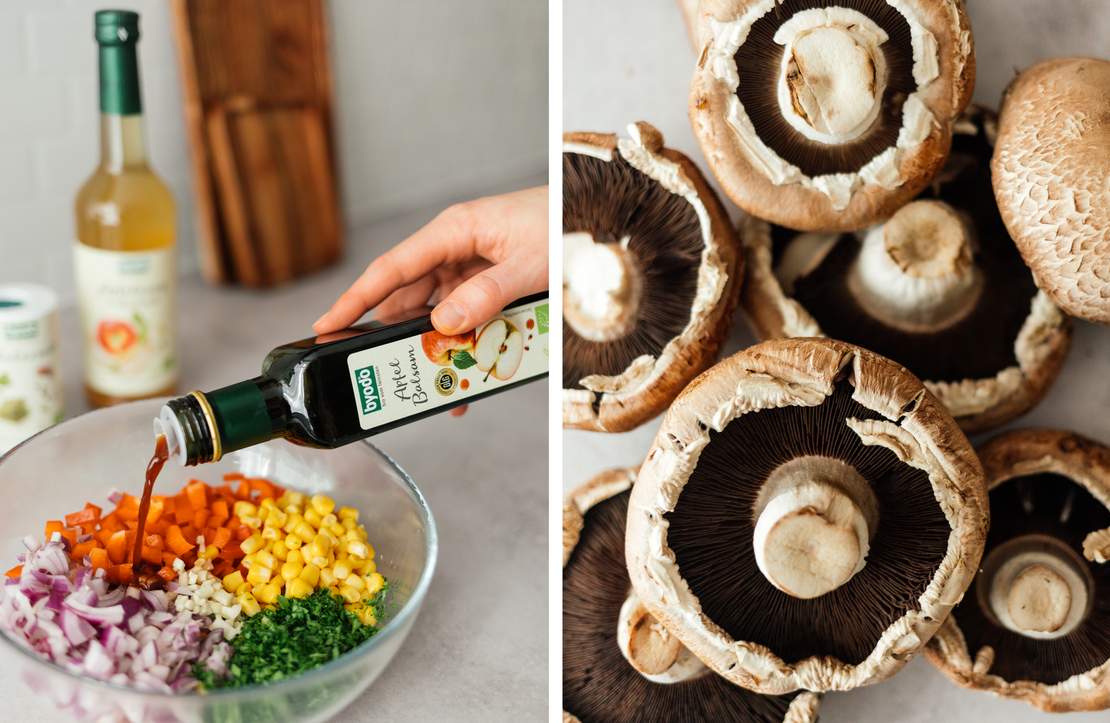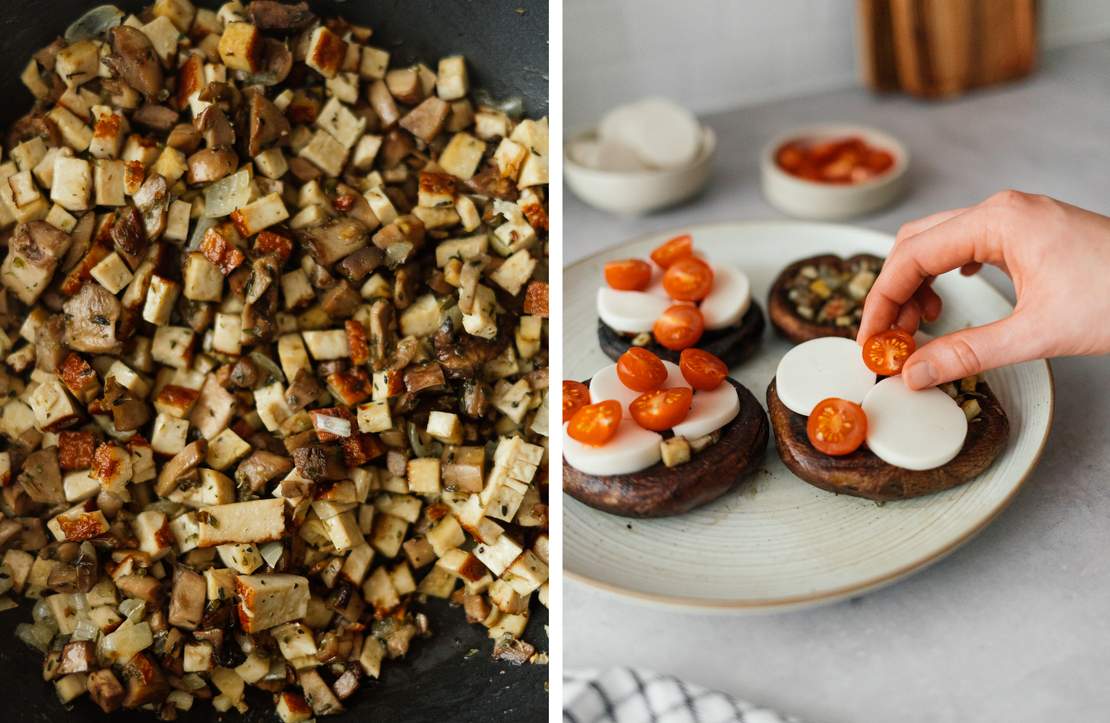 Stuffed & Grilled Portobello Mushrooms with Corn and Pepper Salsa
Ingredients
For the mushrooms:
8 portobello mushrooms
2 garlic cloves
1 onion
200 g (7 oz) smoked tofu
1 tsp dried thyme
1 tsp dried oregano
2 tbsp apple balsamic vinegar (e.g. from Byodo)
150 g (5.33 oz) cherry tomatoes
200 g (7 oz) vegan mozzarella
herb salt (e.g. from Byodo)
pepper
For the salsa:
2 red onions
2 garlic cloves
1 red bell pepper
4-5 jarred hot chili peppers
10 g (0.33 oz) fresh parsley
5 g (0.25 oz) fresh mint
150 g (5.33 oz) sweet corn
2 tbsp olive oil
2 tbsp apple cider vinegar (e.g. from Byodo)
6 tbsp apple balsamic vinegar (e.g. from Byodo)
1 tbsp maple syrup
1 tsp paprika
herb salt (e.g. from Byodo)
pepper
Also:
360 g (12.75 oz) basmati rice
olive oil for frying
fresh parsley for serving
Instructions
Clean the portobello mushrooms and cut off the ends, but don't throw them away. Then heat a pan with olive oil and sauté the mushrooms over medium heat for about 10-15 minutes from both sides until they are juicy but still have a firm texture.

Parallelly, peel and finely chop garlic and onion, finely dice smoked tofu and chop the mushroom stems. Heat another pan with olive oil and sauté the onion and garlic over medium heat until translucent. Then add dried thyme and oregano, smoked tofu, and mushroom stems and continue to sauté until the smoked tofu is lightly browned and crispy. Season to taste with herb salt and pepper.

Wash and halve cherry tomatoes and slice vegan mozzarella.

Preheat the oven to 180°C/355°F (top/bottom heat) or prepare the grill. Once the mushrooms are cooked and the tofu is crispy, remove the mushrooms from the pan, drizzle with some apple balsamic, and fill with the tofu mixture. Then top each mushroom with vegan mozzarella and tomatoes. Bake the mushrooms for about 20 minutes or broil them on the grill until the vegan mozzarella is slightly melted and the tomatoes are softened.

In the meantime, prepare the salsa and cook the rice according to the package directions. For the salsa, peel the onions and garlic and wash the bell pepper, hot peppers, and herbs. Then chop or mince the hot peppers, garlic, parsley, and mint as small as possible and finely dice the onions and bell pepper. Drain the corn. Then transfer the onions, garlic,hot peppers, bell pepper, corn, and chopped herbs to a bowl and mix with olive oil, apple cider vinegar, apple balsamic, maple syrup, and paprika. Season to taste with herb salt and pepper.

Serve the stuffed and grilled mushrooms with rice, salsa, and fresh parsley.