Simple mushroom soup with three types of mushrooms
Since we're so close here, let's be honest now: I've already cooked with packet and canned soups. And you've probably done so too, right? And to be even more honest: I didn't feel super bad when I did so and probably have a good excuse for that. Ha! But from today on, the reason "I just don't know how to cook this soup from scratch" doesn't count anymore. So next time, before you buy a canned noodle soup, click on the noodle soup recipe here and if you're holding a packet mushroom soup in your hand, here's the recipe for it.
When I went grocery shopping for this recipe, I couldn't decide between the large selection of mushrooms, so I took all of them with me and threw three types of mushrooms in this soup: button mushrooms, king oyster mushrooms, and porcini. Depending on what you like (or what you don't like), you can switch out those mushrooms, use some others and leave some out completely as long as you stick to the approx. total amount. That's one of the best things about homemade soups: They forgive a lot and still turn out tasty. Just follow the often similar steps, and the result will be delicious.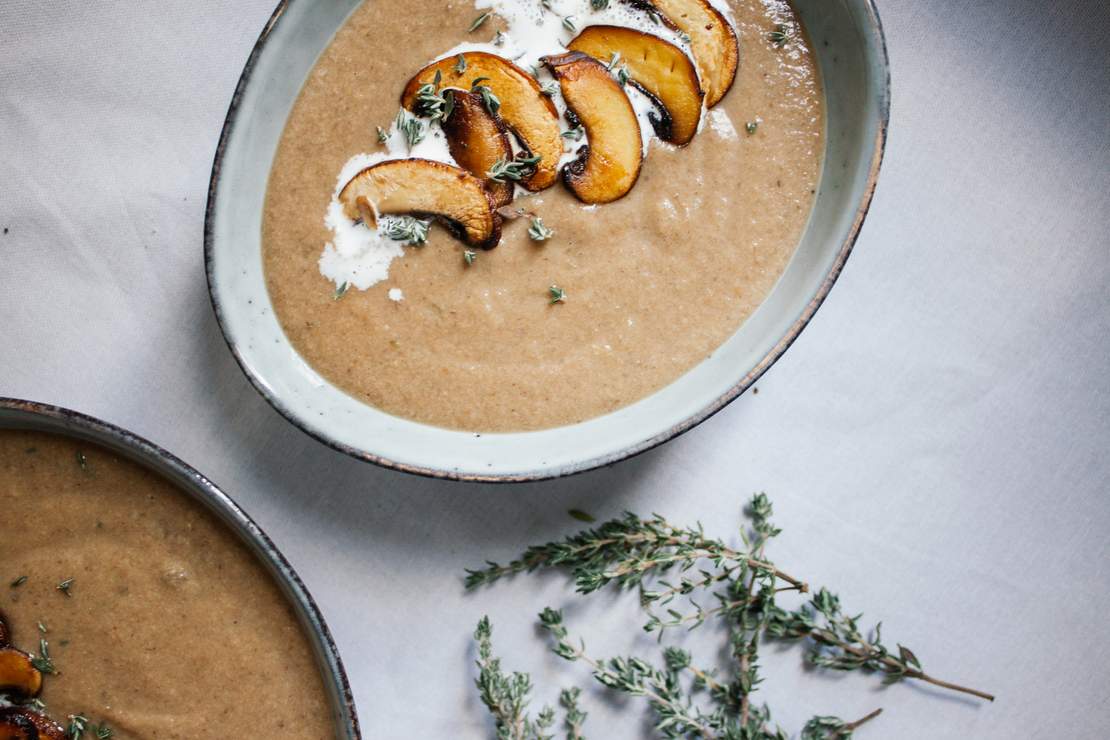 Simple mushroom soup with three types of mushrooms
Ingredients
300 g (10.5 oz) button mushrooms
200 g (7 oz) king oyster mushrooms
20 g (1 oz) dried porcini
2 onions
1 garlic clove
3 potatoes
100 ml (0.5 cups) vegan white wine
100 ml (0.5 cups) vegan cooking cream
1 tsp oregano
5 sprigs thyme
1 l (4.25 cups) water
vegetable oil for frying
Instructions
Soak dried porcini in a bowl with approx. 500 ml/2 cups boiling water for approx. 30 minutes, then drain through a sieve but save all the broth.
Peel and dice potatoes, onions and garlic. Chop button mushrooms and king oyster mushrooms.
Heat vegetable oil in a large pot and fry onion and garlic for approx. 2-3 minutes until the onions are translucent. Add potatoes, button mushrooms, king oyster mushrooms, soaked porcini, thyme, and oregano leaves. Season with salt and pepper and let fry for approx. 10 minutes.
Add vegan white wine, porcini broth and approx. 500 ml/2 cups water and let simmer for approx. 15 minutes, or until the potatoes are soft.
Blend the mixture until smooth, stir in vegan cooking cream and season with salt and pepper to taste. You can also add more water until the desired texture is reached.
If desired, save some mushrooms before adding them to a pot and fry them in a pan with some vegetable oil until browned. Season with salt and pepper and add to the soup before serving.