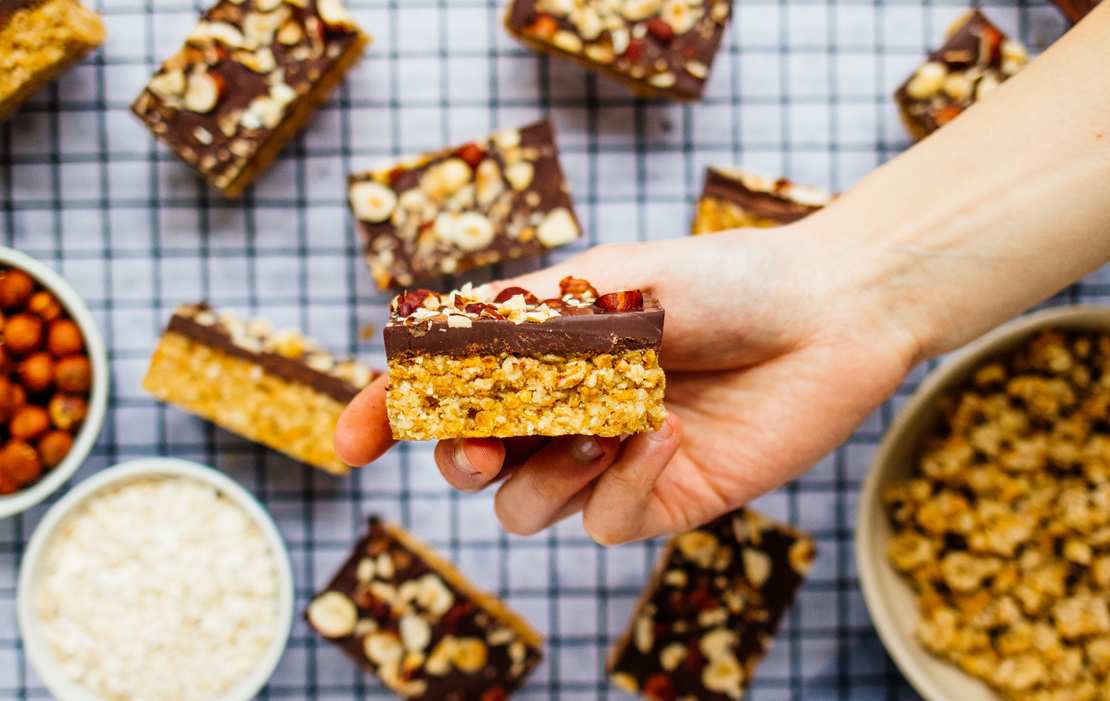 No Bake Hazelnut Chocolate Bars
January is the month of resolutions and wishes, and maybe your list of New Year's resolutions includes something like "more DIY projects" or simply "more cooking and baking". We're here to help you with your good intents, and this recipe is for everyone who's always tempted at the supermarket checkout to buy chocolate bars and wants to quit this habit. We have a quick and easy recipe for homemade no-bake chocolate and peanut butter bars for you that will save you from buying any premade chocolate bars from now on.
To prepare them, you don't need any fancy equipment, but just a blender or food processor, a pot, and a small baking dish. Ours was the size of 25x21 cm / 10x8 inches. If you don't have a baking dish with the exact same dimensions at home, don't worry – just look for a dish that comes close enough. "Worst case", your chocolate bars will be a bit thicker or thinner, but that won't affect the taste of the chocolate bars at all.
These no-bake chocolate bars have two layers: a hazelnut granola layer and a chocolate and peanut butter layer. We recommend preparing the chocolate bars ahead of time – either the evening before or on the weekend. Afterward, you can store them in the fridge and snack them throughout the week. For the hazelnut granola layer, we used Krunchy Joy Nut from barnhouse. This organic granola is made with 100% regional oats from Barnhouse partner farmers, is made in Bavaria, and baked with European sunflower oil instead of palm oil. In addition to whole oat flakes, it also contains hazelnuts, cornflakes, beet sugar, puffed spelt, and coconut flakes. You can find it in organic stores or in Barnhouse's online shop.
No Bake Hazelnut Chocolate Bars
18 bars
30 minutes (+ time to cool down)
Ingredients
For the granola layer:
750 g (1.66 lbs) vegan granola with nuts (e.g. "Krunchy Joy Nut" by barnhouse)
40 g (3 tbsp) vegan butter
160 g (0.66 cup) applesauce
For the chocolate layer:
400 g (14 oz) dark chocolate
80 g nut butter (e.g. peanut or almond butter)
For garnish:
100 g (3.5 oz) whole hazelnuts
Also:
vegetable oil for greasing
Instructions
Melt vegan butter in a small pot. Add vegan granola, applesauce, and melted vegan butter to a blender or food processor and mix for approx. 30-60 seconds, or until it's all combined. The granola shouldn't be finely ground but rather finely crumbled at this point.

Grease a baking dish (25x21 cm / 10x8 inches) with vegetable oil. Add the granola mixture, smooth out, and press it down with a spoon or rubber spatula to create a crust for your chocolate bars.

Roughly chop the dark chocolate and melt it in a heatproof bowl over a pot of simmering water. As soon as it's melted, add peanut butter and let it melt as well. Keep stirring until chocolate, and peanut butter are combined. Parallelly, roughly chop hazelnuts and toast them in a fat-free frying pan until browned and fragrant.

Pour the melted chocolate and peanut butter mixture over the granola layer and smooth it out. Sprinkle with toasted hazelnuts. Let it cool down completely before cutting it into bars. Keep them in the fridge – they are best eaten within 3-4 days.