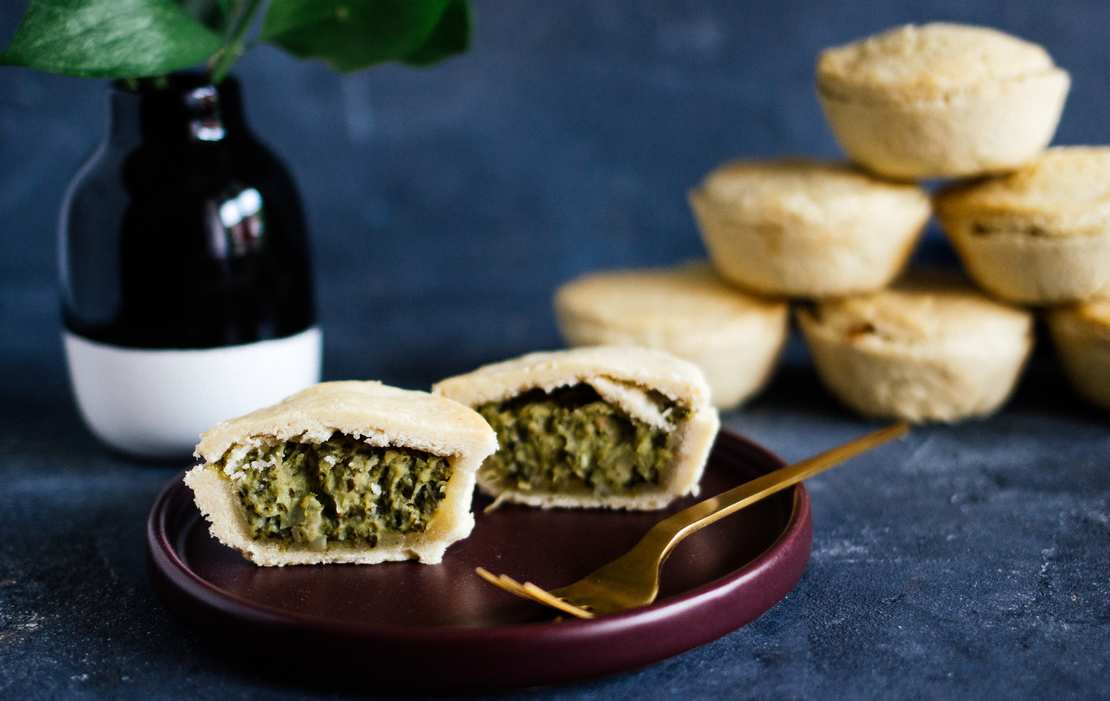 Vegan Mini Pies with Artichoke & Spinach
Most of the people think that pies are always sweet and baked in a big pie tin. So today, we don't use apples, berries, cinnamon, or sugar for our pies. We bake savory mini pies and buy spinach, artichokes, and chickpeas. We also use a muffin pan instead of a big baking pan, so you can safely transport them to the nearest park or eat them on the run. If you are not a friend of spinach, you can simply replace it with kale or savoy cabbage.
Vegan Mini Pies with Artichoke & Spinach
Ingredients
Dough
500 g (4 cups) flour
200 g (0.8 cups) vegan butter
salt
10 - 15 tbsp cold water
Filling
1 small onion
115 g (4 oz) chickpeas
200 g (7 oz) canned artichokes
1 - 2 garlic cloves
50 g (1.8 oz) pine nuts
100 g (3.5 oz) fresh spinach
0.5 lemon
salt & pepper
2 tbsp plant-based milk
Instructions
dough
Knead flour, salt, and butter in a large bowl.
Gradually add cold water with a tablespoon until the dough is smooth (we used about 10 tbsp).
Place the dough in the refrigerator for 30 minutes.
filling
Peel the onion and garlic clove.
Drain the water from the chickpeas and artichoke hearts and wash the spinach. Squeeze the juice of half a lemon.
Put all the ingredients for the filling in a blender and mix to a creamy puree. Season with salt and pepper.
baking
Grease a muffin tin with vegan butter and sprinkle with flour.
Roll out the dough on a floured surface (about 0.5 mm thick).
Cut out 12 circles with a large glass (or cutter) and 12 small circles with a smaller glass (or cutter).
Press the large circles into the muffin pan so that the dough fills the entire trough.
Spread the filling in the 12 troughs. Preheat the oven to 180°C (circulating air).
Use a fork to prick the lid of the dough three times and moisten the back of the lid with water. Now put them on the pies and press them with your fingers so that both doughs combine.
Brush the lids with the plant-based milk and bake on the medium rack for 20 - 30 minutes at 180°C (circulating air).