Lime Rice with Tempeh and Mango Avocado Salsa
When it's hot outside and I'm hungry, I either eat 3 watermelons or the following combination: rice + x + salsa. What's the x? Depending on my appetite, I chose vegetables, legumes, tofu, soy saté skewers or, as today, tempeh!
This combination doesn't only taste great, but is also filling without sitting heavily on your stomach. The warm rice is refined with lime zest and herbs and gets a fresh flavor and fluffy texture because of this. If you like it spicy, add some chili oil or chili flakes to the dish for serving. The salsa is a fruity counterweight to the rice. If you don't like mango, use avocado only, peaches, or classic tomatoes instead.
Tempeh are fermented soybeans for which the beans are first cooked and then cultured with a special fungus. You can prepare tempeh at home, but if you're just starting to cookwith it, maybe get the first ones from an organic supermarket. Besides the classic natural tempeh, there are even flavored versions with garlic and coriander, herbs, or curry. But since we'll coat the tempeh with an almond butter mixture today, the natural tempeh is actually the best choice. And if you don't have almond butter at home, use peanut butter or any other nut butter for this recipe!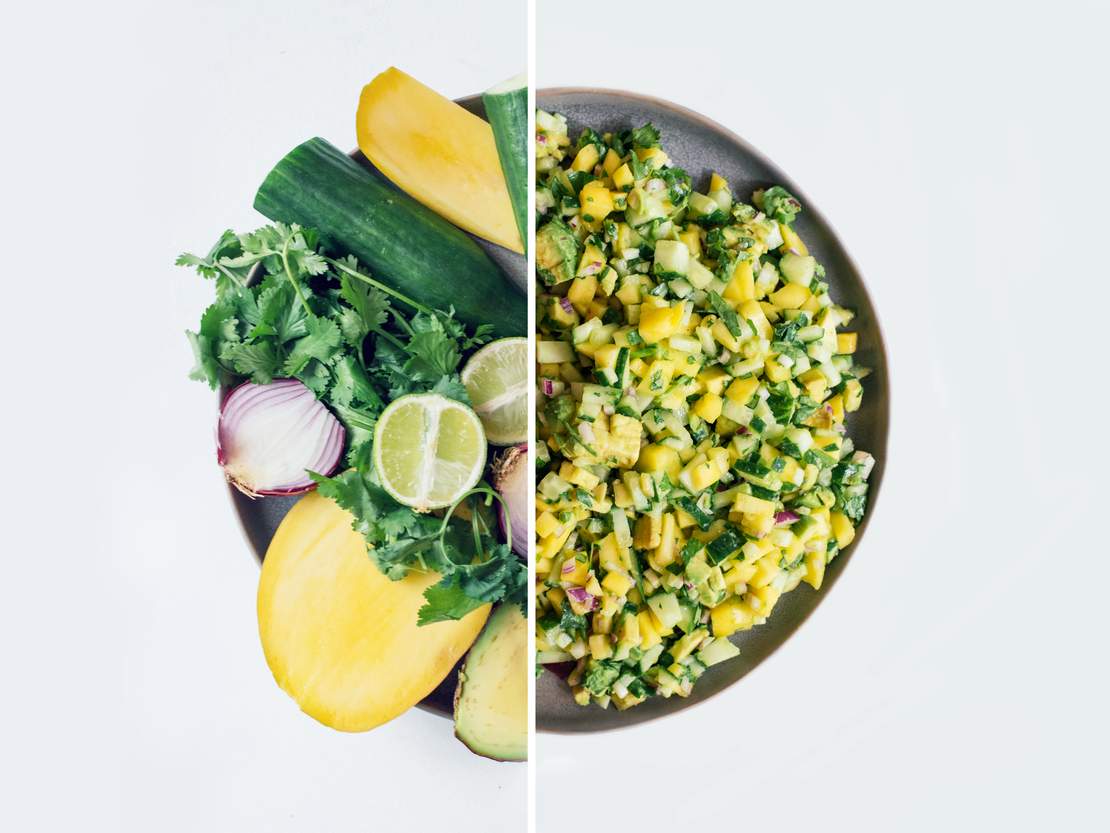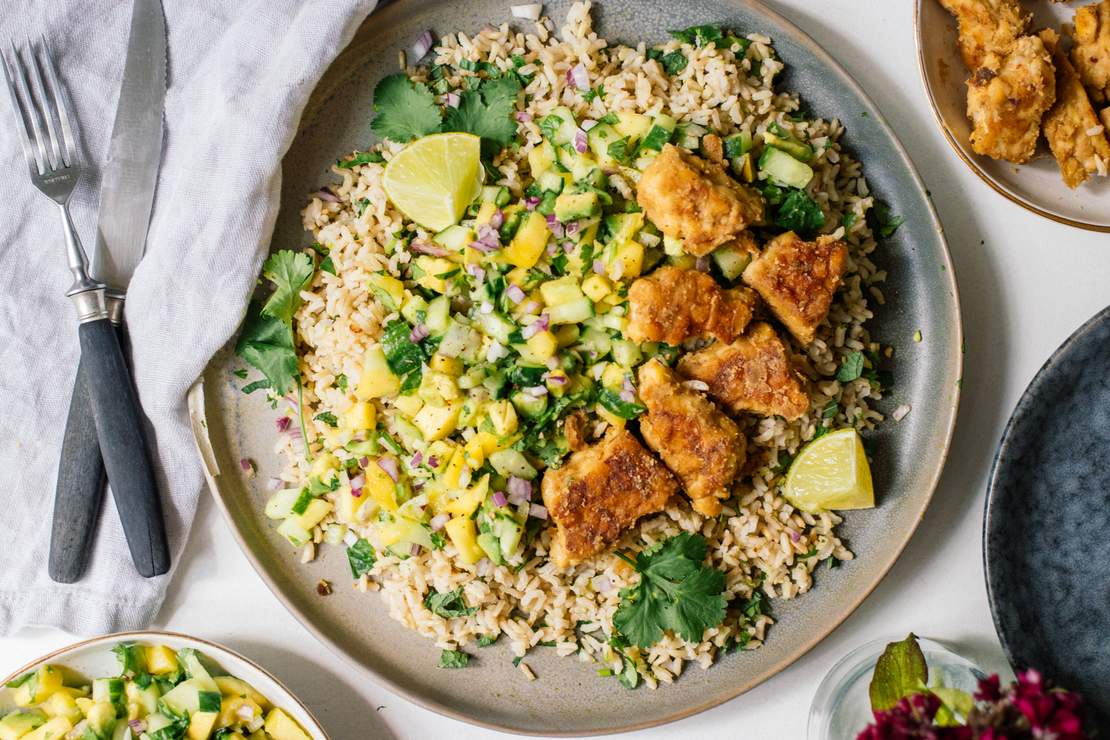 Lime Rice with Tempeh and Mango Avocado Salsa
Ingredients
For the salsa:
1 mango
1 avocado
1 red onion
0.5 cucumber
10 g (0.33 oz) cilantro
0.5 lime (juice)
salt
pepper
For the tempeh:
300 g (10.5 oz) tempeh
1.5 tsp soy sauce
2 tbsp water
1.5 tbsp almond butter (or peanut butter, cashew butter, ...)
1.5 tsp lime juice
coconut oil for frying
For the lime rice:
300 g (1.5 cup) rice
700 ml (3 cups) water
5 g (3 sprigs) cilantro
5 g (3 sprigs) mint
1 lime (zest)
salt
Instructions
Start with cooking the rice. Add rice and water to a pot and season with salt. Bring to a boil, then cover the pot with a lid and let the rice simmer for approx. 20 min., or until the water is soaked in and the rice is done. Remove from heat. Finely chop leaves of mint and cilantro and add together with lemon zest to the rice. Stir to combine.

While the rice is cooking, peel and finely dice mango, avocado, and red onion. Halve cucumber and remove the seeds, then finely dice, too. Finely chop cilantro.

Add mango, avocado, onion, cucumber, and cilantro to a bowl and season with lime juice, salt, and pepper to taste.

Crumble tempeh with your hands into bite-sized pieces. Heat cononut oil in a frying pan over medium heat and fry tempeh for approx. 7-8 minutes, or until crisp. If needed, add more coconut oil.

In the meantime, mix almond butter, water, lime juice, and soy sauce in a small bowl. Add the mixture to the tempeh and toss to coat. Let tempeh and sauce simmer for a few minutes.

Serve lime rice with tempeh and salsa.